The journey to learning is marked by moments of challenge and triumph, and the open-minded student will often find himself self-fulfilled and victorious, especially when the time has come for him to receive that most precious proof of his achievement—the diploma bearing his name. 

This was the general feeling of the 74 graduates who marched at the 2015 commencement exercises of the Asian School of Hospitality Arts (ASHA), held for the first time at its campus in Antipolo City.  The graduation rites proved meaningful to the young men and women who now aim to impress the world with their newfound skills.

 "Be ready to face the world you are about to enter, and always keep an open mind that even after graduation, the process of learning is always ongoing," says New World Hotels and Resorts human resources director Geuel F. Auste, who is the Guest of Honor and Speaker during the rites. He addressed the graduating students coming from the different ASHA campuses in Antipolo City, Kamias, and Tagaytay, which includes the 2nd Batch of BS Hotel and Restaurant Management, the Certificate in Hotel and Restaurant Operations Plus Professional Cooking (CHRO+), and the Certificate of Professional Cooking (Pro Cook).
ADVERTISEMENT - CONTINUE READING BELOW

 Three of the graduates have proven themselves beyond the expected academic and training requirements, finishing at the top of their classes.  But beyond their achievements are stories that will surely inspire, as well as teach future graduates.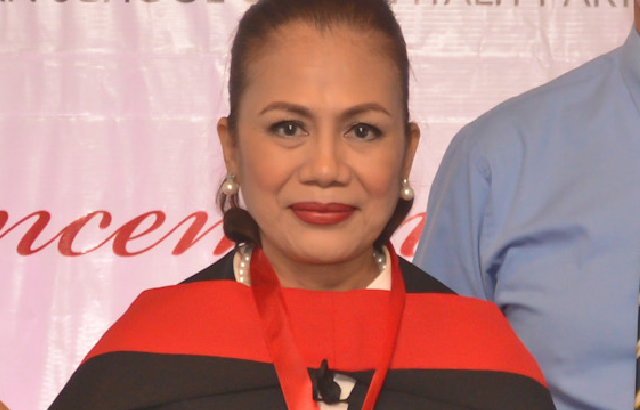 Learning her lessons by heart 
Oliva G. Omalde topped her CHRO+ class in ASHA Tagaytay, all while taking care of her husband and her son, who is a special child.  "I thought that at my age I wouldn't be able to hold a diploma," says Oliva, who is in her 40s.  "Yes I had training as a waitress and as a bar manager, but I also wanted to learn how to cook. When I started going to school, I took to heart the lessons my professors taught me."
ADVERTISEMENT - CONTINUE READING BELOW

Now, with diploma at hand, Oliva and her husband are contemplating on opening a restaurant in Tagaytay.  "I really learned a lot on cooking professionally, that a perfectly prepared dish should be prepared with delicacy, and handled with care and proper sanitation. I'm thankful to ASHA for the chance to prove myself worthy."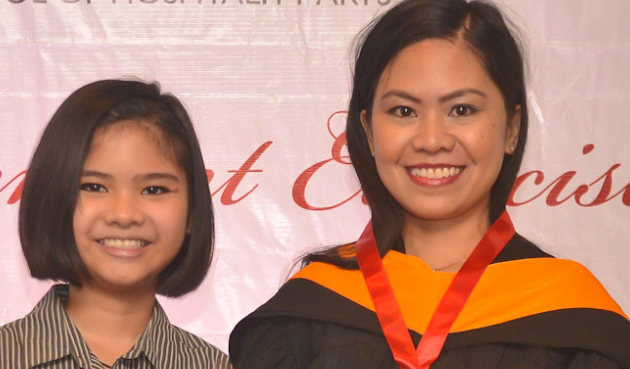 ADVERTISEMENT - CONTINUE READING BELOW
Balancing act
Ma. Mae A. Vargas graduated with a degree in BS HRM cum laude, but this 32-year-old lady achieved it while doing a tough balancing act between studying, on-the-job-training, and taking care of her children.  "It was hard, but I was able to pull it through," says Mae tearfully. "I really wanted to work in a hotel or restaurant setting, but I didn't know if I am qualified.  But studying at ASHA, I was able to gain confidence. Both the lectures and trainings toughened me, so coming to my OJT, I was no longer apprehensive.  I took the job, applied the things I've learned.  And my bosses admired me for it." 

Topping her class, she is now preparing for her work at Cravings Katipunan.  "I am grateful for the chance to a new life.  I am grateful to ASHA for the skills that now prove important to the career that I have chosen."


ADVERTISEMENT - CONTINUE READING BELOW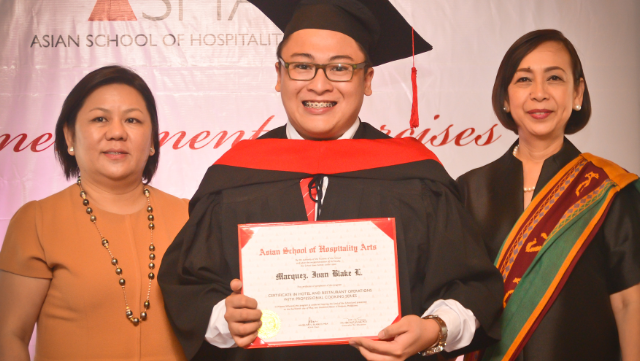 Successful turnaround
Ivan Blake Marquez may only be 22 years old, but he is now managing his own restaurant, All About Pasta, in the famed Maginhawa Street in Quezon City.  As a CHRO+ graduate who topped his class at ASHA Kamias, he admitted to being a wayward student in his college days.  "Before I went to ASHA, I did not take studying seriously—I was absent in my classes.  But coming to ASHA, I took a 360-degree turn," he happily narrates.  "Miss Angie Blanco (ASHA's Dean) would encourage me and tell me to straighten up my act. I followed her!"
ADVERTISEMENT - CONTINUE READING BELOW

He explains that as a kid, he really loved cooking. Now that he manages his own restaurant, he doesn't mind rolling up his sleeves and teaching his staff how to go about in the kitchen.  At the same time he is also a regular guest chef at UNTV's morning show.

"What I learned in ASHA I am now sharing with them.  I tell them to always have a smile on their face, to accommodate all diners and take criticism positively.  Even the chef's suit I am wearing to work and on television, I carry the ASHA logo along with my name. That's how proud I am of my ASHA roots."   

ASHA schools are located in Antipolo, Kamias (QC), Tagaytay, and Santolan (San Juan). For more information, call 907-8642/ 0917-8787191 or visit its Website.