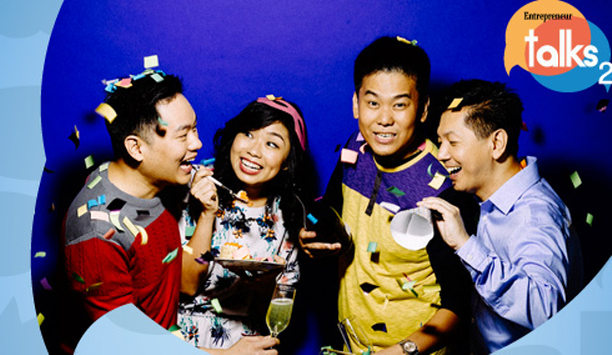 Will franchising work for you? When is the best time for an existing business to take the franchising route? These are just some of the questions that were answered with the help of invited franchisors and experts during one of Entrepreneur Philippines' signature events, Entrepreneur Talks 2: Let's Talk Franchise held at the Poolside Pavilion of the Dusit Thani Manila last July 21.

The roster of speakers was spearheaded by the leaders from some of the recipients of Entrepreneur magazine's Franchise Awards 2015: Richard Cuna from Fiorgelato, Ronald Robins from Mineski Franchise Corporation, and couple Jerome Uy and Meredith Ngo from Adobo Connection. 

Just like all the other Entrepreneur signature events, that night was an insightful one, imparting with attendees a handful of tips and ideas. We picked three of the helpful pieces of advice shared by our guest speakers during that event. 
ADVERTISEMENT - CONTINUE READING BELOW
1. "Guard yourself against greed."
—Jerome Uy, Adobo Connection 
"You have to guard yourself from greed [in business]," Uy says as he explains to the crowd some of the common pitfalls franchised businesses tend to fall into. "Don't let yourself be tempted to raise franchising fees and supplies just because you know the franchisee is forced to buy from you." 
ADVERTISEMENT - CONTINUE READING BELOW
2. "Have a business plan."
—Richard Cuna, Fiorgelato
"Most businesses, even successful ones, start their businesses without a business plan," Cuna points out, "and then they realize somewhere along the way why they needed one." He added, "Think of a business plan as something akin to a franchise manual. It's your 'business Bible' that you can review for guidance every time you make a mistake or you need some insights on how to handle a challenging situation. 
ADVERTISEMENT - CONTINUE READING BELOW
3. "Be future proof"
—Ronald Robins, Mineski Franchise Corporation 
"[Although] we can't be sure of what happens in the future…it's good to be constantly adapting to keep your business relevant," Robins asserts. His business constantly rolls out various experiments that are aimed at making their cybercafé locations competitive in an industry that can easily get saturated by different technology and Web services. "We started selling food (like pancit canton) in our cybercafés a few years ago to generate extra income."
ADVERTISEMENT - CONTINUE READING BELOW
*****
Extra:
On June 27, Entrepreneur Philippines' other signature event, Thought Leaders Live 2015, was held at the SMX Convention Center in Pasay City. Our guest speakers; Patch Dulay of The Spark Project, Earl Valencia of Ideaspace, and Lean Legarda Leviste of Solar Philippines, enthusiastically shared inspirational messages, their vision for the future, and what they think are the factors that drive them to push further in making their dreams come true.

Watch out for our next event, which will be announced soon.