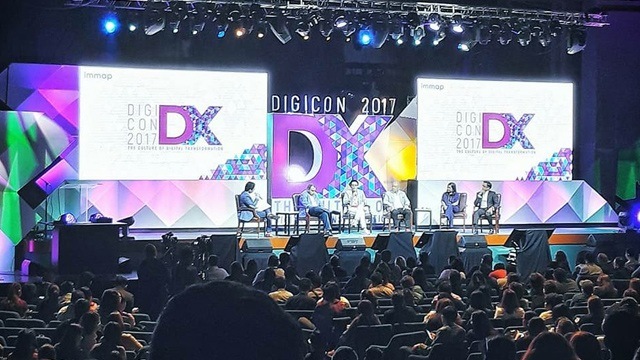 More than 2,500 participants attended the three-day digital congress of the Internet and Mobile Marketing Association of the Philippines (IMMAP) last October 11-13 at the Philippine International Convention Center. Known as DigiCon DX 2017, the conference had several sessions and panels that zeroed in on the importance of culture in a company's digital transformation.
"We believe that digital transformation is an important agenda for marketers," said Eduardo Mapa Jr., vice president of IMMAP and the chair of DigiCon DX 2017. "Globally and within the Philippines, digital transformation is the big conversation among CEOs and other departments."
Founded in 2006, IMMAP is an organization that aims to be the industry leader in all things digital, particularly in how it affects marketing and advertising. It has a network of 190 member companies ranging from big conglomerates to specialists in advertising, design and e-commerce.
The over 2,500 participants in DigiCon DX 2017 marked a big jump from the 1,500 delegates who attended the first DigiCon in 2016. Mapa also noted that this year's DigiCon saw a more diverse mix of attendees apart from their core audience of marketers and advertisers, highlighting an increase in attendance from startup teams, human resources-focused delegates and tech experts.
ADVERTISEMENT - CONTINUE READING BELOW
Over the three days of DigiCon DX 2017, many representatives from both local and multinational companies shared insights on how they grew their businesses and how they have embodied digital transformation. While there were many learnings from these sessions and panels, Mapa highlighted these three that he wanted every attendee of DigiCon to take with them:
1. Digital transformation is human-centered 
"Transformation is best executed if you put people at the center of it," said Mapa. He echoed Brian Solis, the principal analyst of Altimeter Group and one of DigiCon DX 2017's plenary speakers, in saying that at the core of any digital transformation is not the advanced and disruptive technology but rather the people within the company.
"Technology will come in as an enabler of the transformation agenda," added Mapa.
2. Digital transformation starts with a shift in mindset
"Transformation is the mind shift," said Mapa. He elaborated that while in the past, companies would simply deliver their products and services to their customers, the current generation asks for a more people-driven approach. "It's now them [the clients] leading it, then I [the business] create it."
Mapa also echoed Solis in saying that this generation of consumers puts a premium on brand experience. "The great brands of tomorrow are going to be based on the culmination of these experiences that we want people to have and share," said Solis in his plenary speech.
3. Digital transformation should elicit immersive experiences
One of the key features that made this year's DigiCon different from last year's was its focus on "immersive storytelling," which Mapa said could "potentially influence digital transformation and digital marketing in the next two to three years." The rise of immersive technology such as virtual reality (VR) and alternate reality (AR) will change how consumers experience brands in the near future, and Mapa wants attendees to grasp the importance of having an immersive experience.
ADVERTISEMENT - CONTINUE READING BELOW
"The discussion on immersive storytelling will connect the experiences that these new group of consumers would want," explained Mapa. He added that immersion wasn't limited to the new technology, but should also be seen in how brands listen to their consumers and letting them know that they are part of the process of building the brand.
*****
Lorenzo Kyle Subido is a staff writer of Entrepreneur PH