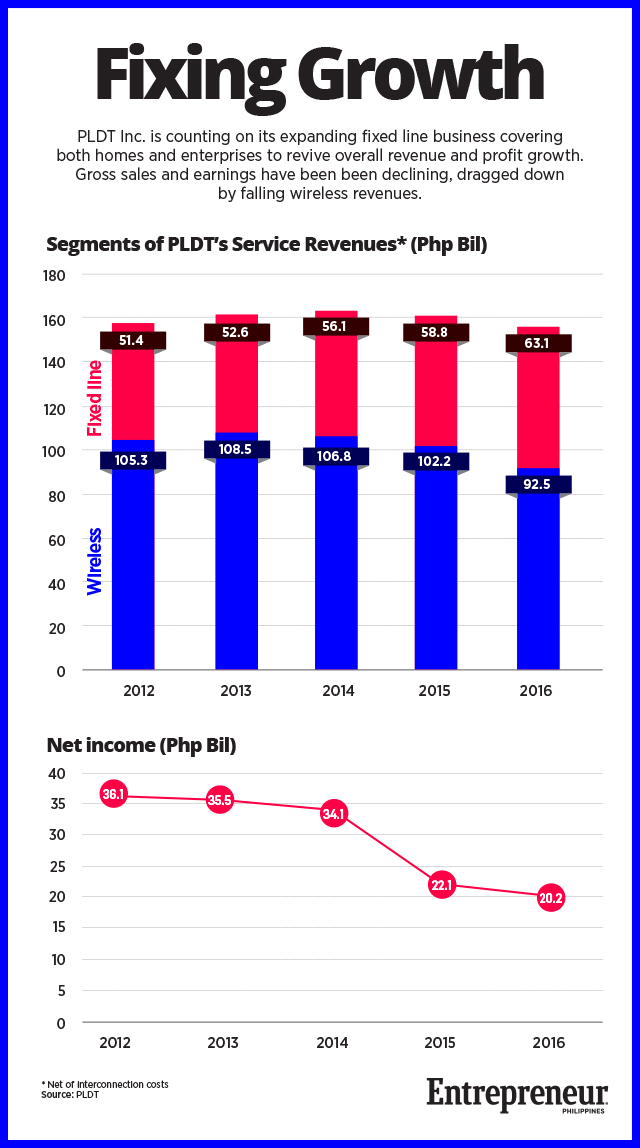 PLDT Inc. recently reported that its consolidated service revenue, net of interconnection costs, hit only Php147.6 billion for 2016, decreasing by three percent from the year before. That marked the second year in a row that the company experienced a decline in service revenue. Its net income, which stood at Php20.6 billion last year, has been going down for the past five years.
But Manuel V. Pangilinan, PLDT's chairman and CEO, is confident that the story would be different this year. "The year 2016 has been a period for resetting of the many dials of our company," he said. "From there, we are setting out to achieve sequential recovery in profitability."
In a sign he's more confident than ever, Pangilinan projected a growth of more than six percent in recurring core income for 2017. "For the first time in three years, we will see real growth in our underlying core," Pangilinan said.
ADVERTISEMENT - CONTINUE READING BELOW
Related story: MVP Vows to Bring PLDT Back to Path of Profit Growth This Year 
How will PLDT turn around its financials this year? Here are the salient points of PLDT's strategies and plans mentioned in a press briefing last March 7.
1. Focus on fixed line business 
While PLDT's wireless business has been experiencing sharp revenue declines in the past four years, its fixed line business has been steadily increasing. The company reported service revenues of Php63.1 billion for its fixed line segment last year, a seven-percent increase from the year before. In contrast, service revenues for the wireless segment decreased by nine percent in the same period.
In particular, PLDT is zeroing in on its home and enterprise units, which oversee its digital services for households and businesses respectively. The two units accounted for 47 percent of total service revenues in 2016 and were the fastest growing segments of the company for the year. The company forecast that both units will contribute more than half of service revenues for this year, overtaking the wireless business.
For 2017, PLDT is targeting to increase capital spending in the fixed line business by around Php6.5 billion. In contrast, capex for the wireless business unit is projected to decrease by over Php3 billion in 2017. Targets for the fixed line business unit include increasing coverage of its fiber network such that all of PLDT's fixed broadband subscribers will experience fiber-fast speeds in the next two years and the modernization of 1.7 million copper ports. 
"We want to make sure that the dominance of PLDT on fixed line continues both to fiber and copper," said Pangilinan, adding that a bulk of the company's revenues will come from the fixed line side of the business moving forward.
ADVERTISEMENT - CONTINUE READING BELOW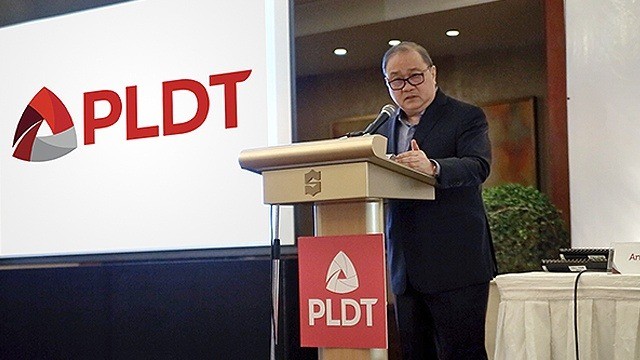 2. Rapidly expand LTE network
Joachim Horn, PLDT's chief technology and information advisor, revealed that one of PLDT's main accomplishments for 2016 was closing the gap in 3G and LTE coverage with sole rival Globe Telecom.
"We will overtake Globe significantly in LTE coverage this year," said Horn. He said PLDT is well-placed to accomplish this goal, citing data from OpenSignal showing that Smart Communications' download speeds for both 3G and LTE were faster than Globe's for 2016.
Looking forward, Horn said that the company aims to widen its LTE coverage to approximately 70 percent of the population by the end of 2017 and 95 percent of Philippine municipalities by the end of 2018. He also said that by the end of PLDT's refarming process in NCR, indoor LTE coverage will increase to 78 percent.
Horn also reinforced that the company is readying its infrastructure for the next step in mobile data—5G—which they expect to arrive by 2020.
ADVERTISEMENT - CONTINUE READING BELOW
3. Proactive debt management and asset sales
With almost a fifth of its $3.7-billion gross debt maturing this year, PLDT could potentially face refinancing risks at a time of rising interest rates and weakening peso. Almost a third of the company's gross debt is denominated in US dollars though more than nine-tenths of these are hedged. Already, financing costs rose by 17.5 percent to Php7.4 billion in 2016 from the year before.
With a forward-looking debt management strategy, PLDT seeks to minimize debt-related risks. It said that refinancing facilities for debt maturing in 2017 are in place. It added that except for $25 million, all of its debt maturities this year were refinanced in Philippine pesos. It is also paying lower interest rates on refinancing facilities compared with the cost of the maturing loans.
"With respect to the $673 million debt maturities in 2017, all of the refinancing facilities have already been put in place. In fact, we paid down our 2017 dollar bond yesterday," Anabelle Chua, PLDT's chief financial officer, said on March 7.
It is also evaluating options for additional asset sales to fund capital spending. Last year, it sold half of its 50-percent equity stake in Beacon Electric Asset Holdings, which, in turn, owns 35 percent of Manila Electric Co., the country's biggest electricity distributor.
*****
Lorenzo Kyle Subido is a staff writer of Entrepreneur PH