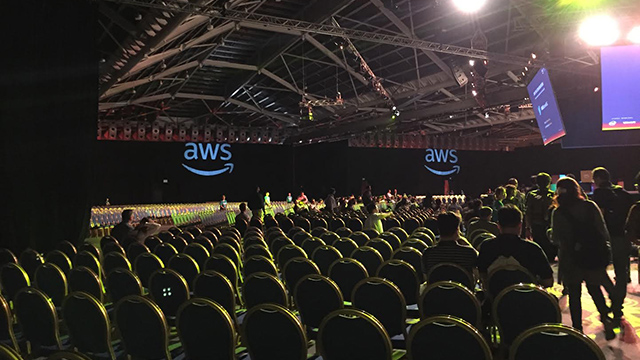 The 2018 AWS Summit was held last April 4 in Singapore
The cloud, when used in the context of business computing, can be very abstract. In the simplest terms, it refers to the internet as a place to store limitless data and information.
Basically, the cloud is where data like software and services that do not run on your local computer are located. Since personal computers have limited space and memory, bringing the bulk of your important computer data to the cloud guarantees safekeeping and expanded capacity that your local computer hardware can't provide.
ADVERTISEMENT - CONTINUE READING BELOW
American company Amazon Web Services (AWS) Inc., a subsidiary of the online retailing giant Amazon.com, is the widely recognized global leader in the cloud services industry. Some of the most popular clients it has include Airbnb, Lyft and Slack. Locally, it has Ayala Land Inc., Jollibee Foods Corporation and Coins.ph.
At the sidelines of the 2018 AWS Summit held last April 4 in Singapore, Nick Walton, managing director for AWS ASEAN, talked to Entrepreneur Philippines about how AWS caters to enterprises in the region and shared his insights on how small businesses can particularly grow with AWS cloud services.
Here are the four common misconceptions small businesses have about using cloud services, and why they're not entirely true.
1. Small businesses don't need to bring their businesses to the cloud
When it comes to their clients in the Philippines, executives from AWS frequently mention big companies such as Ayala Land Inc. and Globe Telecom as prime examples. However, Walton said that just because they have big corporations as prime customers doesn't mean they don't push for other types of customers anymore.
ADVERTISEMENT - CONTINUE READING BELOW
"I think large traditional enterprises, SMBs (small and medium businesses), public sector—all companies need to become increasingly digital. This is what we're seeing in terms of this transformation that's occurring. We need to be competitive, we need to serve our customers better. Because our customers' expectations continue to increase," Walton said.
Big companies move to the cloud and AWS not only to drive agility and reduce cost but also to explore how to serve the customers better, Walton said. In line with this, understanding customers better, being able to provide more relevant offerings to them and being able to provide the services the customers want are applicable must-dos for all businesses, not just large corporations.
"I think what we really focused on AWS is working with startups big and small, and helping startups be successful. I think our platform has always been a popular platform for startups," he added.
ADVERTISEMENT - CONTINUE READING BELOW
2. The cloud is not cost-efficient for small businesses
One of the common worries of small businesses about migrating to the cloud is the hefty cost it entails. Since cloud services utilize advanced technology to keep data safe, many small businesses and startups feel like it doesn't need to be a top priority in their budgets.
However, Walton explained that in the constantly evolving digital world, it is more sensible to invest in the cloud early than to frantically jump on it when everybody else already has a head start.
"If you contrast using AWS to the old world of doing a startup before the cloud, you have to buy a whole lot of servers before you could even get started. The value proposition of cloud is you start small, you pay for what you use," Walton explained.
When businesses start using the cloud while they're still growing, they don't need to spend a lot since they don't have to invest a big capital upfront. The platform in which the cloud services are hosted only scales with the business as the business starts to gain more customers and becomes more successful, Walton explained.
ADVERTISEMENT - CONTINUE READING BELOW
"And it doesn't matter how successful you are, the platform will always be able to scale to meet your requirements. That's pretty compelling to startups and that's why very few startups are not on AWS from the start," he added.
AWS also has the "AWS Activate" program, which helps startups and small-scale entrepreneurs who want to get started with cloud services but have limited resources. The program provides low-cost resources, credits, training, mentorship and support for startups and entrepreneurs who are just getting started and have an idea they want to build but not sure how to start.
"Startups should be penny pinchers. When you're starting out you just don't have resources so you want to spend wisely. We encourage that," Walton assured.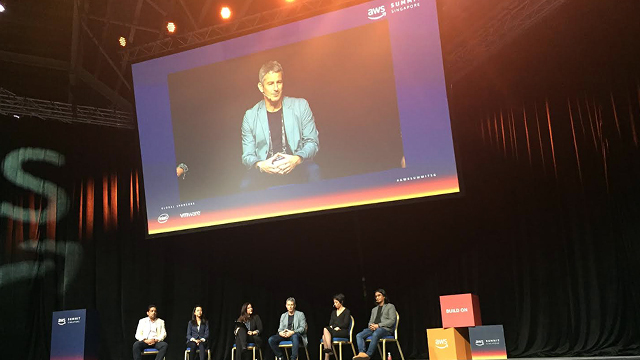 ADVERTISEMENT - CONTINUE READING BELOW
Panel discussion at the 2018 AWS Summit
a
3. Unlike large companies, small businesses do not get much from using cloud services
"Historically, custom development of technology is probably outside the range of SMBs," Walton admitted. But as the world evolved more and more digitally, small businesses and startups have found more and more ways to utilize the cloud.
Making mobile applications is one of the most popular ways of using cloud services for both startups and small enterprises. Based on trends they're seeing in the region, startups tend to use cloud services by making their own applications, while "more traditional" SMB clients who are starting to increasingly use technology tend to prefer independent software vendors (ISV), like Salesforce.com or local tech firm E-Science, said Walton. These ISVs help manage an enterprise's business operations and customer relations through the softwares they offer.
Related story: PH Tech Firm Makes Mobile Apps that Help Field Staff Send Data to HQ Quickly 
ADVERTISEMENT - CONTINUE READING BELOW
Walton calls this the "wave of new software companies," which deliver new kinds of software for other businesses. These companies run their platforms on AWS to provide the kind of service other businesses may need, such as small business accounting packages or even application development.
"I think this is where a lot of opportunities [are] for SMBs who typically don't have a large IT staff, don't have a lot of resources in IT, and have a requirement and an opportunity to leverage technology more effectively," Walton said. He explained businesses should be on the lookout for new kinds of software products that can be much more usable and have a richer kind of intelligence, which can integrate things like voice recognition or computer vision.
 "I think a lot of problems that these technologies solve are very much problems for SMB," Walton added.
4. With a poor internet infrastructure, the Philippines is not a suitable market for cloud services
ADVERTISEMENT - CONTINUE READING BELOW
Walton said that the need to use cloud services is pretty much the same for all countries, whether they have a strong internet infrastructure or not.
"By and large, the proposition for cloud is quite universal. If you're an enterprise in the Philippines like Jollibee, those are the same as other enterprises across the world. I think the proposition is compelling in all the countries that we operate, and so we see rapid adoption right across the region," Walton explained.
Aside from this, Walton also added that the Philippines has a strong drive for cloud services needs. He mentioned business processing outsource companies and large consulting firms as two of the main drivers of growth, as well as the pool of talent the country has in these industries. "And obviously, the language makes it easier to do business in the Philippines than some other countries across the region," he added.
ADVERTISEMENT - CONTINUE READING BELOW
The writer was a guest of AWS during a company-sponsored regional conference in Singapore.
*****
Pauline Macaraeg is Entrepreneur PH's data journalist. Follow her on Twitter @paulinemacaraeg