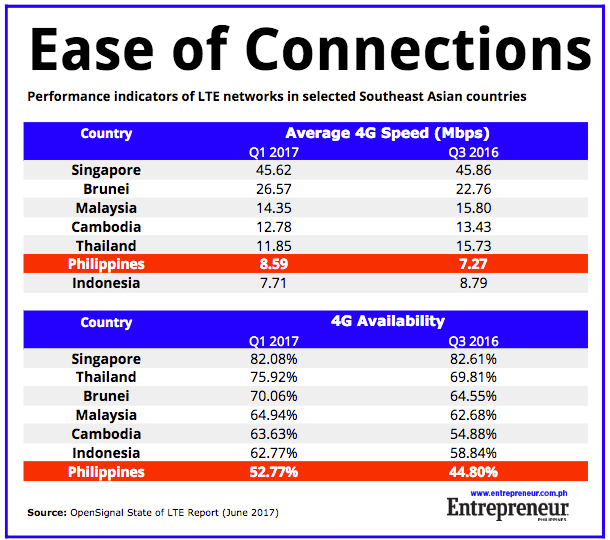 The Philippines' 4G mobile broadband connection speed averaged 8.59 Mbps in the first quarter of 2017, rising from 7.27 Mbps in the third quarter of 2016, according to mobile operator analyst OpenSignal.
In its newest The State of LTE report, OpenSignal measured over half a million mobile phones across 75 countries from January to March 2017. The report covers the state of Long-Term Evolution (LTE), a type of fourth-generation data technology for mobile phone networks, in different countries around the world.
ADVERTISEMENT - CONTINUE READING BELOW
Thanks to the slightly faster average 4G speed in the first three months of the year, the Philippines is no longer considered the country with the slowest LTE speed in Southeast Asia. That distinction now belongs to Indonesia. However, the Philippines' average 4G speed was still the fifth slowest among countries covered by the report.
But the Philippines still lagged behind its Southeast Asian neighbors in terms of 4G availability. Taking into account "the percentage of time OpenSignal users were able to latch onto an LTE signal," the report revealed that the Philippines' 4G networks were available 52.77 percent of the time, the fourth lowest in the world.
Related story: Globe vs Smart: Who Offers Faster and More Reliable Mobile Internet? 
Singapore topped the list once again with the fastest 4G connection speed in the world, averaging at 45.62 Mbps. South Korea also maintained its lead in terms of 4G availability, with its LTE networks available 96.38 percent of the time.
ADVERTISEMENT - CONTINUE READING BELOW
OpenSignal analyzes mobile operators around the world through crowdsourced data from their mobile app. The company frequently publishes reports breaking down mobile connectivity statistics on both a global and country level. It published its first State of Mobile Networks report focused on the Philippines earlier this year.
OpenSignal's latest findings are generally in line with an earlier report by content delivery network provider Akamai Technologies, which measured that mobile connection speeds in the Philippines averaged at 8.7 Mbps in the first quarter of 2017. The same report revealed that the Philippines had the slowest desktop internet speed in Asia.
Related story: PH Internet Speed Most Improved in Asia but Still the Slowest 
*****
Lorenzo Kyle Subido is a staff writer of Entrepreneur PH