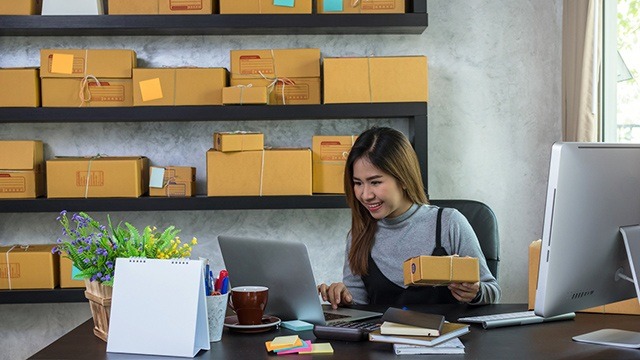 The "ber" months in the Philippines signal the start of the holiday season, and with it, the biggest shopping event of the year. This year, Filipino brands and businesses, whether big or small, have the opportunity to harness the power of mobile to better connect with a new breed of Filipino shoppers through Facebook and Instagram.
Mobile has transformed the way Filipinos connect and consume and has created more mobile-first shoppers who are using their devices when they shop during the holiday season. In 2016 alone, the Philippines saw the highest growth in mobile-first shoppers across the globe, proving that mobile has become the new holiday shopping cart for Filipinos.
Kenneth Bishop, managing director for Facebook Southeast Asia, shared new insights on mobile-first shopping and how Filipino businesses can reach them on Facebook.
"Mobile is influencing the shopping behavior of Filipino consumers during the busy holiday season where people are discovering brands and products. We are committed to helping businesses win consumers during the holiday season by connecting them with the more than 63 million mobile-first Filipinos on Facebook," Bishop said.
ADVERTISEMENT - CONTINUE READING BELOW
1. Mobile and multi-screening
With mobile becoming more integral in the Filipino's shopping journey, businesses are encouraged to use mobile as their second shopfront while creating campaigns that complement mobile-viewing behavior both online and in-store.
Multi-screening is another prominent consumer behavior among Filipinos that businesses can also hinge on. Filipinos are spending more time on mobile over other forms of media including TV. About 70 percent of Filipinos on Facebook multi-screen while watching TV, and of those who multi-screen, one in every three minutes they spend watching TV is actually spent on Facebook. This makes the social media platform a powerful channel to tap into mobile-first Filipinos' multi-screen behavior.
"When companies do this, they have very real, very tangible results," Bishop said.
For example, the consumer product Nestlé All Purpose Cream increased awareness and achieved faster sales growth by going digital-first during the critical Christmas period. The brand repurposed its 60-second videos into a short six-second video on Facebook. It also experimented with a variety of ad formats, including slideshow and photo ads for low bandwidth users, carousel ads and Canvas for more immersive experiences.
The campaign, which ran from October to December, resulted in 19-percent sales value growth in Q4 2016 versus Q4 2015, penetrating 500,000 new households compared to the previous year.
"During our brand's peak Christmas season, for the first time, we took a risk of investing predominantly on Facebook to reach our mobile-savvy Filipino audience, instead of heavily investing in traditional media. With TV complementing our Facebook campaign, we reached our target audience, achieved business objectives, drove sales growth and increased market share in a period saturated with marketing campaigns," said Seaneen Arcilla, consumer marketing manager of Nestlé All Purpose Cream.
ADVERTISEMENT - CONTINUE READING BELOW
2. Mobile is the holiday shopping card
Facebook measures the number of conversions on their platform and they note that holiday consumption starts in September.
"Mobile is the new shopping product. Desktop shopping happens throughout the day but most of the shopping happens on a mobile phone starting with the evening commute," Bishop noted.
"The people who are buying things online are largely from the ages of 18 to 24. This mobile-first population is going to grow over time," Bishop added.
One of the success stories of a business who took advantage of this is Carousell, a Singapore-based startup which has launched in the Philippines. The company grew its seller base in a competitive e-commerce landscape by showcasing product features with fast-paced videos.
They developed a series of ads highlighting the benefits of selling on its platform to drive app, encourage listings and buyer offers among new and existing users. Understanding the value of video, Carousell introduced motion elements to its content and it ran on Facebook, Instagram and Audience Network in the Philippines between November to December 2016.
This campaign delivered impressive results, demonstrating that video ads perform better than photo ads. The campaign resulted in 2.6X increase in seller listings, compared to photo ads, and 53 percent increase in buyer offers, compared to photo ads.
"By introducing video on Facebook for product marketing, Carousell successfully increased efficiencies and conversions. We scored a large increase in seller listings and even buyer offers through mobile-optimized video," said Arun Kumar, head of digital marketing of Carousell.
ADVERTISEMENT - CONTINUE READING BELOW
"It's also important to speak the right language," Bishop added. 
3. Screen shopping is the new window shopping
Data shows that three in five Filipino shoppers use mobile in their shopping journey during the holiday season. Screen shopping has become the norm among Filipinos who turn to their phones and feeds to discover what presents to get for their friends and themselves for the holidays. In fact, two in three  Filipinos use Facebook to get inspiration for gift ideas with 91 percent of them admitting that it has influenced their holiday shopping.
Last Christmas, from November to December, Magnolia debuted its innovative new Avocado Macchiato ice cream flavor on Facebook, with the aim of reaching millennials through creative video and mobile-optimized ads. Magnolia wanted to expand the brand's appeal to young consumers while increasing ad recall and sales for their Avocado Macchiato ice cream.
Magnolia extended the efficiency of its TV ad content featuring the popular celebrity loveteam of Alden Richards and Maine Mendoza by optimizing it for mobile to target millennials who use mobile frequently. Magnolia used mobile video ads for both videos and cinemagraphs, and carousel ads to feature images of the product and key messaging. For audiences with low bandwidth, Magnolia served photo ads with select visuals from the videos.
The month-long campaign that ran between November to December 2016 achieved impressive results on all major brand metrics, including ad recall which increased by 16 points.
"They reached 60 percent of all 25-to-45-year-olds on Facebook. This is something that people saw online and inspired them to go to the store and take action," Bishop said.
ADVERTISEMENT - CONTINUE READING BELOW
Elmer Villasanta, group product manager of Magnolia Ice Cream San Miguel Purefoods said that mobile-savvy millennials spend the majority of their time discovering and consuming content on their mobile media feeds.
"Facebook has put us front and center with our target demographic, mainly through the use of effective video to increase reach and sales," Villasanta said.
4. In-store mobile complements the shopping experience
Beyond online, mobile is also complementing Filipinos' on-ground shopping experience. Research shows that one in two Filipino shoppers use smartphones when shopping in-store during the holiday season to get the best deals. Around 53 percent of those surveyed said that it has allowed them to make more informed purchase decisions.
But for most Filipinos, it's all about convenience as 42 percent of those who use mobile for holiday shopping prefer that over going to a store during the busiest time of the year.
5. Christmas isn't the shopping finish line
Holiday shopping begins as early as September and continues on until January. Case in point: there is 17 percent more online conversions on Facebook than average in September 2016. Also worth noting is that 50 percent of Filipinos continue shopping past the holiday season to benefit from January sales season and that there is 18 percent more online purchases on Facebook in January compared to the 2016 pre-Holiday season on average.
An example that Bishop gave is vehicle brand Ford, which had already launched the EcoSport. With more crossover SUVs hitting the market, Ford was looking for a way to help the EcoSport stand out and promote its unique features. It wanted to reach at least 12 million Filipinos with the campaign's main message "keyless entry by Ford."
ADVERTISEMENT - CONTINUE READING BELOW
Using Facebook's PockeTVC, the car manufacturer chopped up its 30-second TV commercial, turning it into vibrant carousel ads and bite-sized videos targeted for those with short attention spans on mobile. Ford then embarked on a three-phase targeting journey to track down SUV lovers in the Philippines.
Facebook helped Ford reach 62 percent of its core target audience, achieving a 12-point increase in ad recall while reaching 12 million unique 18-to-25-year-olds in the Philippines. It also achieved twice the return on ad spend.
Lance Mosley, managing director of Ford Motor Company Philippines, said that since they already had a television commercial, they were looking for a cost-effective way to extend reach, particularly among young Filipinos.
"Facebook's carousel and video ads combined with the right targeting tools helped hit sales target for EcoSport in one year after being in the market for three years," Mosley said.
*****
Nicai De Guzman is the marketing head of Rising Tide, a technology solutions company. She is also the Manila Bureau Manager of Probe Media Foundation's Mulat Pinoy-Kabataan News Network and a regular contributor for SPOT.ph. Follow her on Twitter @nicaideguzman, and LinkedIn.