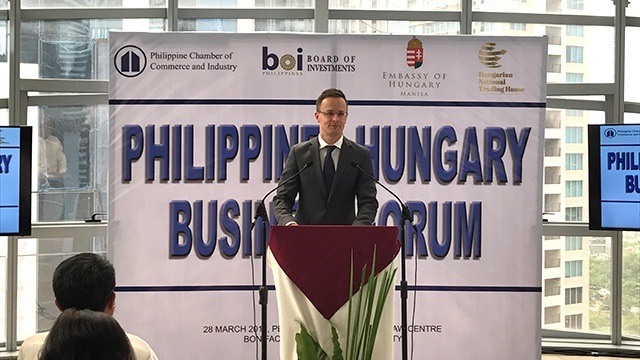 Local businesses interested in trading and investment partnerships with Hungarian companies may acquire funding through a credit line worth 510 million euros (Php 27.7 billion) established by a Hungarian bank, according to Hungarian government officials.
ADVERTISEMENT - CONTINUE READING BELOW
The fund was set-up to facilitate business deals between Philippine and Hungarian companies especially in the industries where the Eastern European country has a competitive edge such as agriculture, information technology and water systems.
The announcement was made by at the Philippine-Hungary Business Forum on March 28. The event was attended by representatives from eight Hungarian companies across different sectors as well as local firms.
"I would like to encourage you to take advantage of this credit line which consists of long-term credits with very low interest rates," Szijjártó said. The funds will be made available through Magyar Export-Import Bank.
The forum was held to mark the reopening of the Hungarian embassy in Manila, 21 years since it was closed in 1995. "We came to the Philippines to establish relations, help Hungarian companies set up businesses and explore opportunities in the country," Szijjártó said.
The minister said he saw three potential areas of cooperation between the two countries: agriculture, water management, and research and development and information technology.
ADVERTISEMENT - CONTINUE READING BELOW
"We are a landlocked country, with few natural resources, so we have to put emphasis on the skills and creativity of the people, in research and development and IT," he said.
Trade between the two countries amounts to about $200 million, he added. It's a relatively small amount compared to other trading partners, but Szijjártó said there is room for improvement. In 2015, Philippine exports to Hungary reached $184 million while imports hit $16 million, according to United Nations trade data.
The two countries signed two agreements promoting economic cooperation. First was a memorandum of understanding between the Philippine Chamber of Commerce and Industry and its Hungarian counterpart to explore business and investment opportunities. Szijjártó and DTI Undersecretary Rowel Barba also signed the Philippines-Hungary Economic Cooperation Agreement, which calls for the establishment of a Joint Economic Commission between the two countries.
Szijjártó also announced that three Hungarian companies were awarded licenses to export meat to the Philippines. He said this was good news considering how Hungary has one of the strictest regulatory food security policies in Europe.
ADVERTISEMENT - CONTINUE READING BELOW
The Hungarian Foreign Minister met with President Rodrigo Duterte the previous day to discuss future avenues of cooperation.
While the diplomatic section of the Hungarian Embassy is already operational, the consular section, responsible for the issuance of visas and authentication of documents will commence operations in April. The embassy is headed by Ambassador József Bencze, who previously served as Ambassador of Hungary to Skopje, Macedonia between 2011-2016 and Hungary's National Chief of Police between 2007-2010.
*****
Paul John Caña is the managing editor of Entrepreneur PH