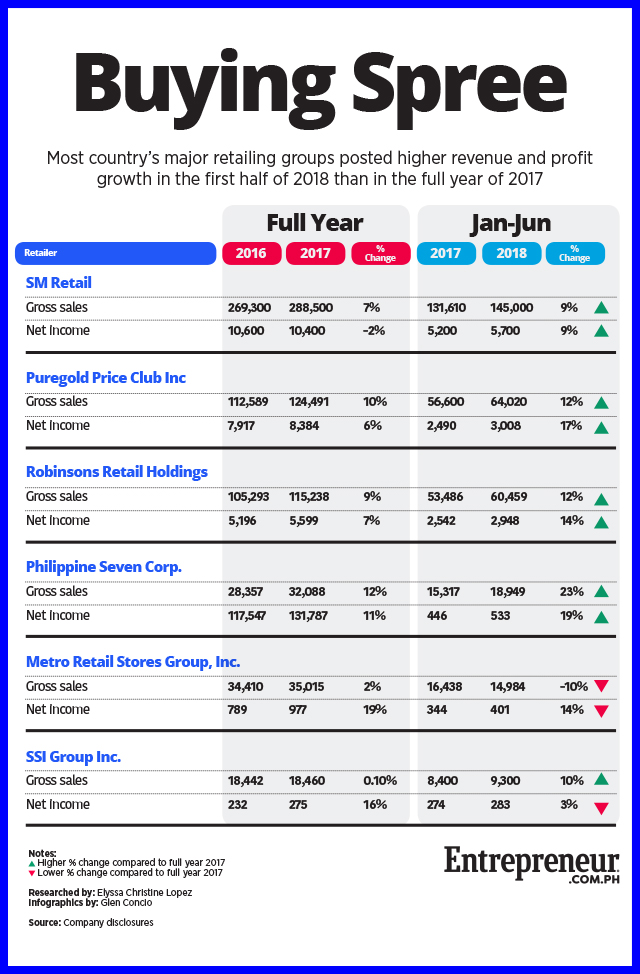 The personal income tax cuts mandated by the Tax Reform for Acceleration and Inclusion (TRAIN) law that took effect in January 2018 may have been sizeable but their impact on overall economic growth is anything but.
With higher take home pay, workers and employees were supposed to spend more buying consumer goods and services, boosting the economy. As it happened, household spending growth, a key economic driver, was rather flat. It even slowed slightly to 5.7 percent in the first half of 2018 compared to 5.9 percent in the same period last year and 5.8 percent in the previous six-month period.
ADVERTISEMENT - CONTINUE READING BELOW
Related story: Under TRAIN Law, Consumer Spending Was Supposed to Grow Faster. Here's What Really Happened
Because household spending accounts for around two-thirds of GDP, it's not a surprise that overall economic growth in the first half of the year fell to only 6.3 percent, down from 6.6 percent in the same period last year and 6.8 percent in the previous semester.
Economic planners blamed rising consumer price inflation, which averaged 4.3 percent in the first six months of 2018 compared to only 2.9 percent in 2017, for dampening household spending and crimping overall GDP growth.
Still, while the personal tax cuts' overall economic impact was crimped by rising inflation, they were significant enough to move the needle on giant retailers' income statements.
In their earnings reports covering the first half of 2018, listed retail companies credited TRAIN for their boosting gross sales as well as profits. Under the law, taxpayers earning a taxable income of Php250,000 a year or less were exempted from paying personal income taxes. 
ADVERTISEMENT - CONTINUE READING BELOW
Grocery operators such as Robinsons Retail Holdings Inc. (RRHI) and Puregold Price Club Inc. (PGOLD) reported higher same-store sales growth due to higher consumer spending. Both companies operate a number of store formats catering to various markets, from the middle class to class B and C.
"Higher consumption driven by increased take-home pay from the implementation of the TRAIN Law was sustained through the first half of the year, with all formats registering robust same-store sales growth," said Robinsons Retail.
Meanwhile, Puregold stated: "The strong same-store sales growth numbers were driven by higher consumer spending fueled by higher levels of take-home pay as a result of the tax reform law and the sustained economic growth of the country.


Philippine Seven Corp. (PSC), the local licensee of the 7-Eleven convenience stores, said the law has increased its customer base resulting in their store's higher average basket size. "The lower personal income tax strengthened the purchasing power of the middle class and the excise tax on sugar-sweetened beverages increased selling price but no significant decline in volume occurred," the company said.
ADVERTISEMENT - CONTINUE READING BELOW
Even the Philippine Statistics Authority (PSA) caught the trend. "We found that our households, due to more money in their pockets, have been buying more in small and medium establishments, particularly convenience stores," PSA Undersecretary Lisa Bersales said during the press conference to announced the second quarter GDP results.
Indeed, a majority of listed companies involved in retailing are on track to post stronger sales by the end of the year compared to their 2017 performance.
PSC, PGOLD and RRHI have all recorded double-digit growth in both their gross sales and net income for the first six months of 2018 in comparison to their companies' performance in the same period last year. The first-half growth for the year is even more apparent when compared to the companies' full-year performances in 2016 and 2017, as the percentage changes are either double or triple the number recorded. (See infographic)
The same is true with SM Investments Corp.'s retail business and luxury retailer SSI Group though their growth rates pale in comparison to the first three. The only exception is Metro Retail Stores Group which suffered a decline in gross revenues but only because a fire hit one of its biggest department stores.
ADVERTISEMENT - CONTINUE READING BELOW
*****
Elyssa Christine Lopez is a staff writer of Entrepreneur PH. Follow her on Twitter @elyssalopz