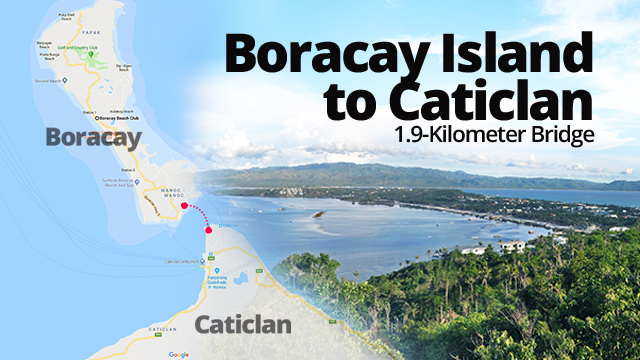 Listed conglomerate San Miguel Corp. (SMC) is submitting an unsolicited proposal to the government to build a bridge connecting Boracay Island to Caticlan in Aklan, several reports said on Tuesday, July 10.
In a report by BusinessMirror, SMC President and Chief Operating Officer Ramon Ang said the 1.9-kilometer bridge, which would be made of concrete, would cost Php3 billion to make. If the proposal gets approved, Ang said the company could finish the project in just two years.
ADVERTISEMENT - CONTINUE READING BELOW
"The bridge will help alleviate the congestion in Boracay and reduce pressure on its limited resources," Ang said in the report.
Currently, those who want to travel to Caticlan from Boracay and vice versa would have to ride a boat or ferry.
Ang said the company expects to generate revenues from the facility through toll fees subjected to vehicles and pedestrians that will use the bridge. The company is also looking into placing fees for access on utilities that will be constructed through the project such as electricity and telecommunications lines and sewage systems.
With those revenue streams in mind, SMC, which is also operating the Boracay airport, is expecting to profit from the facility in 10 to 15 years after construction.
The government closed down the tourist spot in April, following the order of President Rodrigo Duterte after he called the island a "cesspool." Majority of business establishments in Boracay were found to have improper waste management, endangering the sustainability of the island's beaches in the process.
ADVERTISEMENT - CONTINUE READING BELOW
Related story: Shutting Down Boracay Island: What's At Stake?
The Department of Environment and Natural Resources (DENR) is leading the island's six-month rehabilitation program. Following the timeline, Environment Secretary Roy Cimatu said the island could reopen on October 26.
"Categorically, we will be opening Boracay on October 26. Categorically, Boracay is no longer a cesspool," Cimatu said in a hearing with the House of Representatives' natural resources committee on July 11.
In 2017, Boracay attracted more than two million tourists, generating revenues worth Php508 million. It had been named best island in the world by travel magazine Travel + Leisure in 2017 but the publication's most recent survey showed it had dropped to sixth place this year.
*****
Elyssa Christine Lopez is a staff writer of Entrpereneur PH. Follow her on Twitter @elyssalopz