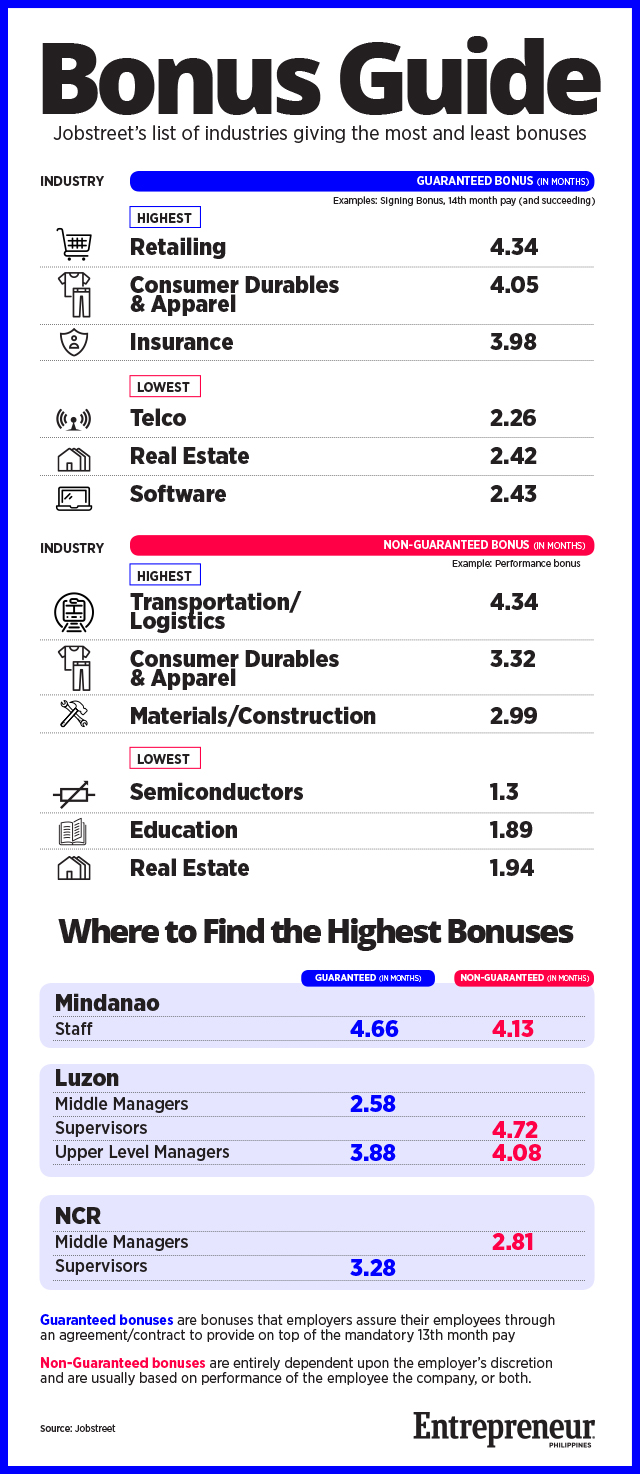 Bonuses vary widely across various industries, Jobstreet, the country's leading online job board, has found in a survey of 741 employees and 81 employers last November 2016.  The results were released last week.
It distinguishes between two kinds of bonuses. The first, guaranteed, refers to extra pay on top the legally mandated 13th month pay that are covered by agreements or contracts between the employer and employee. Common examples are signing bonus and 14th (and succeeding) month pay. The second, non-guaranteed, refers to extra pay that depends entirely on the employer's discretion and usually based on the employee's performance. An example is the performance bonus.
According to Jobstreet, the retailing industry gives the most generous average guaranteed bonus equivalent to 4.34 months of pay. It is followed by consumer durables and apparel at 4.05 months and insurance at 3.98 months. On the other hand, the industries handing out the least bonuses are telcos at only 2.26 months, real estate at 2.42 months and software at 2.43 months.
ADVERTISEMENT - CONTINUE READING BELOW
For non-guaranteed bonuses, the most generous industries are transportation and logistics, which gives an average bonus equivalent to 4.34 months pay, consumer durables and apparel at 3.32 months and materials and construction at 2.99 months. The industries giving the least non-guaranteed bonuses are semiconductors at 1.3 months, education at 1.89 months and real estate at 1.94 months.
By location, the highest extra compensation packages are enjoyed by supervisors in Luzon who get 4.72 months worth of non-guaranteed bonuses. They are followed by staff employees in Mindanao who get 4.66 months worth of guaranteed bonuses and 4.13 months worth of non-guaranteed bonuses. Upper level managers in Luzon also get an averaage 4.08 months' worth of non-guaranteed bonuses.
Jobstreet also found that tenure in a company doing multiple jobs has a bearing on bonuses. The highest guaranteed bonus of 4.77 months and non-guaranteed bonus of 4.93 months were received by upper level managers who stayed with the same  company occupying various positions.
Related: What Jobs Pay At Least 50% More Than Other High-Wage Posts?
*****