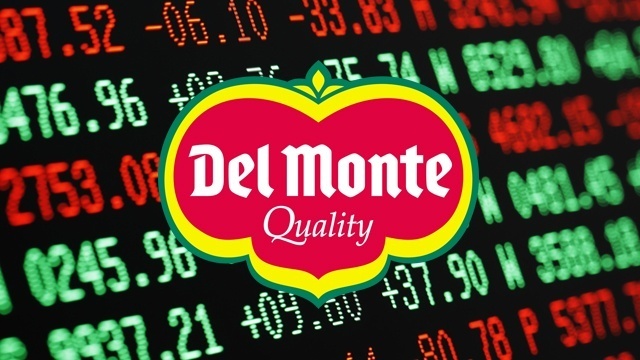 Have any spare US dollars? Now, apart from foreign currency deposit accounts and US dollar funds, you can also invest them in shares of at least one company listed at the Philippine Stock Exchange (PSE).
Food processing firm Del Monte Pacific Ltd., which runs one of the world's largest integrated pineapple processing operations in the Philippines, has listed its dollar-denominated preference shares at the Philippine Stock Exchange (PSE) today. It is the first dollar security to be traded on the local board.
In a disclosure to the PSE last March 31, Del Monte announced that it sold a total of 20 million preferred shares in the offer period, which ended last March 28. That represented an oversubscription of 33.3 percent from the initial offer of 15 million shares.
As the shares are now listed, interested investors can buy and trade the securities through selected stock brokers. The preferred shares trade under the ticker symbol DMPA1. In its first trading day, the shares traded at $10, which was also the offer price. The security can be bought and sold in minimum lots of 10 shares.
ADVERTISEMENT - CONTINUE READING BELOW
Apart from the potential gain or loss one can get from the fluctuating price of the shares, Del Monte has announced a fixed initial dividend rate of 6.625 percent per year. The terms and conditions governing dividends and other matters pertaining to the preference shares are spelled out in the prospectus.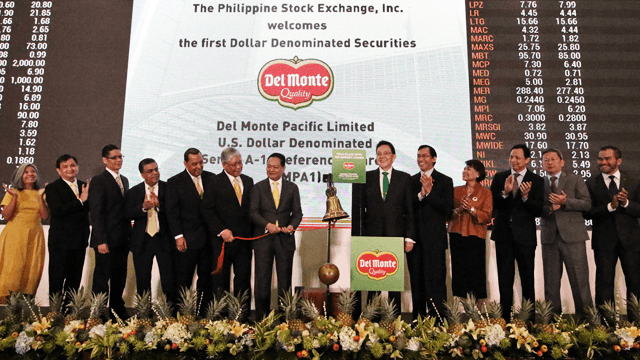 (From left) DMPL Group Head for Marketing Eileen Michele M. Asuncion; DMPL Treasury Head Augusto Cesar S. Garcia; DMPL Chief Legal Counsel, Chief Compliance Officer and Company Secretary Antonio Eugenio S. Ungson; DMPL Chief Financial Officer Parag Sachdeva; DMPL Chief Corporate Officer Ignacio Carmelo O. Sison; DMPL Executive Director Edgardo M. Cruz, Jr; DMPL Chief Operating Officer Luis F.  Alejandro; PSE Chairman Jose T. Pardo; PSE President and CEO Hans B. Sicat; PSE Treasurer Omelita J. Tiangco; PSE Directors Emmanuel O. Bautista and Alejandro T. Yu; and PSE Chief Operating Officer Roel A. Refran
The 20 million Del Monte shares marks the first time a PSE-listed company has sold dollar-denominated shares. This follows a new ruling approved by the Securities and Exchange Commission in December 2016, which allowed dollar-denominated securities to be traded in the market.
ADVERTISEMENT - CONTINUE READING BELOW
Del Monte intends to use a bulk of the proceeds from the stock offering to "partially refinance the loan facility extended by BDO Unibank," according to its prospectus dated March 20. The prospectus further explains that the loan was used in the company's acquisition of its consumer food businesses.
Due to rising remittances from overseas Filipinos and other foreign exchange inflows, Filipinos' dollar deposits in banks have surged by more than 50 percent from $23 billion in 2011 to almost $35 billion in 2016. However, a bulk of the amount is in foreign currency savings deposits that earn an average of only 0.25 percent interest rate and time deposits that earn just around one percent.
The Bangko Sentral ng Pilipinas (BSP) has been liberalizing the country's foreign exchange regulations, making it easier for dollar holders to invest in a variety of investment instruments apart from deposit accounts with banks. Thanks to these moves, it has become possible for dollar owners to invest in foreign currency unit investment trust funds (UITFs), variable unit-linked funds (VULs) and mutual funds.
*****
Lorenzo Kyle Subido is a staff writer of Entrepreneur PH