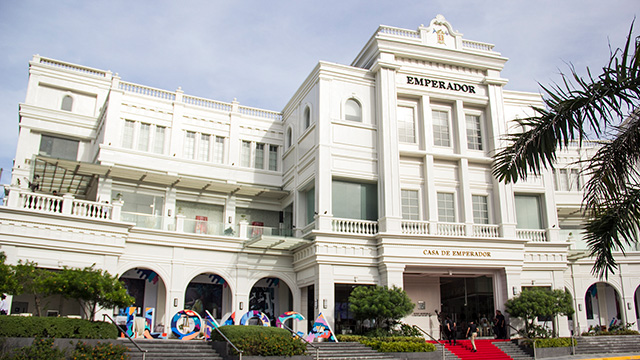 Megaworld Corp. has numerous township developments all over the country—from Manila, Pampanga and Batangas in Luzon, to Bacolod and Talisay City in the Visayas and Davao in Mindanao—but the one in Iloilo is unique for one very special reason. It's the first to have its own art museum.
ADVERTISEMENT - CONTINUE READING BELOW
Located inside Casa Emperador at the heart of Megaworld's Iloilo Business Park in Mandurriao, the Iloilo Museum of Contemporary Art (ILOMOCA) is the first art institution in the Visayas and Mindanao exclusively dedicated to showcasing the works of mostly Filipino and Ilonggo contemporary artists.
"ILOMOCA is a very important milestone for us at Megaworld," said Kevin Tan, Megaworld senior vice president, upon the opening of the museum in early March. "It is our first museum development and there is no better place than to have it here in Iloilo Business Park."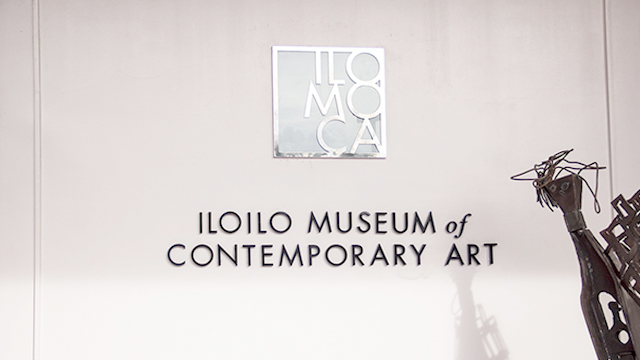 ADVERTISEMENT - CONTINUE READING BELOW
Megaworld, the Andrew Tan-led property company responsible for the development of such areas as Eastwood City in Libis, Quezon City; McKinley Park and Forbes Town Center in Taguig, said opening the museum was important to showcase the works of mostly Filipino and Ilonggo artists as well promoting culture as an avenue for sustainable development. It was a project initiated through the Megaworld Foundation to "enrich the Iloilo community and the whole of Western Visayas Region, with a new avenue for cultural and academic convergence."
"Art breathes life and personality into cities and Megaworld townships have already evolved to embrace and champion this movement, with street art being very prominent features in Eastwood City, Uptown Bonifacio, McKinley Hill, and Forbes Town," said Tan.
"Through this project, we are reinforcing our role in the preservation and promotion of the Ilonggo arts, culture, and history. The ILOMOCA sits right at the heart of this township, which is well-positioned as a center of business, tourism as well as arts and culture in Western Visayas," he added.
ADVERTISEMENT - CONTINUE READING BELOW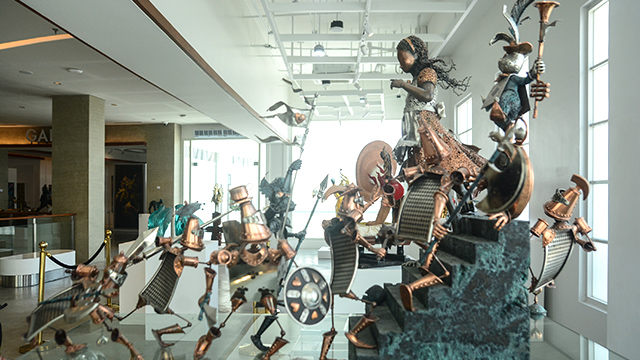 There is  special exhibition on sculptures by Filipino artists at the Main Gallery on the second floor. This one is entitled "Off With Her Head" by Daniel Dela Cruz
The Php109-million museum features three stories and 3,000 square meters of space, including five exhibit rooms, a theater and its own souvenir and merchandise shop. ILOMOCA Art Director and University of the Philippines-Visayas Vice Chancellor Martin Genodepa was named curator of the space.
ADVERTISEMENT - CONTINUE READING BELOW
Upon entering, visitors will first catch a glimpse of The Hulot Exhibit, a commercial space for gallery exhibitions open to local or international artists. As of early May, it houses a statue of Martin Delgado, a bronze sculpture by Spanish artist Gines Serran Pagan. The art work celebrates the life and legacy of the Ilonggo military leader in the revolt against Spanish colonialism in the late 19th century and the first governor of Iloilo.
At the second level is ILOMOCA's primary exhibit, The Gallery, which showcase rotating themes and collections. The inaugural exhibit features three themes: the first highlights Filipino artists that have influenced the Ilonggo art scene as well as on the national level; the second focuses on Filipino sculpture; and a third exhibit features works by international artists that have influenced world art.
At the third floor is the Adoracion Valencia Gallery, which gathers artworks personally curated by one of ILOMOCA's primary donors, who named the gallery in honor of their matriarch.
ADVERTISEMENT - CONTINUE READING BELOW
Just some of the Filipino artists whose works are featured in the museum are Geraldine Javier, Rodel Tapaya, Arturo Luz, Juvenal Sanso, Ang Kiukok, Mideo Cruz, Ronald Ventura, BenCab, Daniel Dela Cruz, Ferdinand Cacnio, Onib Olmedo, Leeroy New and Abdulmari Imao.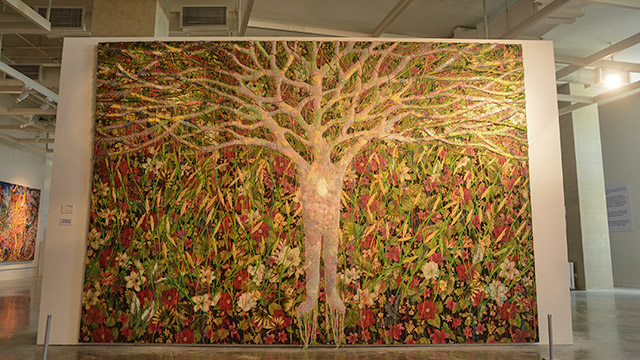 This larger-than-life Raffy Napay painting entitled "Being" welcomes visitors to the second floor main gallery
ADVERTISEMENT - CONTINUE READING BELOW
Fans of international artists like Salvador Dali, Joan Miro and Marc Chagall will be thrilled to see some of their artworks hanging there, too.
The ILOMOCA also has its own theater and events facility called The Box, that can serve as venue for film or performance art, theatre productions, art workshops, and special exhibits. It can accommodate up to 60 people and is equipped with state-of-the-art audio technology.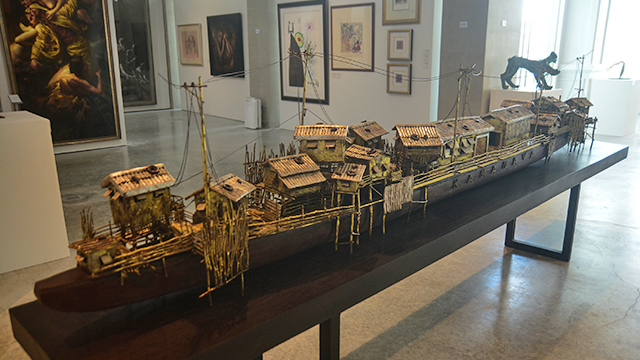 ADVERTISEMENT - CONTINUE READING BELOW
There is a strong focus on Filipino, especially Ilonggo art, at the Iloilo MOCA. This is Michael Cacnio's "Kamanava" 
"We look at ILOMOCA as a concrete manifestation of our goal to create urban townships that have their own charm and character," Tan shared. "We want to curate our development in such a way that they seamlessly blend with the local culture and promote tourism."
Admission to the museum is Php100 for regular visitors, Php80 for senior citizens, and Php for students. The museum is open Tuesdays to Sundays from 10:00 a.m. to 7:00 p.m.
*****
Paul John Caña is the managing editor of Entrepreneur PH