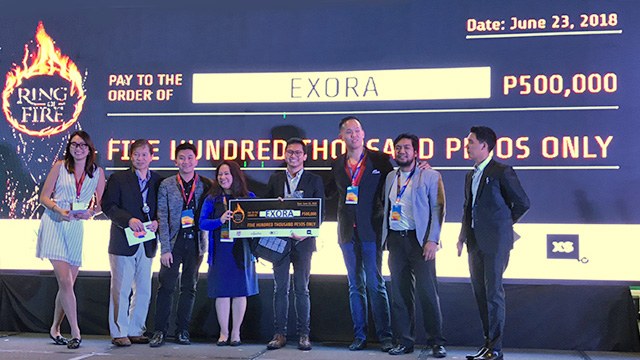 Exora CEO Michael Bernil (center) receives the Php500,000 grand prize during the Ring of Fire pitching competition at Techtonic Summit 2018
One-year-old startup Exora Technologies Inc., an online marketplace for big power users and retail electricity suppliers, emerged as the winner of the pitching competition at the end of the two-day Techtonic Summit 2018 on June 23.
ADVERTISEMENT - CONTINUE READING BELOW
Fresh from a pitching competition in Bangkok, Thailand, Exora Technologies Inc. CEO Michael Bernil's five-minute pitch bested presentations from nine other contenders. The startup founded by Ateneo de Manila University students won a cash prize of Php500,000.
This is the third pitching competition the startup has won in the last five months. The first was the Philippine leg of the Global Student Entrepreneur Awards (GSEA) sponsored by Entrepreneur Organization (EO) Philippines in February. It also won the local search for startups to compete at the Techsauce Global Summit organized by QBO Innovation Hub in May.
Called the "Ring of Fire Pitching Competition," the contest was one of the highlights of the June 22-33 Techtonic Summit 2018, one of the largest gatherings of startup owners and investors in the Philippines and Southeast Asia. The summit was organized by QBO Innovation Hub, a public-private partnership that helps Philippine startups scale up rapidly. Entrepreneur Philippines was a media partner of the two-day summit.
ADVERTISEMENT - CONTINUE READING BELOW
Related story: 20 Startups Make it to Pitching Contest During PH's Biggest Tech Summit
Established only in March 2017, Exora Technologies Inc. provides an online platform where big power users can choose a retail electricity supplier that can provide their needs through a blind bidding process. Before Exora came into the picture, large power users such as economic zones, factories and shopping malls chose suppliers through a manual process that took around six months, explained Bernil. It helped cut the process to just a few weeks.
According to Bernil, the platform is currently available to so-called contestable electricity consumers or large users with average peak demand of 750 kilowatts.
The Exora CEO said the company is expecting to have posted gross revenues of $6 million (Php324 million) by June 30. A bulk of the amount represents accounts receivables, he added. The company is in partnership talks with global energy specialist Schneider Electric for its expansion to Japan and Thailand.
ADVERTISEMENT - CONTINUE READING BELOW
In May, Exora signed a partnership agreement with the Ateneo School of Science and Engineering to train interns from the school and expose them to actual work situations. It took in a initial batch of four interns to work on web platform development, research and development, and sales.
Related story: Only 21, This Student Founded a Startup That an Electric Utility Wants to Buy for Php120M
Industrial machine sensor provider OneWatt, which uses artificial intelligence to predict an engine's emerging problems, was the Ring of Fire competition's first runner-up. Philippine-based startup Antipara, an underwater coastal mapping service provider, was the second runner-up.
QBO Innovation Hub President Butch Meily, one of the judges in the pitching competition, said the contest winners show the massive potential of local startups in the global market.
"The level of Philippine startups keep getting better and Filipino startups need to look abroad, raise their sights, because they're capable of doing it and they have the technology for it," he said. "Exora, OneWatt and Antipara can make money by going overseas. So, that's what we want to inculcate to our startup community; we cannot be inward looking or parochial and it's possible for us to make money and create wealth for founders, to their employees and to people [by expanding abroad]."
ADVERTISEMENT - CONTINUE READING BELOW
Apart from Meily, other judges of the competition included Genping Liu, partner at Vertex Venture Management; Ellen Nio, associate partner at Patamar Capital; Justin Hall, principal at Golden Gate Ventures; Wei Yun Ng, senior associate at Innoven Capital; Rina Neoh, angel investor; and Carlo Calimon, director at StartUp Village.
The Philippine startup ecosystem is largely considered to still be at its nascent stage what with the limited number of incubators and venture capitalist firms. A recent research conducted by Entrepreneur Philippines also showed that most of the country's top 50 startups by revenue are still burning cash as they continue market expansion.
Related story: Who Are the Top 50 Revenue-Generating Startups in the Philippines? 
This article was revised on July 2, 2018 to clarify that the company was still in discussions towards a partnership with Schneider Electric.


*****
Elyssa Christine Lopez is a staff writer of Entrepreneur PH. Follow her on Twitter @elyssalopz