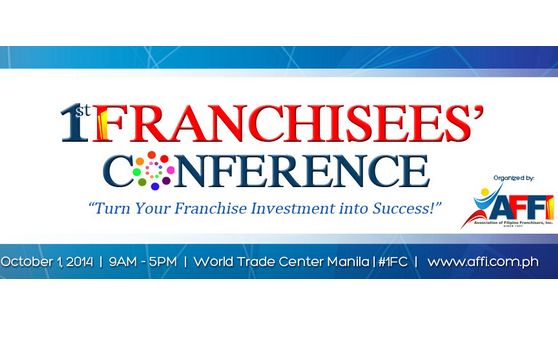 <>For over 20 years now, the franchising industry has been growing leaps and bounds. Several franchise conferences, conventions and seminars have been organized for franchisors, for those interested to franchise their business, and for those interested to invest in the franchise.
However, there has never been a formal conference directed to existing franchisees to date.
So as a first, the
Association of Filipino Franchisers Inc. (AFFI)
is organizing a Franchisees' Conference this coming
October 1, 2014
(Wednesday) with the theme "Turning your Franchise Investment to Success."
"Somehow, through all these years, people have failed to focus on the equally important partner in franchising---the franchisees. No one can argue with the fact that the success of any franchise system largely depends on the performance of the franchisees," AFFI said.
The
1st Franchisees' Conference
aims to help franchisees to develop business synergy and facilitate networking with other franchisees. It will assist them as they manage their own franchise branches.
The conference shall serve as a learning opportunity for the franchisees as they listen to other franchisees talk about their successes as well as their challenges.
Part of the conference will also be a walk through with the franchisees on the basics of franchising. This discussion will eliminate the franchisees' misconceptions and myths about franchising. Basics of franchising will set the record straight on what it really is.
A discussion will also focus on international franchisees' benchmarks for success. An appreciation of these benchmarks will set opportunities to put their own standards to higher levels.
Speakers of the 1st Franchisee Conference are franchisees themselves who have been in the business for over 20 years. They will share their experiences and their stories will surely encourage fellow entrepreneurs to become successful in their own franchise branches.
The conference will be held on October 1, 2014 from 9 a.m. to 5 p.m. at the World Trade Center in Pasay City. Interested participants can contact the AFFI Center for Franchising and look for Raffy G. Canare, executive director at 654-03-45 or mobile 09228149881 to 82. Email him at  rgc.affi@gmail.com .

ADVERTISEMENT - CONTINUE READING BELOW