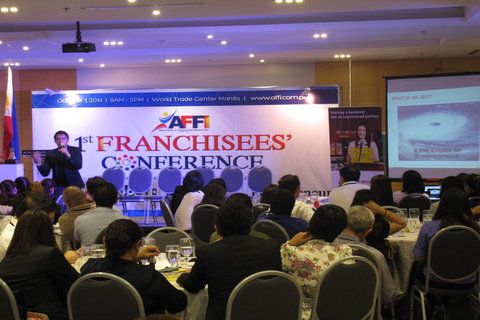 <>There is no doubt that the franchise industry has been instrumental in improving the Philippine economy. A number of franchising conferences and conventions have been organized for the past few years. It's only until now that the country's official franchising organization took the step in arranging an event directly targeting one of the economy's primary movers – the franchisees.
The
Association of Filipino Franchisers Inc. (AFFI)
recently launched its very first
Franchisees' Conference
last October 1, 2014 (Wednesday) at the World Trade Center in Pasay City. Choosing the theme '
Turning your Franchise Investment to Success
,' distinguished franchisees from various companies shared their knowledge and insights based on their years of experience as a franchise owner to the attendees.
The prominent speakers included GMB Franchise Developers' managing director Erlinda Bartolome, Greenwich and Mang Inasal franchisee and former vice mayor of Lipa City Fernando Manguera, The Generics Pharmacy franchisee Roderick Battung, Julie's Bakeshop franchisee Jason Arquisola, and Seaoil Philippines franchisee Mary Ann Guallar.
The event focused on teaching the basics of franchising. From managing franchise branches to knowing the do's and don'ts, the franchisees were treated to a day of learning opportunities in understanding more about the flourishing industry. The conference was also aimed at eliminating some of the myths and misconceptions about franchising.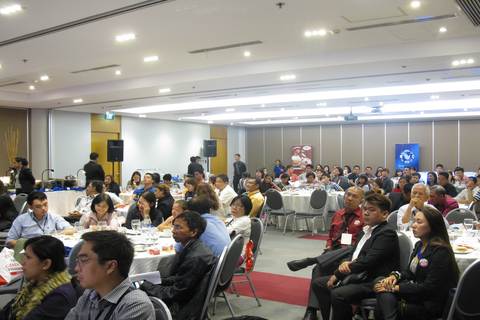 In addition to the general topic on franchising, there was also a discussion that revolved on managing employees, making the franchisors' system work, and marketing the franchised branch to developing a multi-unit system. The talk was capped off with an open forum discussion with the franchisees and with the franchisors as well.
ADVERTISEMENT - CONTINUE READING BELOW