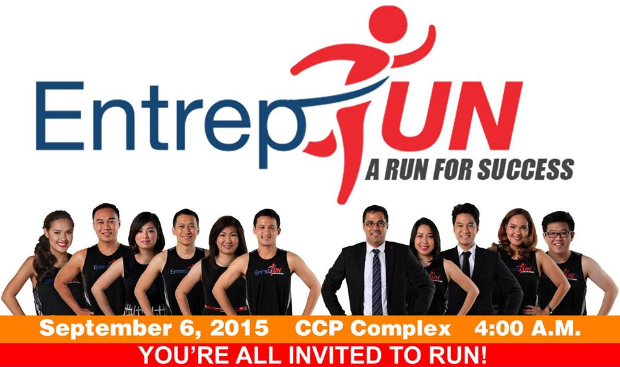 On its 18th year, the Association of Filipino Franchisers, Inc. (AFFI) aims to continue its advocacy to help young local entrepreneurs find solid ground within the business landscape. To help further promote entrepreneurship throughout the country, it is holding its first 'EntrepRUN: A Run for Success' on September 6.

During its press launch, AFFI emphasized that it prefers to describe the event as "more than a fun run" as it would showcase the various business industries and stakeholders to demonstrate solidarity in advocating entrepreneurship. 

The organization of entrepreneurs emphasized that it supports balance of business, health, and family through this activity. It hopes that the event will further promote a healthier lifestyle among businessmen, so they can literally run great distances for their businesses. 
ADVERTISEMENT - CONTINUE READING BELOW

Supporting the group's goals
EntrepRUN will bring together various trade organizations, private corporations, and local government units, symbolizing how even competitors can run as one to promote diversity within the business industry. 

This run is inviting all sorts of runners who are supporting AFFI's goals, whether or not they are entrepreneurs. The program will start at 4 a.m. on the event date. Runners will assemble at the Cultural Center of the Philippines in Manila. The run will stretch from Roxas Boulevard to Coastal Mall in Parañaque City.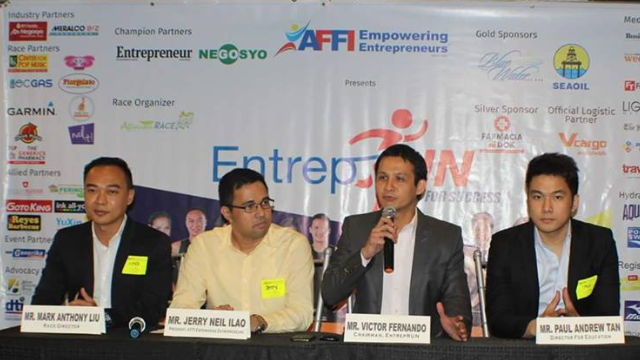 ADVERTISEMENT - CONTINUE READING BELOW
Various causes
According to AFFI, part of the proceeds from the event will be allocated to its corporate social responsibility programs, which are geared towards helping young Pinoy entrepreneurs launch their unique and promising business concepts. It will also allocate fund to donate to Go Negosyo's 'Building Enterprising Students for Tomorrow' (BEST) program, which in turn aims to award selected students with seed capital to launch their business ideas. 

Lastly, another fraction of the proceeds will help fund AFFI's Seminars and Business Clinic, a series of learning events that help educate the public about starting a small business. 

EntrepRUN is not all about running. The event will also set a festival area, where partner brands can showcase and sell their products or services. After the run, participants can attend the Breakfast Mentoring Sessions, which will comprise of four sets of seminars with the following topics: choosing a franchise, franchising a business, basic of entrepreneurship, and sales strategies. 
ADVERTISEMENT - CONTINUE READING BELOW

Entrepreneur Philippines is among the champion sponsors of EntrepRUN.