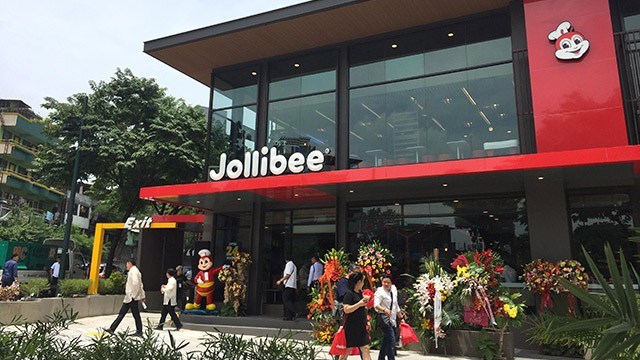 Jollibee's 1000th store serves as a prototype for the new look of all upcoming branches of the brand
Filipino fast food giant Jollibee Foods Corp. (JFC) opened its 1,000th Jollibee-branded local store in Taguig City on Monday, July 3, marking an important milestone 39 years after it was founded as an ice cream parlor in 1977.
JFC, the firm behind the Filipino burger chain, has been aggressively expanding in the last five years as it aims to be one of the largest restaurant companies in the world. The group, which also operates other fast food brands such as Chowking, Red Ribbon, Greenwich, Mang Inasal, Yonghe King and Smashburger, aims to run 4,000 stores in 17 countries by the end of the year.
"The 1,000-store count is only for the ones in the Philippines. Outside [the country], we already have around 200 branches more," JFC Chairman and Founder Tony Tan Caktiong told reporters in the sidelines of the event.
ADVERTISEMENT - CONTINUE READING BELOW
The home of Chickenjoy is not taking four decades more to reach its 2,000th store, however. Last year, it increased its local store network by 62 branches, which is almost triple its average of 25 new stores a year in the last 39 years. In fact, it built more stores in the last nine years—559 branches—compared to the 441 stores it opened in its first three decades.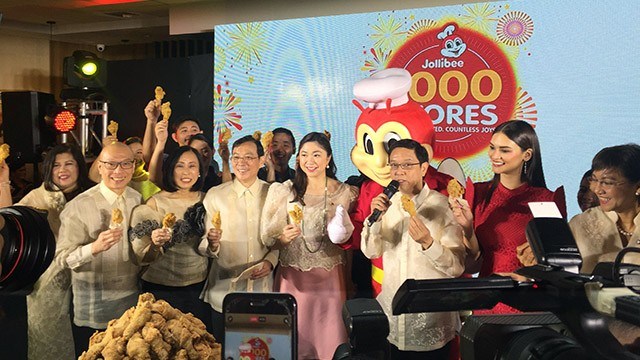 Jollibee Food Corporation Chairman Tony Tan Caktiong and his wife, Grace Tan Caktiong were joined by Taguig City Mayor Lani Cayetano and Ms. Universe 2015 Pia Wurtzbach for the store opening
The newest Jollibee branch is the prototype of sorts for the new look and feel of future branches opening in the country. Unlike its predecessors, the new Jollibee branch has a more modern interior design, with murals, leather chairs and a digital table for kids.
The location of Jollibee's 1,000th store in Bonifacio Global City (BGC), one of the few locations where it has fewer branches than McDonald's, is no accident. It underscores JFC's efforts to lead in all geographic and demographic segments of the market.
ADVERTISEMENT - CONTINUE READING BELOW
"It's more of a timing issue. In the past, we're more focused on our provincial expansion and now we see the need to also have more stores in BGC to cater to increasing demand," JFC Chief Executive Officer Ernesto Tanmantiong told Entrepreneur Philippines. "We're number one in all market segments but it doesn't change our strategy to be affordable for all markets."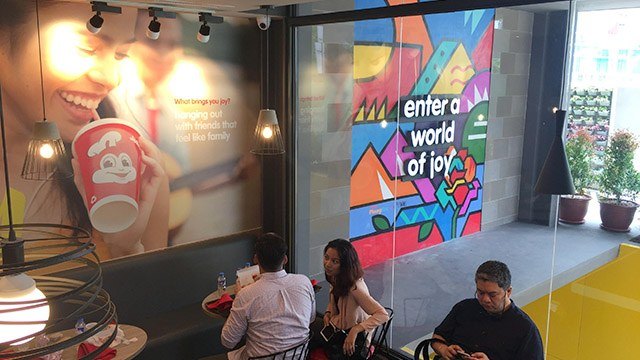 The new Jollibee branch has a more modern interior design, with murals, leather chairs and a digital table for kids
"As of today, [our international operations] only account for 20 percent," Tan Caktiong added. "Our strategy remains the same; our main focus is in the US, China and Vietnam and other OFW markets."
The company is aiming to boost foreign contribution to half of earnings in five years.
The group is shelling out a record-high capital expenditure budget of Php14.7 billion as it intends to end the year with 350 new stores for all of its fast-food brands here and abroad.
ADVERTISEMENT - CONTINUE READING BELOW
*****
Elyssa Christine Lopez is a staff writer of Entrepreneur PH. Follow her on Twitter @elyssalopz