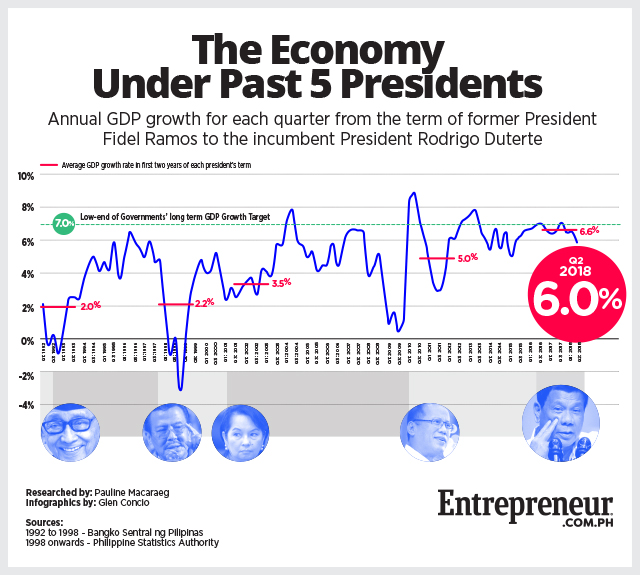 The Philippine economy slowed down to 6.0 percent in the second quarter of 2018, a decline from the 6.6 percent growth recorded in the previous quarter. It is way below the government's target of 7 to 8 percent, as well as analysts' forecasts of 6.6 percent.
This marks the lowest year-on-year GDP growth during the Rodrigo R. Duterte administration, which recorded an average of 6.6 percent for his first 12 months. The last time economic growth hit this low was in the second quarter of 2015.
ADVERTISEMENT - CONTINUE READING BELOW
Related story: PH GDP Growth Drops to 6.0% in Qtr 2, Lowest in 12 Quarters
Socioeconomic Planning Secretary Ernesto Pernia explained the decline was "largely due to policy decisions" of the government. Some of the key factors that affected the drop were the closure of Boracay island to tourists last April, the slowdown in export growth, and regulations made that negatively affected the mining sector, he said.
Inflation also took a toll on the growth of the Philippine economy. In July, the Philippine Statistics Authority (PSA) announced the headline inflation reached 5.7 percent—the highest in five years. The socioeconomic planning secretary said this caused gross deficiency in the domestic production of food.
Still, the average economic growth during Duterte's first two years in power is remarkably higher than his predecessors. (see infographic)
Pernia noted the government's aggressive push for the Build, Build, Build program as well as the tax reform law as the Philippine economy's growth stimuli. As well, the sustained growth in the past eight quarters can be seen as a steady build on gains made by the past administrations of Gloria M. Arroyo and Benigno Aquino III, who were able to sustain positive year-on-year growths during their terms.
ADVERTISEMENT - CONTINUE READING BELOW
Despite the slowdown, Pernia remains optimistic that the Philippines can still achieve the government target by year-end.
"This implies that the Philippine economy has to expand by 7.7 percent to attain the low end of our target of 7-8 percent," he said. "We have to double time our efforts in terms of encouraging sectors to become more productive and efficient in their activities."
*****
Pauline Macaraeg is a data journalist and Elyssa Christine Lopez is a staff writer of Entrepreneur PH