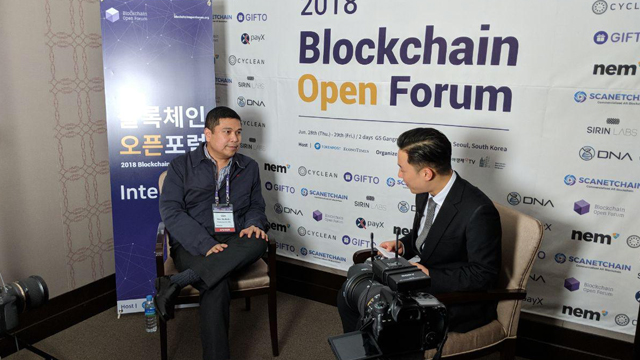 Nix Nolledo stepped down from his role as CEO of Xurpas, the consumer tech company he co-founded, to focus on ODX, which aims to provide free internet through a blockchain-enabled marketplace
ODX Pte. Ltd., a Singapore-based subsidiary of Philippine consumer technology firm Xurpas, has announced that it has raised over $60 million (Php3.2 billion) in commitments, or investors that have pledged their support in the company's private coin offering.
ADVERTISEMENT - CONTINUE READING BELOW
Xurpas is one of Southeast Asia's first listed consumer technology companies and was founded by Filipino technology entrepreneur Nico Jose "Nix" Nolledo.
In a press release dated July 25, ODX announced its list of supporters that spans several venture capital (VC) firms and individual investors from around the world, all of which it describes as "very prominent names in the technology and blockchain space."
ODX, which stands for Open Data Exchange, aims to provide free internet through a blockchain-enabled marketplace where advertising publishers and internet service providers (ISPs) can easily connect and transact at scale. It is targeting internet users in developing countries, where 80 percent of the global internet population reside, according to ODX.
While free (or sponsor-supported) internet access has been around for some time—Facebook, for example, works with internet service providers such as the telcos to provide free mobile broadband access for its users—ODX is one of the few tech startups to use a blockchain-enabled platform to facilitate the deals that make free internet possible. It promises to expand advertising publishers' reach while creating another revenue stream for ISPs, apart from subscription fees, which are no longer adequate to meet their rising capital and operational costs.
ADVERTISEMENT - CONTINUE READING BELOW
VC firms backing ODX include US-based Pantera Capital, Hong Kong-based Kenetic Capital and Israel-based Hexa Labs, while individual investors who have pledged their support include crypto-billionaire Brock Pierce, Akamai co-founder Randy Kaplan and Russian blockchain expert Alexander Shulgin.
In May, the company announced that it would hold a $100-million initial coin offering to fund the venture. However, the tokens will not be available for sale to citizens of the Philippines, US and China.
Related story: Listed Tech Firm Xurpas Announces Singapore Unit's $100-M Initial Coin Offering
"Blockchain is a revolutionary technology, with extensive benefits to enterprises, government entities and private citizens alike," said Nolledo, founder and chairman of ODX, in the press release. "It provides the perfect framework for our platform, which brings together internet service providers and publishers from around the globe in ways that have never previously been possible."
Earlier this month, Nolledo announced that he will be stepping down as CEO of Xurpas, which he co-founded in 2001, to focus on ODX. While he remains as Xurpas' chairman, his fellow co-founder and company president Raymond Racaza will take over as CEO.
ADVERTISEMENT - CONTINUE READING BELOW
Related story: Nix Nolledo Stepping Down as CEO of Xurpas to Focus on 'Revolutionary' Blockchain Technology
*****
Lorenzo Kyle Subido is a staff writer of Entrepreneur PH