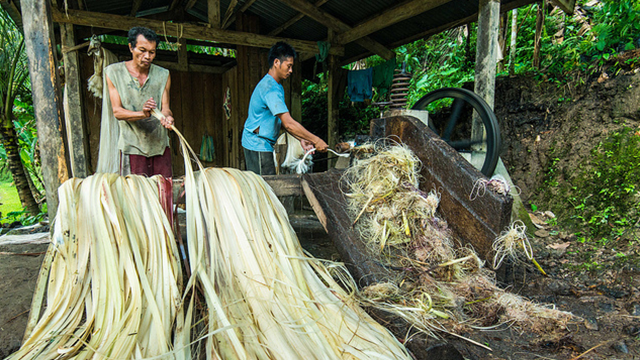 The Department of Agriculture commits to boost the production of abaca in the country through a Php 5 billion budget for the next five years.
Agriculture Secretary Manny Piñol discussed the allocation during the recent Abaca Farmers Forum held in Southern Leyte. Piñol said that an initial funding of Php 100 million will be downloaded to the local government unit of Sogod through its mayor, Imelda U. Tan.
ADVERTISEMENT - CONTINUE READING BELOW
The agriculture chief disclosed his plan to expand abaca plantation in the region, and announced that he already told President Duterte about his intention to spearhead the rehabilitation of the abaca industry in Leyte.
President Duterte was born in the town of Maasin, Southern Leyte.
Piñol said that about 90,000 hectares of abaca plantation is targeted not only in Southern Leyte but throughout the country.
"There is a great demand for abaca all over the world and there are only three countries producing it: Philippines (original producer), Ecuador and Costa Rica," said Sec. Piñol.
"We really have to exploit new opportunities in front of us, as far as abaca is concerned," he added.
Abaca technology
The abaca program is a five-year program with an expected budget of Php 4B for planting materials, fertilizers, modern technology, stripping machines and for the improvement of the industry, Sec. Piñol explained.
Piñol initially committed P100M, but the said amount has to be used by the end of the year, being part of the agency's Php 2B budget left for 2015 that needs to be expended by the end of 2016, or else will be reverted to the national treasury.
ADVERTISEMENT - CONTINUE READING BELOW
Out of the Php 100M, Php 50M is allotted for the immediate procurement of planting materials, which will cover about 1,500 hectares.
The plan is to immediately assist the farmers by buying planting materials from them using the local abaca variety called inusa, which is performing very well in the area.
Intensive technical training in line with the program commences, which covers production of abaca planting materials, abaca bunchy top disease management, accurate fertilizer application, proper planting distance and cultural management practices.
More methods of support
Sec. Piñol said that in addition to the planting materials, the agriculture department will also provide fertilizer to the abaca farmers.
"However, the abaca production support to farmers will be under a tripartite agreement of 'Plant Now, Pay Later' scheme," he pointed out.
The government is targeting 90,000 hectares of abaca to be planted under coconut trees.
A new technology where 4,000 abaca seedlings can be planted per hectare, from the usual 1,600 seedlings per hectare, will also be introduced.
ADVERTISEMENT - CONTINUE READING BELOW
Other crops such as coffee, cacao, ginger and turmeric can be planted under the coconut trees, which means higher income for abaca farmers.
"As additional support, municipalities with abaca ready for harvest will be provided with stripping machines upon request," Sec. Piñol said.