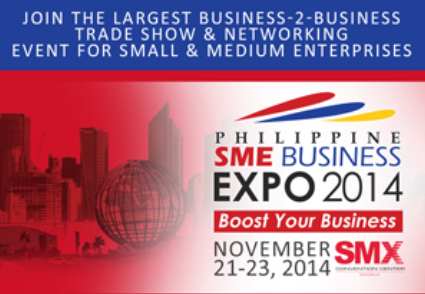 <>According to some observers, the country's agriculture sector is currently not competitive compared to the markets of Indonesia, Vietnam, and Thailand. Poor farm-to-market linkages and failure to modernize and specialize are just some of the factors that are usually blamed for this.
To help address these concerns, the
2nd Philippine Small and Medium Enterprise Business Expo (PhilSME) 2014 with the tagline
"
Boost Your Business
" is conducting an
SME Agri-Forum
, a seminar designed to enhance knowledge and prepare agricultural entrepreneurs for success in the local and regional marketplace.
"It is imperative and urgent that our government and agri-businessmen must start working closely together as the Thais are doing. Believe me, I have not seen this. If we do not act soon, much of our agriculture will perish, poverty will increase, and we will have the opposite of the government-proclaimed goal of inclusive growth," business tycoon Manuel Pangilinan said during the World Economic Forum.
The SME Agri-Forum will be held on the 2nd day of PhilSME 2014,
November 22
, at
5:00 p.m.
and will feature business models, trends, threats, and opportunities for the upcoming ASEAN integration in 2015. It also aims to equip young agripreneurs with the right knowledge and skills to keep pace with the future of the global agriculture industry.
Dr. Rolando Dy noted in his presentation during one of the previous general meetings of the  Management Association of the Philippines (MAP) that agriculture is significant to the rest of the agribusiness. The agribusiness chain contributes 35% to 40% of our gross domestic product (GDP). Agriculture contributes 12%, food manufacturing 10%, and agri-services about 13% to 18%.
"The ASEAN economic integration in 2015 will challenge our food supply industry. On a positive note, we can be a competitive player in this field - if we will focus on our natural advantage; that is, being a nation with great agricultural resources," shared Alan Paul Vargas, General Manager of Farmville Agricultural Source Team (FAST), a Filipino owned food service provider of fresh produce.
PhilSME 2014 will be held from
November 21-23, 2014 at SMX Convention Center
Manila, Pasay City. It is the country's largest business to business exhibition, conference and networking events for small and medium enterprise (SME) business owners. It shall be the venue for small and medium businesses from the Philippines and the ASEAN region to build new relationships; help network with local and international decision makers, business owners, and senior level executives; and facilitate trade amongst SMEs and its supporters.
To BOOST YOUR BUSINESS towards success in an economically integrated world, register at www.philsme.com or call +63.2.509.4792. Stay connected with the small and medium business community via Facebook: www.facebook.com/PhilippineSMEBusinessExpo and twitter: www.twitter.com/PhilSMEexpo.

ADVERTISEMENT - CONTINUE READING BELOW