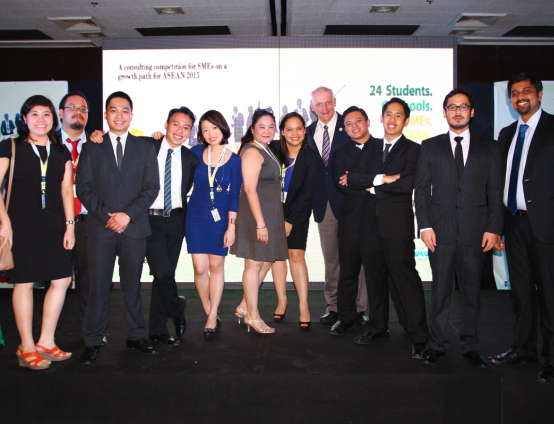 <>The Asian Institute of Management (AIM) recently turned its Fuller Hall into a business arena with AIM Accelerate, a student-led business competition which aims to provide avenue for young and talented individuals to apply their entrepreneurial skills and act as consultants to identified small and medium-sized enterprises (SMEs).
This year's theme, 'Grow,' encouraged participants to create business models for SMEs that would help them adapt to the changes brought by the ASEAN integration. The students were asked to apply the theories they learned in their years of study to real-life situations. The business model they drew up for their clients were then judged by an international panel of industry experts.
"I wanted to teach the students how to practice their learnings from my Marketing Communications class by giving them the task to handle this event from planning, strategizing and implementing." said Prof. Maoi Arroyo. "So far, they topped last year's event and was able to exceed my expectations," she added.
Accelerate changes
"Accelerate is about giving these SMEs access to knowledge for free. The coming ASEAN integration requires SMEs to be prepared, to collaborate, and to adapt, whatever industry their business is in," said RJ Paguyo, marketing head of AIM Accelerate. "When we collaborate, we move forward," added Paguyo.
Now on its second year, AIM continues to strengthen the program by integrating student expertise with real-life practice. The 24 students from Philippines, India, Mexico, Malaysia, and Singapore defended their chosen business model tailored specifically to the need of their business counterpart.
Participants and winners
Six teams of students from business schools in the Philippines, India, Mexico, Malaysia and Singapore battled it out with Team Beauchem emerging as the winner. The winning team, comprised of Zea Nicole Balane, Harsh Sureka, Cory Reid, Abhishek Mukherjee, and proponent Nadelyn Tores-Baldonado.
The event was organized by Batch 2014/Cohort 9 under the supervision of Prof. Maoi Arroyo and schools like Nanyang Technological University, Indian School of Business, National University of Singapore, IPADE Business School, Putra Business School, and AIM participated.
ADVERTISEMENT - CONTINUE READING BELOW