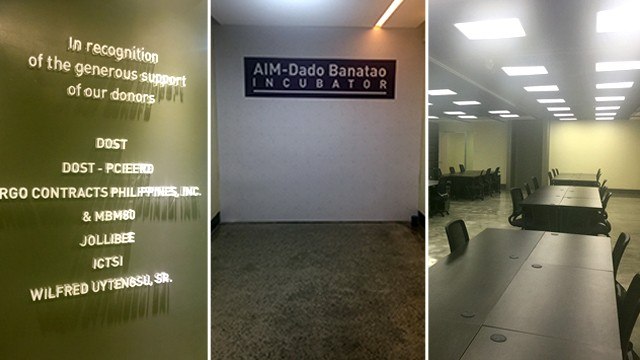 The Asian Institute of Management (AIM), Department of Science and Technology (DOST) and IT pioneer Diosdado "Dado" Banatao, chairman of the PhilDev Foundation, have launched an incubation program that aims to support early-stage startups "with deep technology, science, or engineering solutions to the neglected problems of the emerging world."
ADVERTISEMENT - CONTINUE READING BELOW
The AIM-Dado Banatao Incubator, located at the second floor of the AIM Conference Center beside the AIM campus in Makati city, was formally inaugurated on August 10, 2017.
AIM, in partnership with PhilDev, has received an initial Php14.8 million in funding for the AIM-Dado Banatao incubator under the DOST Incubator Creation Program, according to AIM president Jikyeong Kang. In addition, AIM itself has allotted Php6 million for the program, she said.
Most of the money was used to refurbish the second floor of the AIM Conference Center, which was converted into the incubation hub. The space used to be rented out to other organizations, said Kang.
To be eligible to participate in the incubation program, startups should have a proven ability to build quickly, sell to customers and evolve their idea into a business that could grow. The startup founding team should consist of two to six members, with at least one of the founders having a rigorous science, engineering or technical expertise. Another founder should have market and business expertise.
ADVERTISEMENT - CONTINUE READING BELOW
The program is open to startups with or without prior external funding, revenue or customer traction. They should focus on sectors that need innovative solutions such as communications, agriculture, health, artificial intelligence, internet of things and others. The solutions need not be limited to software but can include hardware and business model innovations.
One of the country's best well-known international technology entrepreneurs, Banatao founded several Silicon Valley companies, including Chips & Technologies, S3 Graphics, SiRF, Marvell and Inphi. He pioneered two technologies widely regarded as the cornerstone of the personal computer: chipset and graphics acceleration architecture.
Banatao has committed to support the eligible startups with mentorship and access to his global network of serial entrepreneurs, top executives, industry experts and funding sources, said Kang.
"Aside from providing qualified startups rent-free working space, AIM will also gladly make accessible to them a mentoring program and the expertise of our faculty and alumni," Kang added.
ADVERTISEMENT - CONTINUE READING BELOW
Despite the steep eligibility requirements, Kang is confident they'll be able to find enough startups to support because the innovation program is also open to accepting startups from other countries in the region. "If we find somebody from Malaysia, Indonesia, Vietnam, I don't think we will actually say no. That is something we discussed early on," she said.
Besides, the program will be focused on providing quality support rather than be driven by numbers, she said. Though the incubator can physically accommodate 11 startups at any one point in time, AIM won't necessarily try to set that as a target. "How we see this is quality support, 200-percent quality support that we will provide rather than doing with numbers," Kang said. "Let's find the best there is and then we'll provide super strong support."
The AIM–Dado Banatao incubator has a rolling application with no set deadline. For more information, please visit their website.
ADVERTISEMENT - CONTINUE READING BELOW
*****