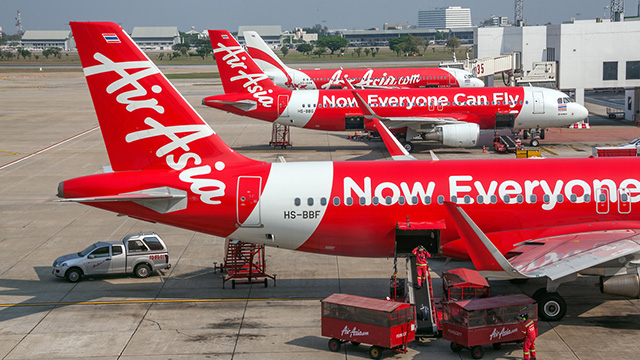 The Philippine unit of Southeast Asian low-cost airline AirAsia is planning to launch an initial public offering (IPO) in the latter part of the year, according to AirAsia Philippines President and CEO Dexter Comendador.
"AirAsia is extremely proud of the positive turnaround of our Philippine operations," said the company in a statement. "We are looking forward to an exciting year leading into an IPO for our Philippines' operations by the second half of 2018."
While Comendador did not specify the size of the IPO, a Reuters article dated October 2, 2017 quoted him as saying that the company is raising up to $250 million (Php13 billion) through the listing. However, a February 6 article from the Philippine Daily Inquirer quoted Tony Fernandes, the head of AirAsia's Malaysia-based parent unit, in saying that AirAsia Philippines may raise more than the expected $250 million amount.
According to Comendador, the listing of the Philippine AirAsia unit is the final step before the regional group pursues a so-called "AirAsia Asean stock." As AirAsia's local units in Malaysia, Thailand and Indonesia have all done their IPOs already, Comendador revealed that the end-goal is to list an AirAsia stock encompassing its Southeast Asian operations onto a major international board.
"The dream of Tony [Fernandes] is to come up with the Asean stock, so AirAsia Asean," Comendador told Entrepreneur Philippines. "Hopefully we can put it on an international board, [such as] Hong Kong or Singapore."
AirAsia Philippines' IPO will cap off what Comendador says is an "aggressive" year for the company. He revealed that the airline will increase its capacity by at least 30 percent, adding six planes to its end-2017 roster of 17.
AirAsia Philippines President and CEO Dexter Comendador speaks during The Red Hub Convention, a forum that featured speakers and representatives from the startup industry both in the Philippines and around Southeast Asia
ADVERTISEMENT - CONTINUE READING BELOW
As well, AirAsia Philippines is also making big moves to cater to a new type of audience: digital nomads, or people who travel for business-related rather than tourism-related reasons. According to Pete Chareonwongsak, AirAsia's regional chief operations officer, the company is noticing more and more of its customer base across the region using its flights for conducting cross-border businesses rather than for tourism and pleasure. And Comendador confirmed that his team is seeing the same trend in the Philippines as well.
AirAsia Philippines has begun rolling out products, services and projects designed for these digital nomads such as small business owners, freelancers, entrepreneurs and other business-minded individuals.
One of these projects is The Red Hub Convention, a one-day forum held last March 17 that featured speakers and representatives from the startup industry both in the Philippines and around Southeast Asia. These included founders of successful businesses, heads of startup-oriented services such as coworking spaces and even government officials that are enabling their countries' respective startup ecosystems.
"We're trying to bring them [digital nomads] out into the open and study this new niche in travel," said Comendador on the Red Hub Convention. "That's why we're interested. These groups may turn out to be quite big, [so] we can offer them services to make their job of going around easier."
Related story: Tony Fernandes' AirAsia Aims to Foster More Links Between Indonesian and PH Startups with Direct Manila-Jakarta Flights 
*****
Lorenzo Kyle Subido is a staff writer of Entrepreneur PH