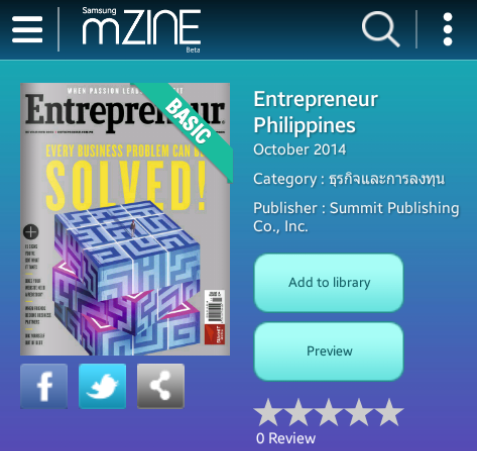 The leading magazine publisher has teamed up with Samsung to deliver an exciting new product to readers and fanatics alike. MZine, a mobile application that offers magazines on an all-you-can-read format, was recently unveiled by the Korean giant, bringing Summit Media's range of glossies to consumers' fingertips.

"We are excited about mZine because it is our first foray into an all-you-can-read model," says Lisa Gokongwei-Cheng, president of Summit Media.

According to Gokongwei-Cheng, mZine makes digital magazines 'very accessible' and 'provides excellent value for money.' For a budget-friendly price of Php299 a month, readers gain unlimited access to their favorite Summit Media titles such as Entrepreneur, YES! Magazine, FHM Philippines, Cosmopolitan, Good Housekeeping, Preview, and many more.

With over 445 million mobile phones sold in the previous year—86 million of those smartphones—Samsung's vast network presents a very promising potential for digital publishing. "With Samsung's wide network in the Philippines, we know we will reach many more readers outside of the print product," adds Gokongwei-Cheng.

Download the mZine app now to enjoy all your favorite issues of Summit Media magazines. The mZine app is available on the Google Play store for Android users.
ADVERTISEMENT - CONTINUE READING BELOW