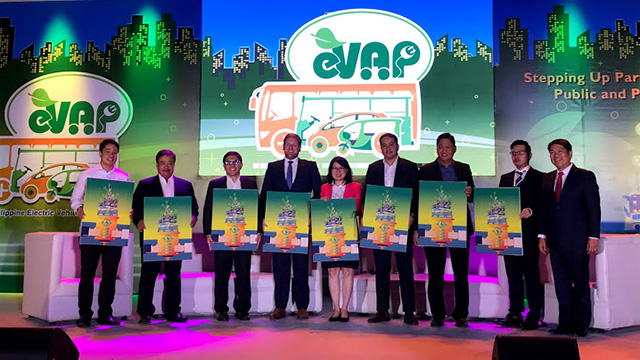 Panelists during the forum on state of Electric Vehicles in the country, with a presentation by Frost and Sullivan Senior Consultant Paulo Mutuc (second from right)
By the year 2025, the Philippines will have 10,000 e-jeepneys and about 200 charging stations. That's a big leap from the current number of 1,400 e-jeepneys and 19 known charging locations, most of which were put up with local government support and grants from external organizations.
ADVERTISEMENT - CONTINUE READING BELOW
This was the fearless forecast of Frost and Sullivan, a business consulting firm involved in market research and analysis. Senior consultant Paulo Mutuc presented the firm's latest findings on e-mobility during an afternoon session at the 6th Philippine Electric Vehicle Summit at the SMX Convention Center on Tuesday, July 10.
"Forty-six percent of potential car buyers we surveyed in the Philippines displayed an openness to buying an electric vehicle (EV)," Mutuc said. "The main motivating factors include better safety standards, charging flexibility and convenience and a battery range that is equal to a full tank (of gas)."
Mutuc said the first deployment of EVs in the country occurred in 2008 in the city of Makati. In 2016, the Department of Energy and the Department of Transportation began the roll-out of 3,000 e-tricycles, which Mutuc said is the single largest roll-out of EVs in the country to date.
Mutuc added that there are at least 28 firms in the Philippines involved in the electric vehicle industry in some way, including 11 parts manufacturers, seven importers and dealers and 10 jeepney quad assemblies.
ADVERTISEMENT - CONTINUE READING BELOW
The Future is Electric
The potential for growth of electric vehicles in the country mirrors the global trend. Last year, over 1.2 million EVs were sold worldwide, representing two percent of total passenger car sales. This is a remarkable 2,238-percent jump from the 51,325 units sold in 2011 and a 54-percent increase from the 779,411 EVs sold in 2016.
Despite these numbers, EVs are still only predominantly in China and Japan in Asia. Within Southeast Asia, only Thailand is making significant strides in EV adoption.
Frost and Sullivan also noted some 165 EV models were sold by major car brands and over 90,000 charging stations have been identified across the globe in 2017. The firm's outlook in 2025 suggests that EV sales will hit 23 million, or 22 percent of the passenger vehicle market.
"One important thing to note is that, for the first time, battery prices fell below $200 last year," Mutuc said. "We believe this trend will continue in the medium-to-long term."
ADVERTISEMENT - CONTINUE READING BELOW
Philippine setting
Mutuc said that in the Philippines, there is no single government program or initiative that aims to consolidate support for EVs. Still, he mentioned several policies from different agencies, including EO 488, which provides zero tariffs for parts and components for EV and hybrid assembly; the public utility vehicles (PUV) modernization program; provisions in the Tax Reform for Acceleration and Inclusion (TRAIN) law that grants exemptions in additional taxes and 50-percent tax rates for hybrid cars compared to non-hybrid automobiles; as well as additional incentives from the Department of Trade and Industry's Bureau of Product Standards and in the investment priority plans of the Board of Investments.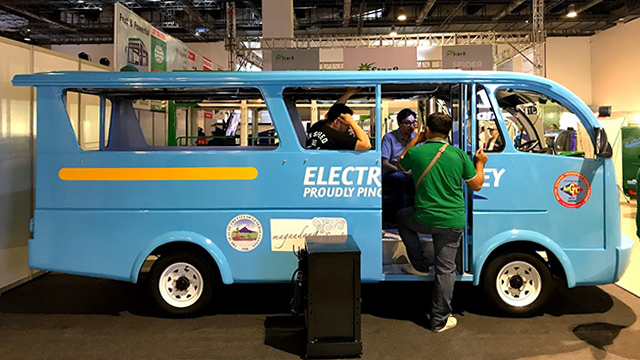 ADVERTISEMENT - CONTINUE READING BELOW
Manufacturers displayed prototypes of their electric vehicles during the EV Summit
According to Frost and Sullivan's study, a total of 16 bills are currently pending in the current session of Congress, with nearly all bills focused on non-fiscal incentives for EV adoption, such as priorities in registrations, exemption from the MMDA's Unified Vehicular Volume Reduction Program, free parking spaces and so on.
Mutuc added that, judging by the beneficiaries of programs and incentives, public transport is driving and will continue to drive EV adoption in the Philippines.
Challenges facing Electric Vehicles
He identified several key challenges facing proponents of EVs in the country.
 "People need to be aware that EVs in the macro environment are favorable overall," Mutuc said. "It's important to emphasize that EVs could be part of the solution to pollution and congestion."
For many potential buyers of EVs, range anxiety and safety concerns are still top of mind. Mutuc said that about 63 percent of those surveyed are less than 40 years old, which could prove favorable to the industry.
ADVERTISEMENT - CONTINUE READING BELOW
 "The benefits of EVs should be made clear," Mutuc said. "We need to make those values clear and tangible, especially to jeepney and tricycle drivers, particularly given high upfront costs."
"With programs and policies such as the PUV modernization plan, the Comprehensive Automotive Resurgence Strategy (CARS) program, tax reforms and the Build Build Build program, presenting a compelling argument for the public to support more incentives for EVs and for policymakers to prioritize increasing EV adoption will be necessary," Mutuc said in the report. 
Not all EVs are the same, and the development of charging networks will require forecasting the market mix, he added. Development of the charging network, therefore, will need to take into consideration the types of EVs that will be on the road.
EVs, of course, use electricity, so upgrades to power distribution have to be made in anticipation of every day and fast charging requirements.
"Collaborations (among the different stakeholders) will be key to raising to EV adoption and making the necessary technologies and business models work," Mutuc concluded.
ADVERTISEMENT - CONTINUE READING BELOW
*****
Paul John Caña is the managing editor of Entrepreneur PH