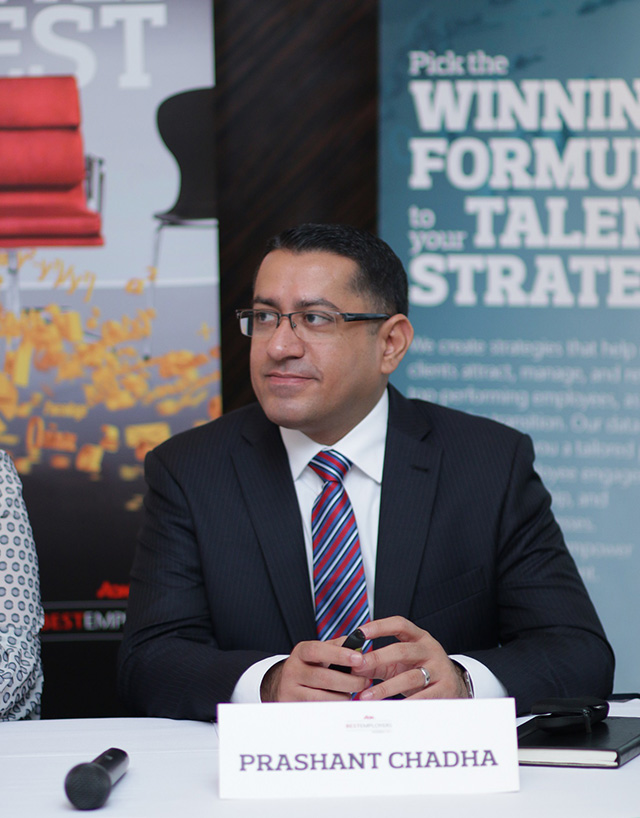 Prashant Chadha is managing director of Aon Hewitt Philippines 
Multinational firms dominated global professional services firm Aon's inaugural best employers' list for the Philippines, beating other foreign and local companies in terms of their competitive employee engagement programs.
For the first time since it was launched in 1999, AON's Best Employers' Programme covered companies doing business in the Philippines this year, getting a worldwide total of 550 participating firms. To properly assess each company's human resources' programs, the surveys conducted cut across three layers of a firm's employee population: employee opinion survey for entry-level officers, people practices questionnaire for HR leaders and CEO questionnaire and discussion for the company's top leader.
The three surveys aim to capture the company's performance on four areas: employee engagement, compelling employer brand, effective leadership and high performance culture. A panel of judges composed of human resources experts, business leaders and members of the academe then assessed and ranked the firms without ever learning the participating company's profile name.
ADVERTISEMENT - CONTINUE READING BELOW
Aon Hewitt Philippines Managing Director Prashant Chadha said such method avoided any form of bias on the judging process thus producing an objective list of best employers. The final list all employ more than 100 people with majority having been in business in the country for more than a decade.
International finance giant American Express International Inc. and logistics firm DHL Express Philippines Corp. were some of the organizations included on the list. They are joined by hospitality industry leaders InterContinental Hotels Group and Marriott International. Sodexo Benefits & Rewards Services Philippines also made the cut. While fairly new in the country, Home Credit's Philippine office also made the list.
These organizations recorded significantly higher average scores than market average across the four performance areas: 87 percent in employee engagement (vs. 69 percent market average); 92 percent in compelling employer brand (vs. 77 percent market average); 88 percent in effective leadership (vs. 68 percent market average) and 86 percent in high performance culture (vs. 67 percent market average).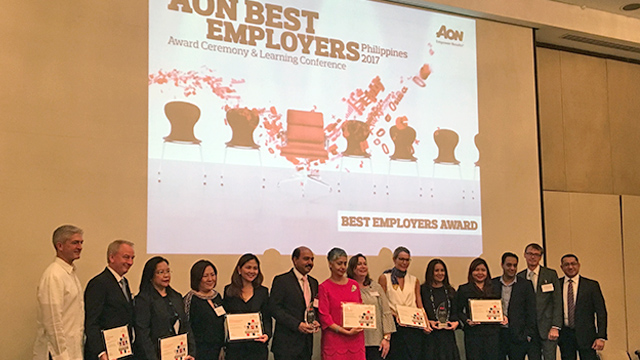 ADVERTISEMENT - CONTINUE READING BELOW
Multinational companies dominated the list of best employers in the Philippines
Aon tried to downplay the prominence of multinational corporations in the resulting list, saying that the nationality of the ownership of the firms wasn't really a significant factor. "I don't think it matters if it's a local or international [company]; what matters are the results these [firms] show. What can we learn from these companies and how can the others emulate their best practices?" Chadha added.
Still, the results pose a challenge to Filipino-owned companies to step up their human resources program as most, if not all multinational firms named on the list, have recruited employees from their organizations too, Chadha acknowledged.
"I think our request for them is to take the first step [to become better employers] because the companies named here are all led and employ Filipinos so there's no reason not to have better employee engagement or company culture," he said.
Aon also recognized four other organizations, majority of which are also multinational firms, for their remarkable company programs in certain areas and categories. Golden Arches Development Corp., the company running the local operations of fast-food giant McDonald's, was awarded special recognition for their commitment to employer brand and to Generation Y (or those born after 1991). The 25-year-olds and younger make up 90 percent of McDonald's employee population in its 540 stores nationwide. 
"I think we excel because we provide job stability. We never practiced contractualization, so once you're an employee, you're already on probation for regularization. And since most of our employees are still young, our training provide them life skills that they enjoy for the rest of their careers," Golden Arches Development Corp. Human Capital Group Vice President Chona Torre said.
ADVERTISEMENT - CONTINUE READING BELOW
Meanwhile, the lone Filipino company recognized by Aon, NutriAsia Inc., was recognized for its commitment to women. At least 38 percent of the firm's 550-employee pool are women, while more than half of their managers are female.
The local office of logistics firm Federal Express Pacific LLC was also recognized for its commitment to leadership and high performance culture. Meanwhile, one of the country's largest business process outsourcing firms, Telus International Philippines Inc., was given a special recognition for its commitment to engagement.
*****
Elyssa Christine Lopez is a staff writer of Entrepreneur PH. Follow her on Twitter @elyssalopz