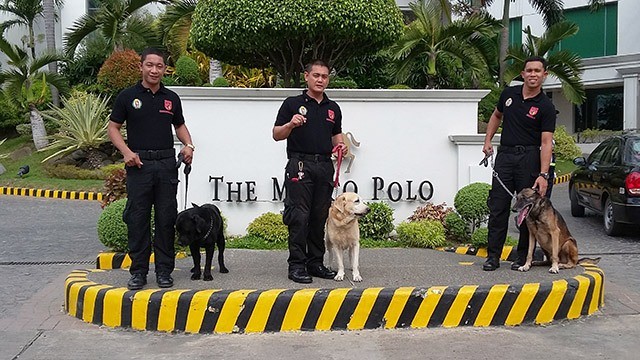 As government troops advance against the remnants of the steadily weakened jihadist forces in Marawi City in central Mindanao, police and military authorities are on heightened alert for diversionary or retaliatory terror attacks in other parts of the country.
On June 30, Pacific Strategies and Assessments (PSA), a Manila-based regional security and risk management firm that advises multinational and large local companies, issued a special advisory to its clients that it has "received a number of inquiries regarding reports of bomb threats and other terrorist plots directed against urban centers in the Philippines." It revealed that according to one report, "the terrorists reputedly targeted five hotels in Metro Manila."
ADVERTISEMENT - CONTINUE READING BELOW
PSA stressed that the reports were "unverified and that there is no credible or specific information of a terror threat to urban centers of the country at this time." Nonetheless, it also reminded clients that "terror attacks can happen any time or place without warning, in the Philippines and globally."
The attack mounted by a lone gunman on the Resorts World Manila (RWM) hotel and casino on June 2, while not a jihadist terrorist action, demonstrated the damage that violent incidents can cause on the guests, employees and operations of hotels and hospitality establishments. The attack and resulting fire at the RWM claimed the lives of 38 people, including those of guests, staff members and the attacker himself.
The RWM incident, and the emerging security situation in the wake of the fighting in Marawi, underscore the need for business establishments to be prepared in times of danger.
This article provides insights from Marco Polo Davao (a part of the international chain of Marco Polo hotels) and key security specialists on the importance of investing in security in today's hospitality landscape. Davao City itself, long considered one of the country's most peaceful cities, has not been spared from terrorism of late. In September 2016, suspected terrorists planted a homemade bomb at the Davao night market that exploded and killed 15 people and injured 70 others.
ADVERTISEMENT - CONTINUE READING BELOW
Develop a Security Plan
Safety and security should be a top priority in any hospitality establishment. "The home is where people feel comfortable and secure, and hotels and resorts provide a second home to travelers. Without that feeling of security and comfort, hospitality providers fail," says Dottie Würgler-Cronin, general manager of Marco Polo Davao. She adds that emergency situations come in various forms. It helps to have a security plan that contains a designated response for each type.
"Major damages can be prevented if there is proper internal communication, coordination with the nearest PNP/AFP forces, staff training on crisis management, issuance of firearms, CCTV monitoring and sufficient security personnel," says Elben Jay Pang, vice president and chief operating officer of Mati Investigation Security and Allied Services Inc. (MINSAS).
Freddie Negro, Operation Manager of MINSAS, adds that during man-made attacks, PNP personnel cannot immediately respond. "So, security must be built upon an in-depth system of defense or accumulated delay time. Security personnel are tasked to provide immediate protection by barring or delaying intruder penetration and, if possible, apprehending the intruder," he explains.
ADVERTISEMENT - CONTINUE READING BELOW
Balancing Security and Client Comfort
Security experts say that ideally one male and one female guard who can frisk incoming guests should man each entrance and exit. However, customers often complain when they are subjected to physical search and their belongings thoroughly inspected.
A security specialist, Jay Ramirez, points out that the actual configuration of the security plan implementation will depend on the business' priority. "In the hospitality industry, at times, the customer policy supersedes the security policy," he says. Balancing between client satisfaction and client safety is a delicate task that must reflect on the security plan.
"While we prioritize the safety and security of our establishment, we also make sure that guests feel at ease as they enter our premises," says Cronin. "We have seven levels of security to ensure that we are able to screen people and filter any individual who may intend to inflict harm on others," she explains.
ADVERTISEMENT - CONTINUE READING BELOW
Types and Costs of Security Measures
So, what are the various security measures that businesses can adopt? Typically, the services of a security agency are acquired. Negro of MINSAS outlines the various kinds of guards that a hotel/resort may require:
- Uniformed guards at the main gate
- Uniformed guards at building entrances/exits
- Uniformed guards at the lobby
- Detectives in barong attire at the lobby
- Perimeter/Parking Area guards
- Roving guards
- Restricted Area guards
- A CCTV-and-Radio Operator
"The number of security guards is proportionate to the amount of attention needed to make sure that different areas and the people in the hotel are cared for. We increase the number of guards whenever necessary," says Cronin.
Other than security personnel, Marco Polo also employs sniffing dogs. "We have a highly trained and certified K9 Team that undergoes regular training and evaluation to ensure both dogs and specialized handlers remain updated and in their best shape. In fact, Tabasco, a Labrador Retriever who is part of our team, topped the Mindanao-wide K9 examination for 2016," shares Cronin.
ADVERTISEMENT - CONTINUE READING BELOW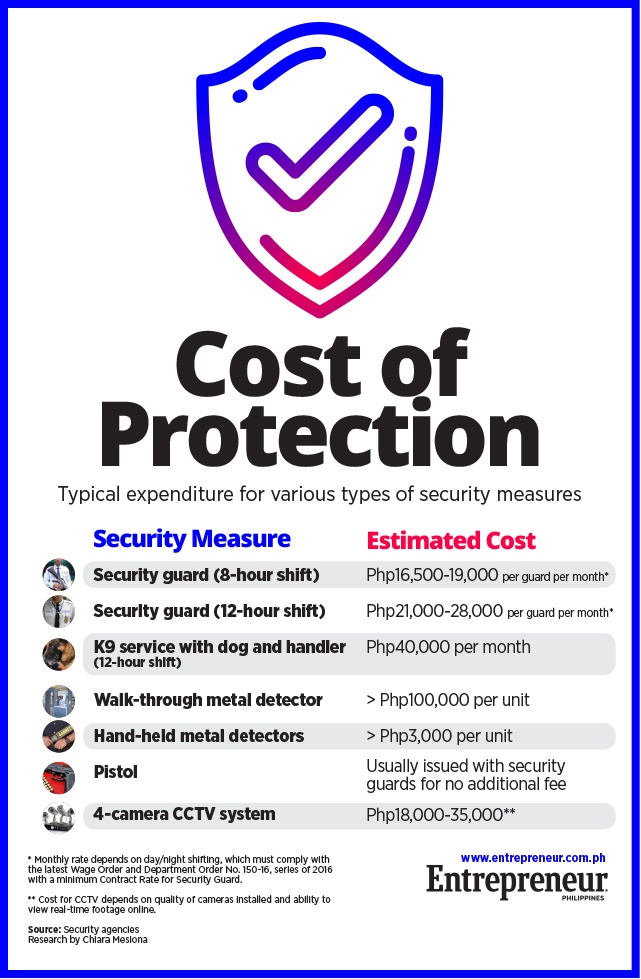 Security Mindfulness
Security specialists suggest a business establishment's location, size and structural design must be surveyed first to determine areas with security risk. However, spending for security is often caught in the dilemma between what is urgent and what is not urgent but necessary. According to Ramirez, "Once an agency provides its list of recommended security measures, business establishments usually negotiate to cut down on costs." (See table on cost of security services and devices)
ADVERTISEMENT - CONTINUE READING BELOW
While Marco Polo invests heavily on security measures, the hotel also nurtures a security-oriented culture. "Safety and security is not determined only by the number of security guards and equipment that we procure. The physical building, the partners we deal with, the profile of our associates and, most importantly, the skills of our people are also considered," says Cronin.
The hotel invests in training and development of security mindfulness and crisis management skills, communication of high-level security procedures with guests, partners and vendors, and partnership-building with neighboring establishments and the local government unit for integrated security.
With a strong security network and an internal culture for safety and security, hotels and resorts can be better prepared to respond to an emergency. As Cronin explains, "This [maintaining a security-conscious team] is not an assurance that we will be spared from any danger, but it enables us to face security challenges in the future."
ADVERTISEMENT - CONTINUE READING BELOW
*****
Chiara U. Mesiona is a Davao-based freelance business writer. Get in touch with her at chiara.mesiona.B2Bcopywriter@gmail.com