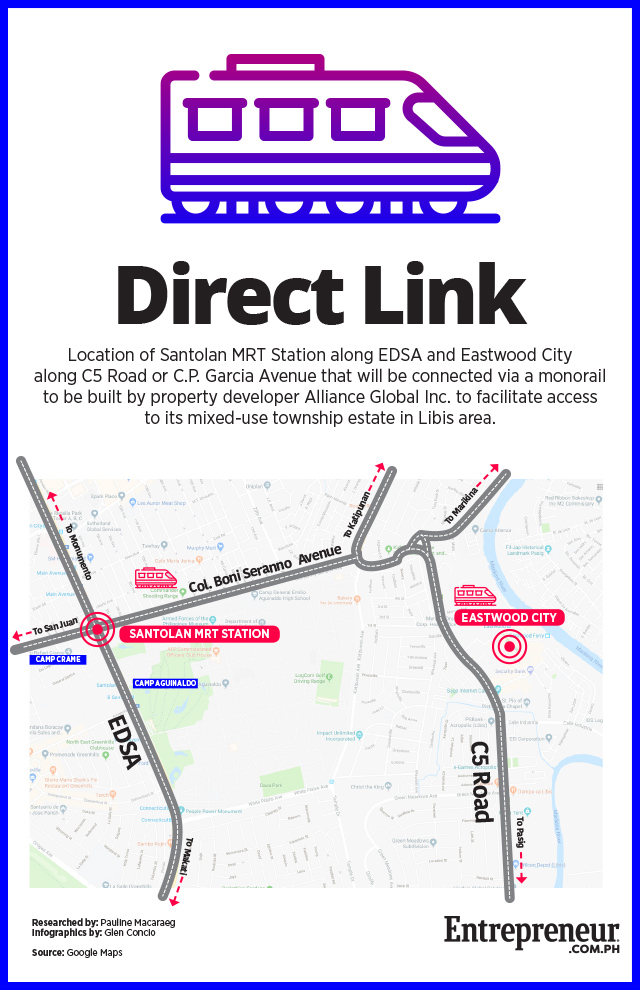 Infracorp Development Inc., the infrastructure arm of Andrew Tan's Alliance Global Group Inc. (AGI), disclosed it is planning to build a second monorail that would connect Eastwood City in Libis area in Quezon City to the MRT-3's Santolan station at the corner of EDSA and Boni Serrano Avenue, according to newspaper reports.
ADVERTISEMENT - CONTINUE READING BELOW
The project aims to make it easy for visitors and employees of offices and commercial establishments located in Eastwood City to commute between the mixed-use complex and MRT-3's Santolan station, one of the elevated train system's stops.
Currently, commuters traveling between the two points using public transportation usually take a jeep along Boni Serrano Avenue, a narrow and highly congested road between C5 or C.P. Garcia Avenue and EDSA. The road passes by two major police and military camps: Camp Crame, the headquarters of the Philippine National Police, and Camp Aguinaldo, the headquarters of the Armed Forces of the Philippines.
If it pushes through, the Santolan-Eastwood monorail would be the second such project of the group following the two-kilometer elevated single-track rail connecting Uptown Bonifacio, AGI's township estate in BGC, to MRT-3 Guadalupe station.
The Guadalupe-BGC monorail project is targeted to be operational by 2021. AGI chief operating officer Kingson Sian said this would serve as the model for the Eastwood-Santolan monorail, the Philippine Daily Inquirer reported.
ADVERTISEMENT - CONTINUE READING BELOW
Related story: Andrew Tan's Php3-B Skytrain Project Linking BGC and Makati Gets DOTr Go-Signal 
Sian said Infracorp is conducting initial talks with local government units that could possibly get involved with the project and has been getting positive responses so far, BusinessWorld reported. The group estimates the second project to be around five kilometers, which is significantly longer than the first Skytrain.
In a disclosure to the Philippine Stock Exchange (PSE), AGI revealed that the group has allotted a total of Php240 billion for capital spending until 2020 across all its businesses. While the group did not provide a breakdown, the group specifically said Infracorp will focus on "rail infrastructure projects that are aimed at helping the government provide world-class public transport system to promote efficient movement of the riding public across Metro Manila."
Infracorp has been granted the original proponent status by the Department of Transportation for the first Skytrain project early this year. It is also a part of the "superconsortium" that proposed to rehabilitate, upgrade, expand, operate and maintain the Ninoy Aquino International Airport for 15 years, which has also obtained original proponent status from the government in early September.
ADVERTISEMENT - CONTINUE READING BELOW
Related story: 'Superconsortium' of PH Billionaires Moves Closer to Bagging Php102-B NAIA Upgrade Project  
AGI Chairman Andrew Tan ranks tenth among Filipino billionaires in 2018, according to Forbes. The US business magazine estimates his net worth at $2.6 billion.
*****
Pauline Macaraeg is Entrepreneur PH's data journalist