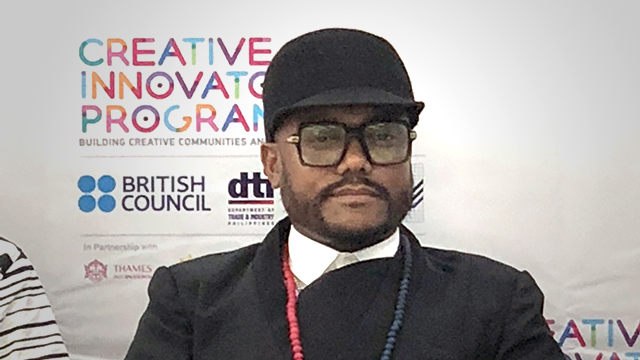 Apl.de.ap helped launch a new scholarship program designed by Thames International, a business school based in the Philippines, and supported by his foundation and the British Council, the UK organization for cultural relations
Apl.de.ap, the Filipino-American member of the Grammy Award-winning group Black Eyed Peas (BEP), still remembers exactly how much a US record label agreed to pay them back when they were just starting: $10,000.
Barely of legal age, apl.de.ap and his childhood friend and fellow BEP member, will.i.am, felt they already hit the jackpot. Both came from the less affluent housing projects in East LA in California.
"We were signed before 17 years old for $10,000 and there's three of us. We had to share $3,333 each," recalled apl.de.ap, whose real name is Allan Pineda, in an interview with Entrepreneur Philippines. "Then we realized some artists were getting signed for $100,000 to $200,000. We learned from that. [I realized] you have to learn your value."
ADVERTISEMENT - CONTINUE READING BELOW
Pineda spoke to Entrepreneur Philippines on the sidelines of the annual chapter banquet of Entrepreneur Organization (EO) Philippines, where he performed and spoke to seek the members' support for his foundation's new scholarship project.
Looking back, Pineda now thinks he and fellow BEP members could have negotiated for better pay if they knew what they now know about how the music industry works.
More often than not, creative artists gain awareness and wisdom in the business side of their work only after years or decades in the industry. By then, they may have missed several opportunities or may have even stopped working on their craft because they're not making enough money.
A newly launched scholarship program designed by Thames International, a business school based in the Philippines, and supported by Apl.de.Ap Foundation and the British Council, the UK organization for cultural relations, aims to possibly change that.
The Innovative and Creative Entrepreneur (ICE) program aims to award undergraduate and professional scholarships to 40 Philippine-based creatives.
Of these, 20 will be high school graduates and/or college freshmen who aspire to either run creative businesses or become artists. They will be given scholarships for undergraduate degrees in entrepreneurship or communications at Thames International. Another 20 scholarships are available for professional diplomas in innovation and creative enterprise, and will be awarded to working individuals in the creative industry. The deadline for application for both scholarships is on July 8.
The individuals to be selected must have talents and skills on any of the following: music, film, photography, graphic design, drawing, singing, drama/acting, fashion, publishing and games.
ADVERTISEMENT - CONTINUE READING BELOW
"Most people here [in the Philippines] just see the artist, but most of the time, the artist is run by a lot of friends. The friends are producers, they are engineers, they are songwriters. They are lawyers who protect the rights of everyone so things are equitable with people. There's a whole ecosystem of business [in being an artist] that I think will fit really well here in the Philippines," said Audie Vergara, Pineda's Filipino-American manager.
Pineda believes the program will eventually lay the groundwork for the network needed by aspiring and struggling creative entrepreneurs in the country, something that he admitted to have enjoyed in his growing years in the US.
"We're bringing in the entrepreneur part to the creative part," he said. "We want to teach artists to learn their value and have pride that they are good enough."
Pineda believes strongly in supporting local artists' belief in their worth and not seek external validation. "The word that comes up all the time is appreciation. You don't have to always be outsourced for your art to be believable. We have to start with ourselves. Because we make quality stuff but we always, we're blinded by, oh it comes from outside, it must be better. It should not be like that," he said.
The ICE Scholarship program is part of a broader initiative spearheaded by the British Council to support creative entrepreneurs and harness them to tap the potential of the creative industries for economic growth and development. The Council, in partnership with the Department of Trade and Industry (DTI), also rolled out Creative Innovators Fellowship for creative hub managers.
ADVERTISEMENT - CONTINUE READING BELOW
Related: Do You Run a Creative Hub or Enterprise? This UK-Funded Fellowship May Be For You
*****
Elyssa Christine Lopez is a staff writer of Entrepreneur PH. Follow her on Twitter @elyssalopz