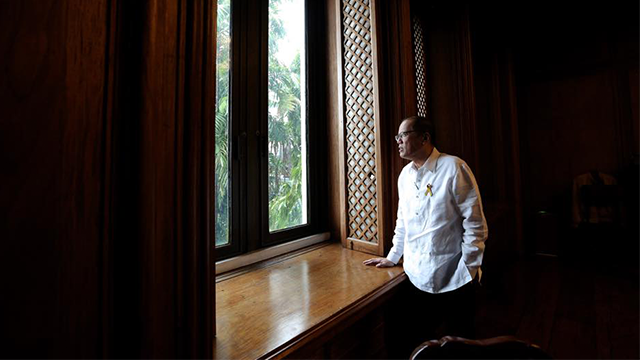 A business survey that had rated the previous Aquino administration with high marks in the fight against corruption noted a drop in the past administration's efforts this year.
Businessmen who participated in the Social Weather Station's recent 2016 Survey of Enterprises on Corruption said they saw "a lot" of public sector corruption—going as high as 63 percent—in the last year of President Benigno Aquino III's governance.
ADVERTISEMENT - CONTINUE READING BELOW
Previous polls reported record-low scores of 43 percent in 2012 and 56 percent in 2013 on businesses' perception of public sector corruption. The lowest before this was 60 percent during former president Gloria Macapagal-Arroyo's term in 2002.
"There was a big drop in the perception of corruption from 2009 in the last round under Gloria Arroyo and the first round under President Aquino," said SWS president Mahar Mangahas during the presentation of the survey findings at the Asian Institute of Manila in Makati City.
Describing it as "backsliding," Mangahas said the recent findings was "a big disappointment" as this score was comparable to the 60 to 70 percent range during President Arroyo's rule and equal to 63 percent during President Joseph Estrada in the year 2000.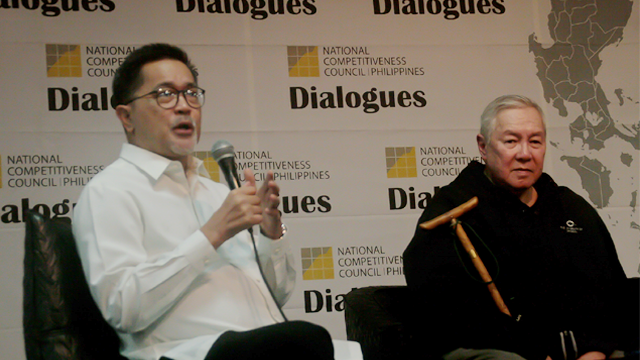 ADVERTISEMENT - CONTINUE READING BELOW
Satisfactory in promoting business despite low anti-corruption marks
The survey also noted that 59 percent were satisfied with the past administration's efforts in promoting a good business climate, while 65 percent were satisfied with their respective city governments in the same category. These reflect decreases from the 2015 satisfaction scores of 64 percent and 68 percent, respectively.
Among the 35 government agencies that were rated in their sincerity in fighting corruption in 2016, 19 got a favorable net sincerity rating (computed as % sincere minus % insincere) from the respondents, while eight got unfavorable ratings. Likewise, eight institutions scored neutral ratings.
Less than a handful of agencies' ratings improved in 2016 (four) but the ratings of 13 agencies deteriorated, while 18 had no change from 2015.
The SWS also graded the agencies based on their ratings: excellent (+70 and above), very good (+50 to +69), good (+30 to +49), moderate (+10 to +29), neutral (-9 to +9), poor (-10 to -29), bad (-30 to -49), very bad (-50 to -69), and execrable (-70 and below). 
ADVERTISEMENT - CONTINUE READING BELOW
The top agency that received the highest rating in 2016 was the Securities and Exchange Commission (SEC) with +55 or 'very good'. Meanwhile, nine agencies received net sincerity ratings of 'good', led by the Departments of Trade and Industry (+43) and Department of Labor and Employment (+38), as well as the Office of the President (+37).
The agencies that received low ratings in 2016 were the Department of Budget and Management (-10), the Philippine National Police (-13) and the Department of Public Works and Highways (-22). However, the latest score of the public works agency was a definite improvement from its 'very bad' ratings range of -55 to -66 during President Arroyo's term.
The sincerity rating of the Land Transportation Office (LTO) went from 'poor' to 'bad', down to -47 in 2016 from -26 in 2015. This was even worse than their previous low score of -45 during President Arroyo's term.
Though the sincerity rating of the Bureau of Customs (BoC) improved slightly to 'bad' (-46) in 2012, it fell to very bad (-68) in 2016—the only agency to receive this low level rating. The lowest rating it received before was 'execrable' (-75) in 2008.
ADVERTISEMENT - CONTINUE READING BELOW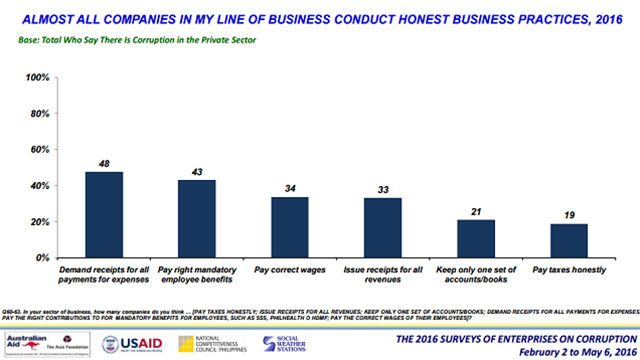 Top and bottom government agencies
Among the notable agencies whose ratings went down in 2016 were the Department of Transportation and Communication (-25), Bureau of Internal Revenue (-27), LTO and BoC. The four agencies whose ratings improved were the Department of Health (+37), Commission on Elections (+12), Armed Forces of the Philippines (+10) and the Department of Agriculture (-9).
ADVERTISEMENT - CONTINUE READING BELOW
The 13th in a series of surveys done by the SWS since 2000, the 2016 Survey of Enterprises on Corruption was conducted using face-to-face interviews of executives of 950 enterprises in Metro Manila, Angeles, Cavite-Laguna-Batangas, Iloilo, Cebu, Davao and Cagayan de Oro-Iligan.
The views and experiences reported in this survey were taken from Filipino managers. Likewise, sampling of large and small/medium enterprises was done, and many of those who were interviewed in the past surveys (70 percent) were approached again for this year's edition.
This survey, which covers the period of February 2 to May 6 of this year, was conducted by the SWS in partnership with the National Competitiveness Council, with support from the Australian Embassy-The Asia Foundation (TAF) Partnership in the Philippines, and USAID through the Integrity for Investments Initiative.
*****
Joseph Nacino is an editor and communications consultant who has worked for the Department of Budget and Management, Philstar.com and various corporate clients. A Neil Gaiman Graphic Fiction awardee, he writes short stories and has been anthologized in the Philippine Speculative Fiction series, and co-edited Diaspora Ad Astra and Demons of the New Year.
ADVERTISEMENT - CONTINUE READING BELOW