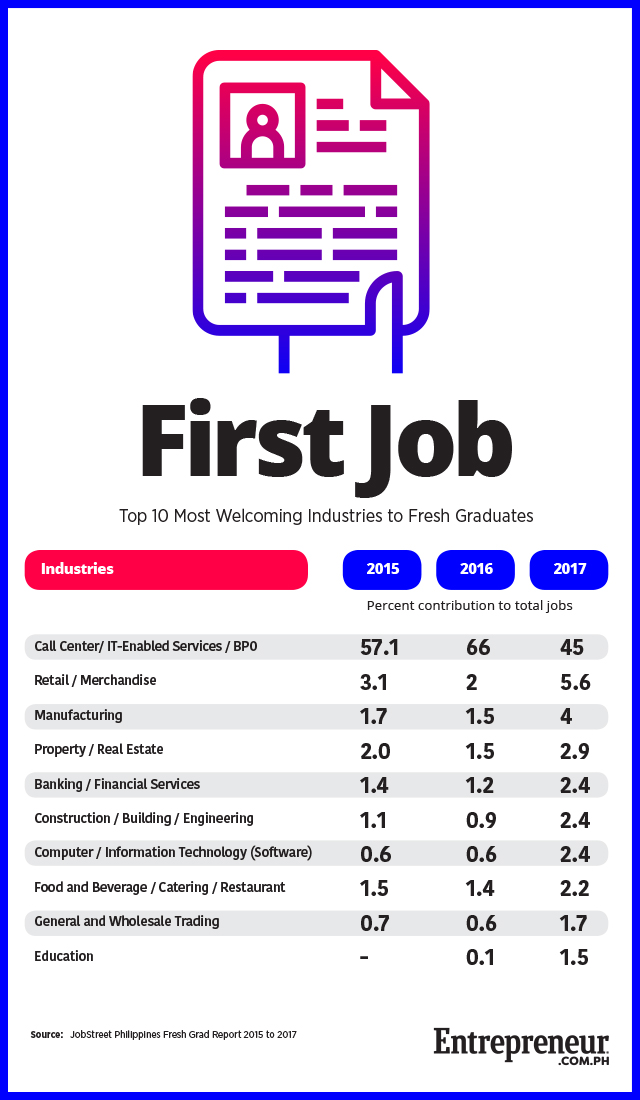 Thanks to the rise of the business process outsourcing (BPO) industry, particularly call centers, the prospects of getting a job for those who just got their newly minted college diplomas have just gotten better and better in the last decade or so. It also helped that BPO jobs paid higher than usual entry-level salaries.
ADVERTISEMENT - CONTINUE READING BELOW
But there are signs that the availability of jobs for fresh college graduates in the BPO enterprises could be waning, amid the maturity of the industry and the widespread use of robotic process automation and artificial intelligence.
Related story: Henry Sy Jr. and Dado Banatao Back Startup to Help BPOs Cope with Automation Threat
According JobStreet Philippines' latest Fresh Graduate Report, the proportion of BPO jobs for new college graduates available on its online jobs portal has dropped from 65 percent of 47,339 total postings in the last quarter of 2016 to only 45 percent of 52,149 postings in the same period in 2017. In 2015, the comparative figure was 57 percent of 262,049 postings.
In absolute terms, that translates to only 23,467 BPO job postings for college graduates in late 2017, almost a quarter down from 30,770 posts in 2016. Both are also sharply lower from the equivalent figure of 49,753 BPO job postings in 2015.
JobStreet Philippines Country Manager Philip Gioca attributes the sharp decline to two factors: a maturing industry and the entry of artificial intelligence in few BPO offices.
ADVERTISEMENT - CONTINUE READING BELOW
"There are certain companies that we are servicing that because of the introduction of AI they had to lay off like 5,000 people," Gioca told reporters at the sidelines of a press briefing on Wednesday, April 18. "But if you look at the entire portfolio of BPOs affected, that's still small as compared to the effects of [AI to] those in India or other countries."
Even the salaries offered to new graduates by the industry have become less competitive in contrast to other professions in the portal. In 2015, a fresh graduate looking into working in an IT-related kind of job could expect a salary of Php23,000, the highest paying among all the specializations that year.
By 2017, a fresh graduate hoping to get a job in the same industry can now expect a salary of around Php21,000, just the sixth highest paying on the list.
Related story: What and Where are the Highest-Paying Jobs for Fresh Grads in 2018
ADVERTISEMENT - CONTINUE READING BELOW
"The only reason why professions stay on top of the list because you want to attract talents and salaries are good attractions," he said. "They drop from the list either because of oversupply [in applicants] or you're not expanding [operations]."
Information Technology and Business Process Association of the Philippines (IBPAP) President and CEO Rey Untal was quoted in various news reports as saying the industry is seen to grow only around nine percent until 2022 in contrast to its growth rate of 17 percent for the past six years.
With the BPO industry going into a plateau after years of growth, other industries may have to step up to accommodate the fresh talents.
*****
Elyssa Christine Lopez is a staff writer of Entrepreneur PH. Follow her on Twitter @elyssalopz