<>
Now is the best time to have a lucrative beauty and wellness business. If you don't have any background about running such a venture, you should opt to just buy a franchise of an established one, like Asia's Lashes.
Primarily, Asia's Lashes specializes on eyelash extensions, but to cater to more customers, it has been expanding its service menu to include skin whitening, hair removal, and even body spa. This way, it caters to a broader range of customers, not just women but also men.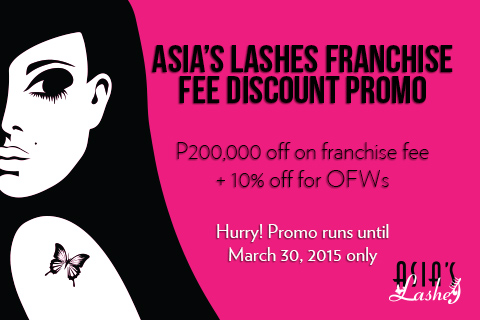 Asia's Lashes is open for franchising nationwide. It has a unique and irresistible offer for all potential franchisees. From now until March 30, 2015, approved franchise applicants will have P200,000 off the total franchise fee. On top of that, OFWs can still enjoy 10% off on the same cost.
ADVERTISEMENT - CONTINUE READING BELOW
That translates to lower franchise cost, providing better chances for faster and bigger return on investment. But you should hurry. The business can offer this to just five approved franchise applicants within the period. Thus, you should get into the process now!
To take a chance into this unique opportunity, visit the online directory listing of Asia's Lashes. Click on the 'Inquire Here' icon. Compose a message, leaving your name and contact details (phone and email). Click 'send.' Personnel from the company will contact you soon to provide more information about the franchising process and transaction.