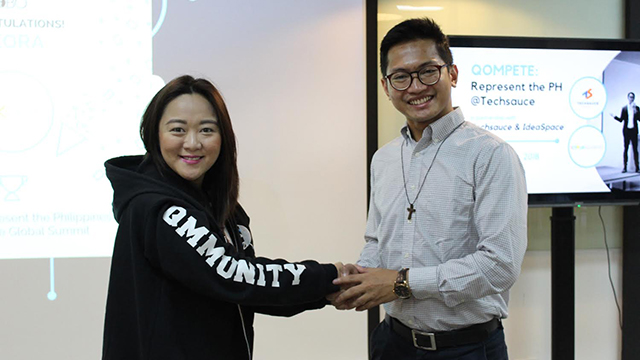 QBO Associate Director Katrina Chan congratulates Michael Bernil, CEO of Exora Technologies Inc.
Exora Technologies Inc., a startup founded by a group of Ateneo students that runs an online marketplace for large power consumers and suppliers, won a local business pitching contest to select a Philippine nominee to the Techsauce Global Summit on June 22 to 23 in Bangkok, Thailand. The Philippine leg of the competition was organized by startup incubator QBO Philippines and accelerator IdeaSpace Foundation on Thursday, May 17.
Techsauce, a Thailand-based tech and business news publication for audiences in Southeast Asia, organizes an annual global technology summit attended by more than 10,000 participants from over 30 countries. A business pitching competition involving startups from the region is a highlight of the gathering.
Michael Bernil, Exora Technologies' founder and chief executive officer, garnered the highest score for his five-minute pitch during the contest called QOMPETE: Represent the Philippines at Techsauce Global Summit at QBO's headquarters. QBO is a public-private partnership that aims to build a globally competitive startup ecosystem in the country.
ADVERTISEMENT - CONTINUE READING BELOW
Bernil won round-trip plane tickets and accommodation in Bangkok, and a booth and two tickets to the summit. He also now has a chance to win $8,888, the grand prize of Techsauce Global Summit, a pitch competition for startups looking to raise Series A funding and planning to expand around South East Asia.
Exora Technologies provides cloud-based services to big power users to find the best power generators that can provide them electricity at a cheaper price. Through an automated system, Exora Technologies matches demands from their customer companies to retail electricity suppliers that can provide them the demand at a lower cost.
As well, Exora Technologies provide and install smart meters to effectively manage the electricity data of their consumers in real time.
Related story: Only 21, This Student Founded a Startup That an Electric Utility Wants to Buy for Php120M
The judges for the competition were Kickstart Ventures Vice President Joan Yao, Manila Angel Investors Network Executive Director James Lette, IdeaSpace Philippines deputy Executive Director Goldy Yancha, QBO Philippines Operations Head Natasha Bautista and Entrepreneur Philippines' Editor-in-Chief Roel Landingin.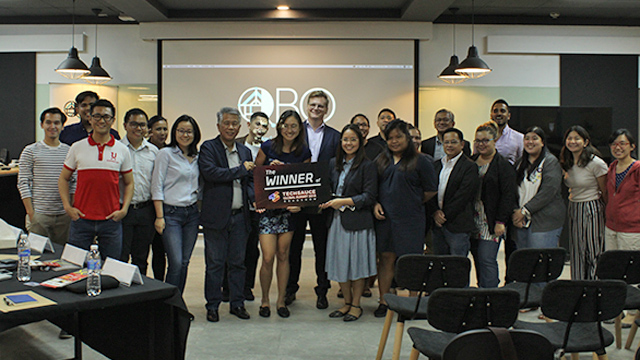 ADVERTISEMENT - CONTINUE READING BELOW
Participants and judges at QOMPETE: Represent the Philippines at Techsauce Global Summit
Last year, India-based jumper.ai won the main prize in Techsauce's Global Summit in 2017. Jumper.ai enables seamless e-commerce transactions on different social media and messaging platforms by integrating them through one AI interface. Through jumper.ai, customers do not need to navigate through different social media platforms anymore or download several apps.
Other startups that took part in the business pitching competition on May 17 include:
- Container Living PH, which aims to disrupt the current construction trend by providing sustainable, modular and disaster-resilient structures made from old container vans;
- Storm Learnings, which aims to bridge companies and training consultants together in providing corporate training and certification programs to employees;
- Antipara, which provides underwater coastal mapping, assessment and 3D visualization services through the use of artificial intelligence (AI);
- LexMeet, which aims to bridge the gap between clients and lawyers by providing a convenient online platform for legal consultations with real lawyers;
- Agrabah, which aims to disrupt the distribution and sales of seafood in the Philippines by providing a platform to connect small farmers to restaurants and hotels;
- AdMov, which uses AI (e.g. face detection) to provide effective marketing to companies and deploys the platforms (tablets) to transport network companies such as Grab.
- Uproot, which aims to address hunger and food security issues in the country by providing vertical and compact farms called aquaponics; and
- Pushkart, an online grocery service with the aim to ensure the freshness and safe delivery of the goods.
ADVERTISEMENT - CONTINUE READING BELOW
Entrepreneur Philippines was a media partner of QBO Philippines and Ideaspace Foundation for the competition.
*****
Pauline Macaraeg is Entrepreneur PH's data journalist