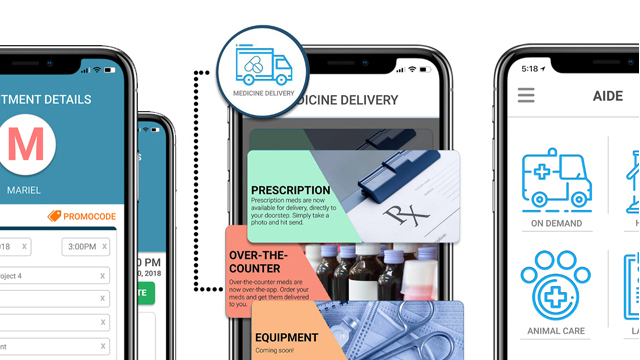 Diversified conglomerate Ayala Corp. continues to dive deep in the health sector as it announced on Wednesday, October 17, an investment in local medical service startup AIDE through its subsidiary, Ayala Healthcare Holdings Inc. (AC Health).
"Aside from developing our own technology solutions, we are also on the lookout for emerging start-ups and entrepreneurs who can disrupt the healthcare industry. AIDE is an excellent platform to connect patients with health providers, and we think home health will be one of the next game changers," AC Health President and CEO Paolo Borromeo said in a statement.
ADVERTISEMENT - CONTINUE READING BELOW
AIDE allows users to book a home appointment with health experts such as doctors, nurses, physical therapists and even medical technicians who can take specimen samples at home. Booking services are open seven days a week but appointments with medical practitioners are subject to their availability.
Related: The Doctor is (Always) In: New App Lets Users Book Home Appointments with Health Professionals
As of June 2018, the app already has 18,000 registered users with around 20 percent considered "active" or have used the app more than once. It is currently available for the residents in Metro Manila and selected areas in Cebu and Davao.
The startup was founded by the Bugayong siblings, Paolo, Patrick and Pamela Bugayong-Donato in March 2017 after finding themselves at a need of the service that AIDE now offers. AC Health is the company's first major investor, as funding has been solely bootstrapped ever since it started operations last year.
ADVERTISEMENT - CONTINUE READING BELOW
According to AIDE CEO Paolo Bugayong, AC Health's investment will allow the company to reach more customers as it aims to reach 24,000 users by year-end.
"Right now, the main goal is to improve the AIDE application further and initiate new features that will make healthcare more accessible in the Philippines. Funds will also go into advertising and marketing projects to expand the reach of the app," Bugayong told Entrepreneur Philippines via e-mail.
This is the second local medical technology startup the company has invested in following its investment in on-demand medicine delivery service MedGrocer in 2017.
Earlier this year, AC Health established Vigos, its technology arm that develops digital healthcare solutions such as Vigos EMR (Electronic Medical Records), which allows the company's clinics to manage its customer database online. And Vigos CARE, an integrated corporate health solutions provider that allows companies and their employees to maximize health benefits.
Ayala Corp.'s foray into healthcare started in 2013 when it formed a partnership with Mercado General Hospital Inc. to operate a chain of hospitals and clinics under the QualiMed brand. It now has 20 locations nationwide ranging from multi-specialty clinics found in Ayala Malls to full-service hospitals in provinces.
ADVERTISEMENT - CONTINUE READING BELOW
Related: Why is Ayala Diversifying from Upscale Condos to Affordable Clinics and Schools?
In 2015, the company formalized its healthcare unit when it formed AC Health. The subsidiary's first deal was a 50-percent acquisition of the Generika Group, giving them a chance to tap into the growing drugstore business. Later that year, it added another clinic brand in its portfolio as it launched FamilyDOC, a chain of community-based primary health clinics. The brand now has over 40 branches in Metro Manila, Laguna and Cavite.

*****
Elyssa Christine Lopez is a staff writer of Entrepreneur.com.ph.