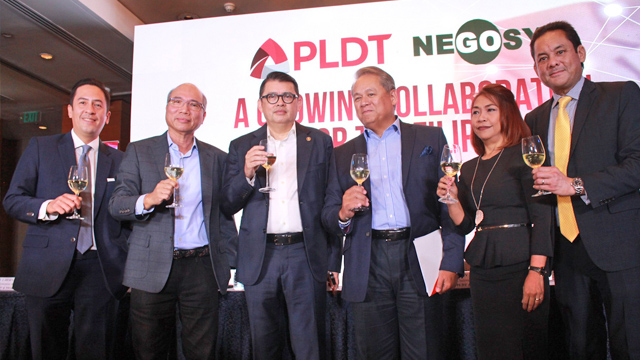 ADVERTISEMENT - CONTINUE READING BELOW
Micro, small and medium enterprises based in the provinces may soon be able to tap into a wider market online as telecom giant PLDT Inc. offers its e-commerce solutions platform, TackThis, for free for a year to 81 provinces across the country.
"We are going to be enabling 81 provinces across the country. We are going to make them e-commerce ready," Mitch Locsin, the first vice president and head of PLDT SME Nation said in a press briefing on Monday, February 12.
In partnership with the GoNegosyo entrepreneurship advocacy group and the Department of Trade and Industry (DTI), PLDT will create a special page enabled by Tack This, for each province's official website for free.
PLDT did not say how much is the commercial value of the free service it is offering the 81 provinces. However, the cheapest package account in the platform costs a monthly subscription fee of Php299. This allows the user to display 30 products in his or her online storefront a month and have access to the payment and delivery systems of the platform, among others.
ADVERTISEMENT - CONTINUE READING BELOW
The site will showcase each province's local specialties that may range from food delicacies to handmade retail goods. The products in these online stores will also be made available in PLDT's online marketplace, Takatack.
According to a report by the iPrice Group in 2017, Takatack is the eighth most visited e-commerce platform in the country with almost 300,000 monthly page views.
Both Takatack and TackThis are under Voyager Innovations, the digital services arm of PLDT.
Locsin said MSME owners who have business permit may apply with any of the 750 GoNegosyo centers nationwide to sell their products through the provincial LGU's online portal. These GoNegosyo centers are usually found in town and city halls and are managed by the local governments' business permits office.
"For example, a banig (mat) maker in Baguio is not in Lazada. So with this [initiative], the local government can make sure that their local makers are in e-commerce," Locsin said.
ADVERTISEMENT - CONTINUE READING BELOW
The initiative also aims to support DTI's goal of equipping more than 100,000 MSMEs with digital solutions by 2020 as part of its e-commerce roadmap. The department wants the e-commerce transactions to grow to the equivalent of 25 percent to the country's GDP by 2020 from less than a percent currently.
PLDT SME Nation AVP and Head of SME and Marketing Amil Azurin said the program will be launched in five provinces for now.
Aside from providing e-commerce solutions, PLDT will also train mentors of GoNegosyo Centers to hold seminars on e-commerce and online entrepreneurship. Azurin said the GoNegosyo Center in Iloilo would be the first to hold such session.
These initiatives commemorate the 10th year of PLDT and GoNegosyo's business partnership as the two parties have had several programs together in the past decade.
*****
Elyssa Christine Lopez is Entrepreneur.com.ph's staff writer.