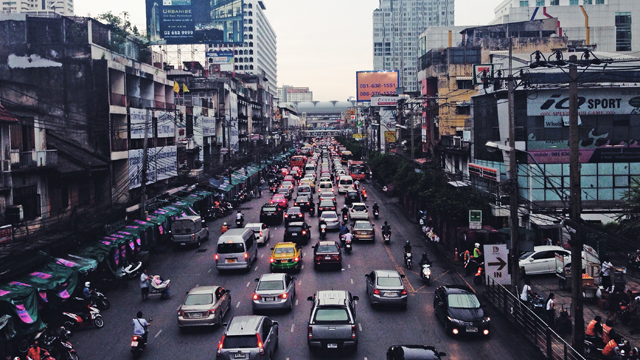 Bangkok has the world's second-worst traffic congestion in the world
While the daily turmoil that is EDSA seems like an ordeal with no parallel, traffic is actually worse in other Asian cities.
Take Bangkok for example. In October, Netherlands-based GPS and travel service company TomTom named the Thai capital as the second most traffic-congested city in the world (after Mexico City). There, extra travel time is 85 percent longer than usual in the morning, rising to 114 percent during peak hours in the evening.
ADVERTISEMENT - CONTINUE READING BELOW
"Every city in our region faces the same problem because we are emerging countries—we keep going." said Goragot Wongpaisarnsin, assistant general manager at Toyota Tsusho's Thailand subsidiary.
He was one of the partner company representatives at the recent AWS re:Invent conference in Las Vegas, Nevada, and spoke with journalists in a roundtable interview.  "We cannot solve the traffic now, but if you start to make changes today, then something can change," he added.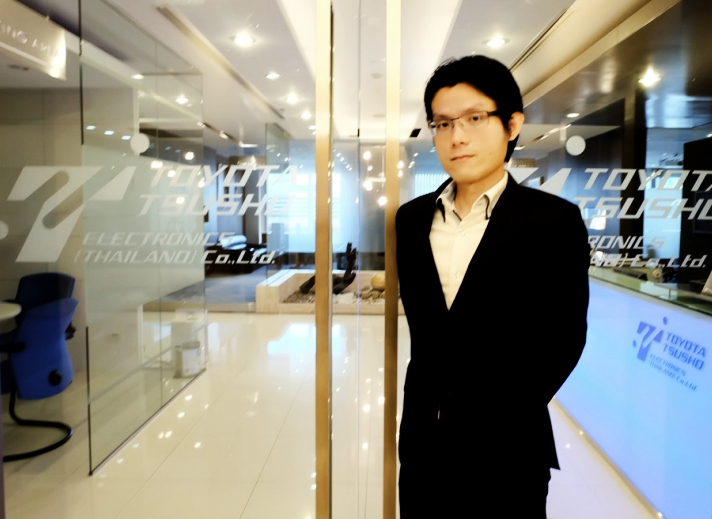 ADVERTISEMENT - CONTINUE READING BELOW
Goragot Wongpaisarnsin, assistant general manager at Toyota Tsusho's Thailand subsidiary
Towards that end, Toyota Tsusho's electronics unit, which makes embedded software for automotive applications, developed a mobile app that uses real-time GPS data to find the fastest routes for motorists. Called the TSquare Traffic Information, the subscription-based service was launched in 2012.
A trading company under the Toyota group, Toyota Tsusho runs businesses across six segments, from automotive to food and consumer services. It reported revenues of $68.51 million in 2015.
Toyota Tsusho distinguishes its TSquare service from free mobile traffic apps, such as those developed by Google and Waze, by claiming a higher accuracy rate because its data comes from GPS devices rather than users' mobile phones, which can sometimes be imprecise. Moreover, its GPS devices are installed on commercial vehicles such as taxis, buses and freight trucks, which are always on the move. TSquare receives data from the GPS devices once every 3-5 seconds compared to the free services that are updated only once every 30-60 minutes, according to Tsusho.
ADVERTISEMENT - CONTINUE READING BELOW
The service started four years ago with GPS data coming from only 10,000 cars that feed data to Toyota Tsusho's sophisticated cloud-based information system. In turn, the system continually updates its live traffic density maps. Today, the number of vehicles has grown to 130,000, improving the service's accuracy and reliability.
ADVERTISEMENT - CONTINUE READING BELOW
TSquare Traffic Information is a subscription-based traffic service launched in 2012
With more GPS devices deployed, Toyota Tsusho says its users have reported they are now spending at least 30 percent less time on the road. "The service helps the people to adjust their lifestyles accordingly. Better traffic will give more time for more things that people may actually enjoy," Wongpaisarnsin said.
"We have actually developed a program which can help freight service companies to estimate the time they'll spend on the road. Anyone can fill in their starting point and time and the system will show a suggested route," Wongpaisarnsin said. "So it increases productivity and drops costs."
Though the service was initially offered to commercial vehicles, it has also proved popular with Thai commuters and private car owners despite the annual subscription fee equivalent to Php350.
Wongpaisarnsin says Toyota Tsusho is expanding the mobile traffic app's market beyond the transportation industry. "The data can also help advertising companies to figure out where the best sites and places to put up ads," Wongpaisarnsin said.
ADVERTISEMENT - CONTINUE READING BELOW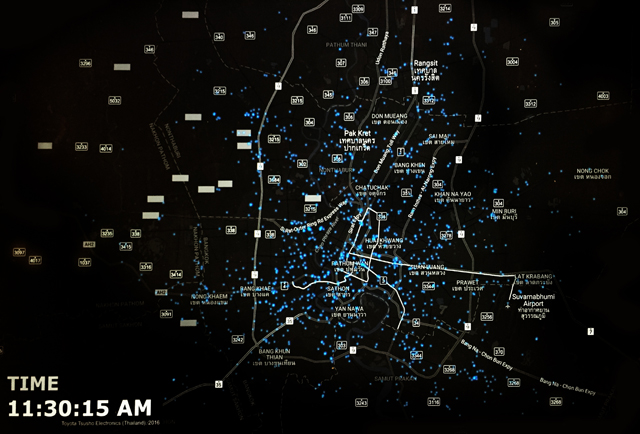 TSquare receives data from GPS devices inside vehicles once every 3-5 seconds
Toyota Tsusho plans to offer the subscription-based traffic information service across the Southeast Asian region and is eyeing partnerships with 40 companies in the different ASEAN countries. 
Regional expansion no longer looks daunting as in the past, thanks to cloud technology. "Since the system is in the cloud, we can have a system up and running in 24 hours, as long as you have the traffic data of a city," Wongpaisarnsin said.
ADVERTISEMENT - CONTINUE READING BELOW
So when will Toyota Tsusho introduce the service to Manila? Wongpaisarnsin said the company actually began deploying GPS devices in at least 100 vehicles in Metro Manila in 2013. Somehow the actual rollout of the service was deferred due to "budget" issues.
He's still confident, though, that the planned Manila launch can be revived anytime soon with the right partners.
*****
Elyssa Christine Lopez is Entrepreneur.com.ph's staff writer. Follow her on Twitter @elyssalopz