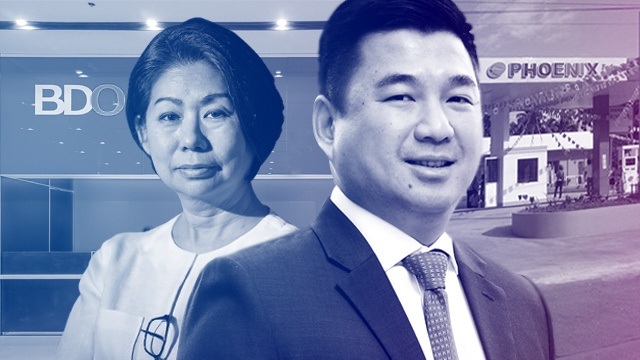 Long before entrepreneurship advocate Jose Ma. "Joey" Concepcion III launched the Mentor Me Program where big business leaders act as some sort of "big brother" to small business owners, an early version of the relationship was already playing out between the country's most valuable conglomerate and a small but rapidly growing business from Mindanao about a decade ago.
Speaking to researchers who prepared the recently released Management Association of the Philippines (MAP) and PwC 2017 CEO Survey Report, Davao-based tycoon Dennis Uy recalled how BDO Unibank, the country's biggest lender that is part of the SM Group, played a big role in the growth of one of his first major companies, Phoenix Petroleum Philippines Inc. Uy's recollections are part of the report published for the MAP's 15th International CEO Conference last September 12, 2017.
"Only a few people know that BDO has been very supportive of our group. They gave us our first clean credit line in 2006 when Phoenix was just starting," Uy said. "They were also our underwriter when Phoenix went public in 2007."
ADVERTISEMENT - CONTINUE READING BELOW
Related: How Rich Is Davao-Based Entrepreneur Dennis Uy? 
As of end-2016, Phoenix operated over 500 retail gasoline stations all over the Philippines and controlled 5.7 percent of the market. The local company admitted that to compete with the industry's big three—Shell, Petron and Chevron—it had to develop a niche market and expand in places the giants can't quite reach. But that endeavor involved a large sum of capital.
"Because we started with small stations, we were able to lower the threshold for business partners to come in and to open their stations. We gave more incentives to our dealers, and we were more flexible in terms of decision-making," Uy added.
Related: Financial Adviser: 5 Business Secrets from Phoenix Petroleum Founder 
Through the years, the relationship of the two parties strengthened, as both companies grew in their respective industries. But it was only early this year when the firms transcended their lender-borrower relationship and became business partners as they ventured into logistics.
In April, the SM Group bought a minority stake in 2GO Group Inc., marking the conglomerate's first foray into the logistics business. The move, which coincided with Uy's holding company, Udenna Corp., also acquiring a minority stake in 2GO, helped the Davao businessman firm up management control of the logistics company. By June, Uy was 2GO Group's chief executive.
The timing was right for both parties. The SM Group was looking into strengthening its retail business as the power of e-commerce continues to go unnoticed, while Uy's Udenna Corp. was looking into scaling its company.
ADVERTISEMENT - CONTINUE READING BELOW
"Whenever I have opportunities to grow our group, I always go to BDO first. Fortunately, when the 2GO opportunity came, which was too big for our group, I approached them and asked if they were interested," Uy said. "Our working relationship is very open, and is based on trust. They have been very helpful in more ways than just a partner. They're family."
Related: Fast-Rising Davao Tycoon Dennis Uy Launches IPO for Logistics Firm 
In a separate interview in the same report, SM Investment Corp. (SMIC) Vice Chairperson and BDO Unibank Executive Director Teresita Sy-Coson shared how the conglomerate values its different partnerships as it constantly looks for ways to innovate its services.
"As long as you have the shared vision and values, partnerships will be incremental to your business. Your partners will bring in new concepts and views," she said. "As long as you have a common vision, I think partnerships will be helpful for your growth."
Aside from Udenna Corp., SMIC also has active partnerships with real estate companies DoubleDragon, The Net Group and MyTown.
Related: SM Group and Teresita Sy-Coson's Top Concern: 'Prevent Our Business from Becoming Obsolete'
*****
Elyssa Christine Lopez is Entrepreneur.com.ph's staff writer. Follow her on Twitter @elyssalopz