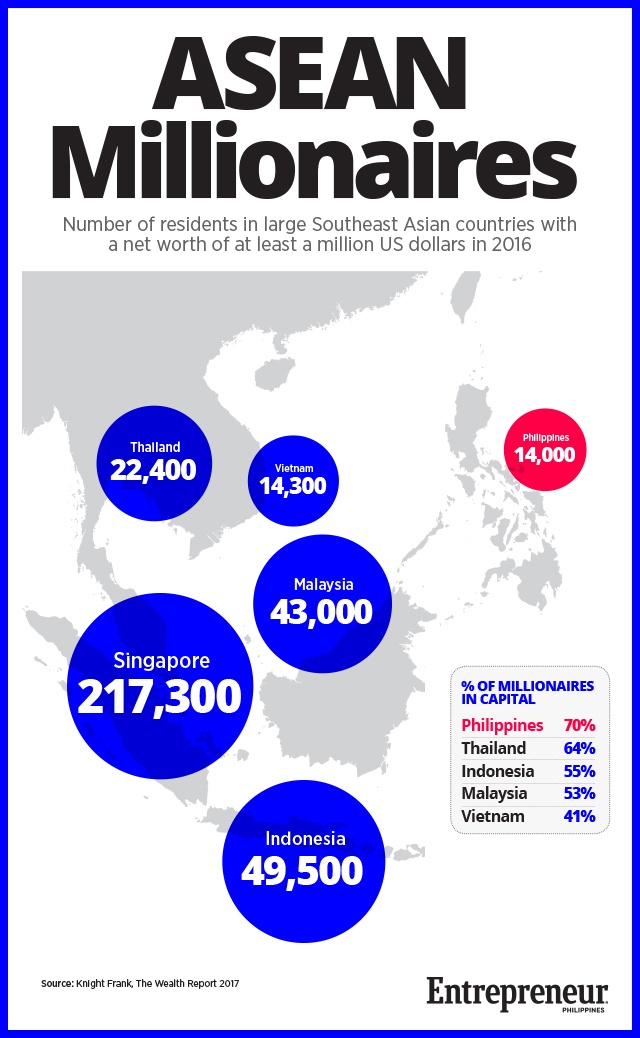 The Philippines has won the distinction of having the fastest-growing economy in Southeast Asia in recent years but prosperity is not spreading fast enough among the population. That is most obvious from the persistence of high poverty levels in the country compared to its big neighbors.
But another sign is the sluggish rise in the number of US dollar millionaires in the Philippines compared to other countries in the region.
Knight Frank, a London-based consultancy that helps wealthy people buy and sell property in different countries, estimates that the number of millionaires in the country rose by only 300 to 14,000 in 2016. It published the estimate as part of the 2017 edition of its annual The Wealth Report.
In contrast, millionaires grew by 2,200 to 14,300 in Vietnam, which overtook the Philippines for the first time. That is remarkable not only because Vietnam remains a communist country while Philippines is at least a nominally capitalist one. As well, the Philippine economy is around 50 percent bigger than Vietnam's.
ADVERTISEMENT - CONTINUE READING BELOW
Similarly, the millionaire count went up by 1,700 to 22,400 in Thailand, by 1,000 to 49,500 in Indonesia, by 1,300 to 43,000 in Malaysia and by 12,300 to 217,200 in Singapore.
Knight Frank also found that the concentration of millionaires in the capital is most pronounced in the Philippines compared to its neighbors. About 70 percent of Philippine millionaires are in Metro Manila compared an average of 53.3 percent in the rest of the region, excluding Singapore.
Published annually since 2008, The Wealth Report is an analysis of property and wealth trends covering high-net-worth individuals. Knight Frank sourced the data from market research firm New World Wealth, which claims to maintain "dossiers on over 150,000 high net worth individuals from around the world."
Knight Frank's millionaire count in the Philippines is less than half of Swiss bank Credit Suisse's estimate of 39,000 Filipino millionaires, which was derived using a different methodology that includes econometric modeling.
Related story: How Many Filipinos Have a Million Dollars? A Swiss Bank Tries to Count
*****
Lorenzo Kyle Subido is a staff writer of Entrepreneur PH