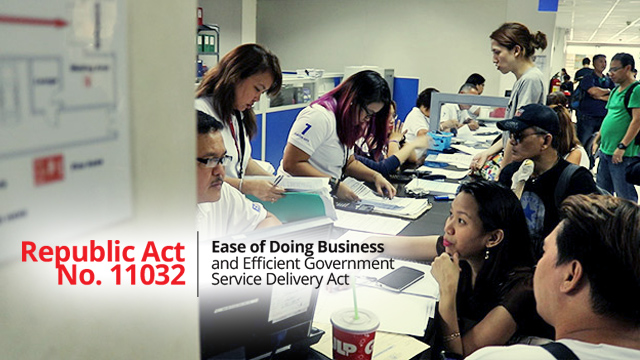 For years, business owners have been complaining of the difficulties of starting and operating a business in the Philippines as they have to hop from one government office to another and endure long wait times to secure the necessary licenses and permits.
Not surprisingly, the Philippines placed 113th out of 190 countries in the World Bank's latest annual report on the ease of doing business. The country ranked 99th the previous year. Most of its neighbors in Southeast Asia outranked the Philippines such as Singapore which placed second, Malaysia and Thailand at 26th, Brunei at 56th, Vietnam at 68th and Indonesia at 72nd.
Finally, lawmakers seemed to have heard the business owners' clamors and passed the Ease of Doing Business and Efficient Government Service Delivery Act (Republic Act No. 11032), which President Rodrigo Duterte signed into law last May 28.
The new law is an amendment of the Anti-Red Tape Act of 2007. It aims to improve the country's business competitiveness climate as well as make doing business better by streamlining the process for obtaining permits and licenses.
One of the law's authors, Rep. Ferjenel Biron of the fourth district of Iloilo province, described the law as "revolutionary" according to a report in the Iloilo-based newspaper The Daily Guardian.
"This law is revolutionary because now we have concrete parameters in addressing the problems of government efficiency," Biron was quoted in the article as saying, based on his remarks during an interview with ABS-CBN News Channel (ANC).
He was referring to one of the law's major provisions setting a deadline for the government to complete processing for simple transactions in three to five working days, seven to 10 days for complex transactions and up to 20 working days for highly technical licenses and permits. 
To illustrate the new law's potential to alter the business and government landscape, he cited an example of what is a simple transaction: applying for a stall in a public market operated by the town or city government.
ADVERTISEMENT - CONTINUE READING BELOW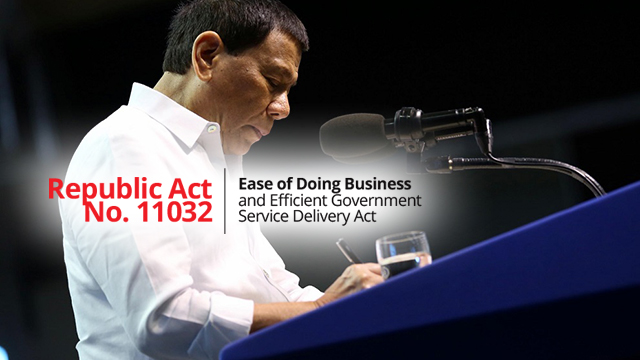 President Rodrigo Duterte signed Republic Act No. 11032 or the Ease of Doing Business and Efficient Government Service Delivery Act, into law last May 28
"When you go to city hall or municipal, you will fill up only one form which will contain everything and then pay the exact fee," the Iloilo newspaper quoted Biron, a self-made businessman. "Once it is accepted, the no-contact rule policy will apply. And you only have to wait for three working days for your application to be released."
If the government fails to act on the applications within the prescribed period, these are deemed automatically approved "except for cases that pose danger to public health, public safety, public morals or to public policy, and for highly technical application such as natural resource extraction activities."
The following are the other salient provisions of the new law.
Streamlined Process for Issuance of Local Businesses Licenses, Clearances and Permits 
●      Single or unified business application form in processing new applications for business permits and renewals that contains the consolidated information of the applicant by various local government such as local taxes and clearances, building clearances, sanitary permit, zoning clearance and other LGU-specific requirements.
Related story: You Can Now Get Your Business Permit in One Hour in Quezon City
●      The unified business application shall be made available online and hard copies made available in offices.
●      Creation of the Business One-Stop Shop (BOSS) for the city or municipality's business permitting and licensing system that will receive and process manual or electronic submission of application. The BOSS will be established within the cities/municipalities' Negosyo Center.
●      Automation of business permitting and licensing system or setting up of an electronic BOSS within three years from the effectivity of the law.
●      Transfer the application and processing of barangay clearances and permits related to doing business to the city or municipality.
ADVERTISEMENT - CONTINUE READING BELOW
Streamlined Process for Fire Clearances and Certificates
●      Fire Safety Evaluation Clearance (FSEC), Fire Safety Inspection Certificate (FSIC) are processed within seven working days for new businesses and three working days for renewals.
●      Bureau of Fire Protection processing of clearances and certificates is to be located in BOSS or area designated by the LGU.
●      Bureau of Fire Protection officials and employees are not allowed to sell, offer or recommend specific brands of fire extinguishers and other fire safety equipment.
Faster Processing of Interconnectivity Infrastructure Development 
Processing and approval of licenses, clearances, permits, certifications or authorizations for the installation and operation of telecommunication, broadcast towers, facilities, equipment and service should be completed within seven working days regardless whether issued by the barangay, LGU or National Government Agencies (NGAs).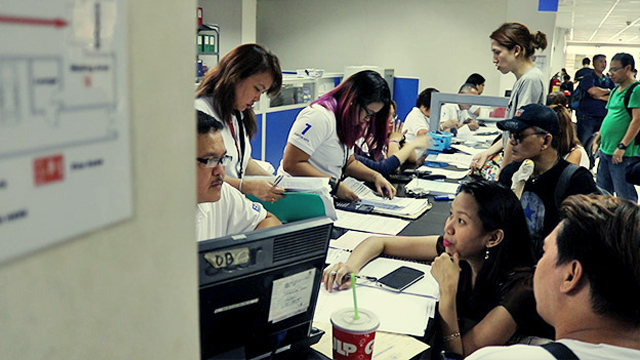 The new law aims to improve the country's business competitiveness climate as well as make doing business better by streamlining the process for obtaining permits and licenses
Zero Contact Policy
The law also bans any contact between government employees and officials on one hand, and any requesting party on the other, regarding an application or request except during the submission of documents to eliminate corruption.
Creation of New Portals, Databank, Citizens Charter and Entities
●       Central Business Portal to receive and capture application data on business-related transactions, and provide links to online registration of national government agencies.
●      Philippine Business Databank to provide NGAs and LGUs access to data and information to verify the validity and existence of businesses.
●      Citizen's Charter for all government agencies that will provide the checklist of requirements for each application or request, person responsible, fees, procedure for obtaining service and filing complaints, and maximum time to complete the process.
●      Anti-Red Tape Authority (ARTA) that will implement and oversee the national policy and reforms on anti-red tape and ease of doing business, monitor compliance of agencies and review proposed major regulations of government agencies.
ADVERTISEMENT - CONTINUE READING BELOW
●      EODB and ART advisory council composed of seven members including the secretaries of the Departments of Trade, Local Government, Finance and Information, Communication and Technology, ART authority director general and two representatives from the private sector.
Penalties for Government Employees and Officials 
There will be a two-strike policy for government officials who will be found violating the law. The first offense will merit an administrative liability with six months suspension.
The second offense merits an administrative and criminal liability with penalties ranging from dismissal and/or disqualification from service holding public office, forfeiture of retirement benefits, imprisonment of one year to six years, fine of not less than Php500,000 but not more than Php2 million.
*****
Cherrie Regalado is a contributor to Entrepreneur Philippines. Follow her on Twitter: @Cherrie Regalado