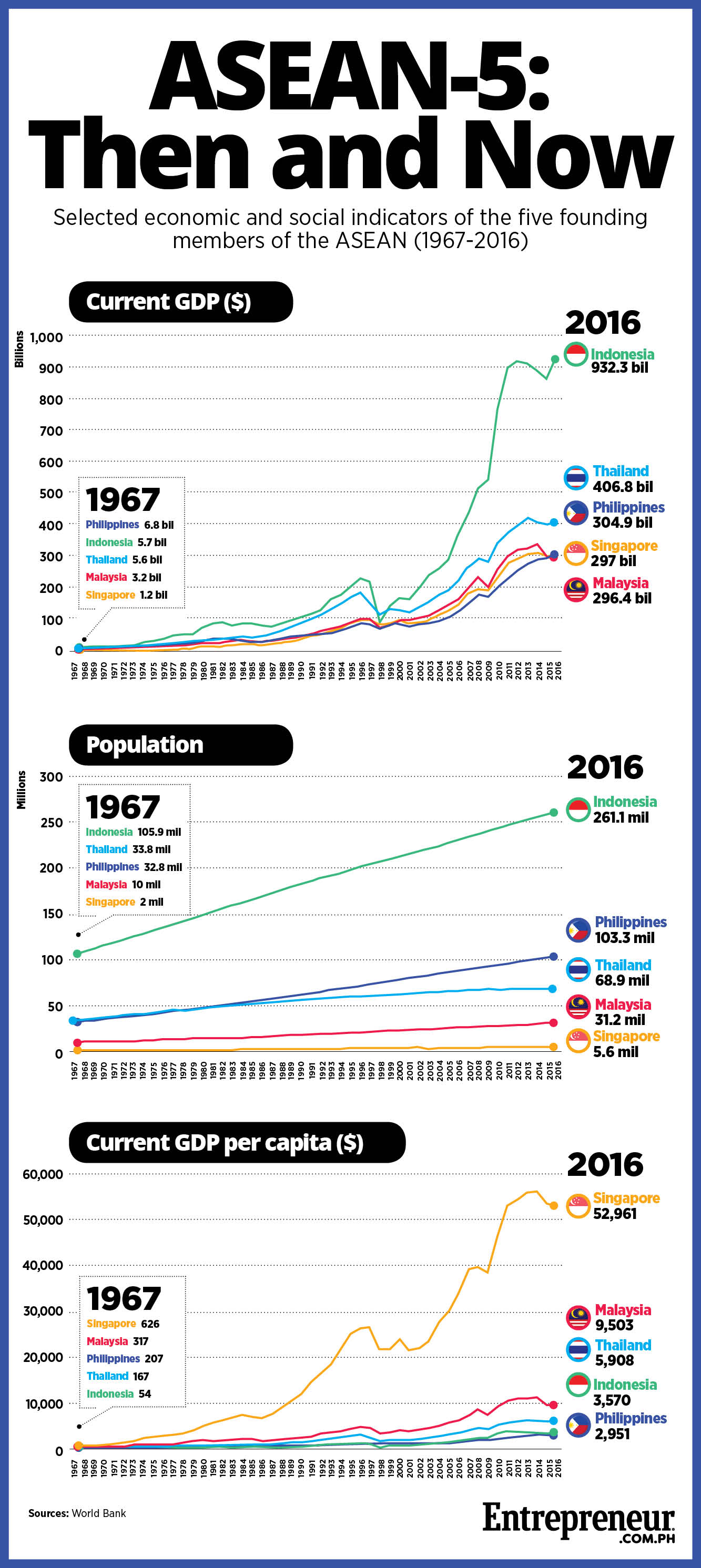 On August 8, 1967, when five southeast Asian countries formed the Association of Southeast Asian Nations (ASEAN), the Philippines was the preeminent economic force in the region. The current value of its GDP, a measure of economic output, stood at $6.8 billion, the highest compared to the other four founding members – Indonesia, Malaysia, Singapore and Thailand, according to World Bank data.
ADVERTISEMENT - CONTINUE READING BELOW
Its leading position was all the more remarkable considering that Indonesia and Thailand had a bigger population than the Philippines at that time. There were 105.9 million Indonesians, 33.8 million Thais but only 32.8 million Filipinos then.
In recognition of its economic importance, Asian countries even chose Manila as the location for the headquarters of the Asian Development Bank (ADB) when it was formed in 1966. Tokyo, the capital of Japan, which provided the most money to set up the regional bank, lost out to Manila in the voting.
Related story: Which of the Biggest PH Businesses are Investing in ASEAN? 
As the ASEAN foreign ministers meet to celebrate the grouping's 50th founding anniversary this week in Manila, a lot has changed, obviously. The regional grouping itself has doubled in the number of members, with the addition of Brunei Darussalam, Vietnam, Cambodia, Laos and Myanmar.
As well, the Philippines, which holds this year's chairmanship, has lost its preeminent economic position in the regional grouping. Though the current value of its economy has grown several fold to $304.9 billion in 2016, that's now just the third largest in the region, after Indonesia and Thailand. 
ADVERTISEMENT - CONTINUE READING BELOW
In terms of per capita GDP, or the value of economic output per person, the Philippines has fallen to last position, behind the other four. In 1967, it was third after Singapore and Malaysia.
Repeated cycles of boom and bust, made worse by a prolonged economic slump in the early 1980s, lay at the heart of the Philippines' sluggish economic growth. From 1967 to 2016, annual growth in GDP, in current US dollar terms, averaged only 8.6 percent, the lowest among the five ASEAN founding members. In contrast, average GDP growth hit 10.4 percent in Malaysia, 12.6 percent in Indonesia, 12.3 percent in Singapore and 9.6 percent in Thailand.
*****
Pauline Macaraeg is Entrepreneur PH's data journalist. Follow her on Twitter @paulinemacaraeg