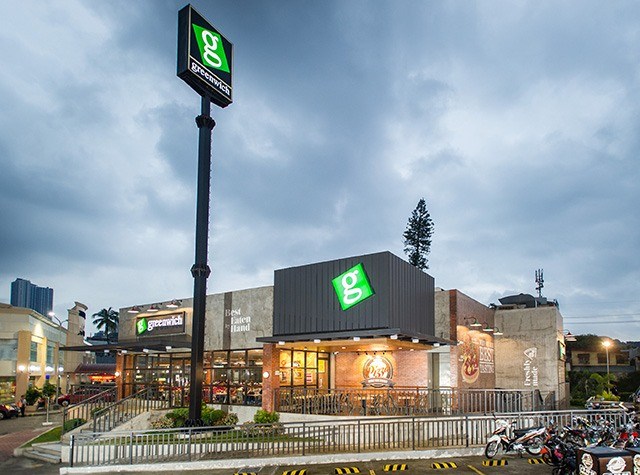 Greenwich started the transformation of its stores in 2014. About half of itsover 1,000 stores today bear this new look
If you've visited a Greenwich Pizza restaurant recently, you may have noticed it doesn't look quite like it used to. The pizza-and-pasta subsidiary of Jollibee Foods Corp. embarked on a massive transformation of its stores beginning in 2014 to better reflect its pivot from being a traditional quick-service restaurant (QSR) targeting young kids and families into a fast casual food brand geared towards young adult groups or "barkadas."
ADVERTISEMENT - CONTINUE READING BELOW
About 50 percent of Greenwich's network of 262 stores nationwide now bear this brand new look—bigger, more spacious dining areas with lots of wood and hip, industrial design elements. There are "instagrammable" nooks for those who are social media-savvy and even service crew members are more attentive and attuned to the needs of their customers.
"We want to stay consistent with the message of barkadahan equity," said Greenwich President Albert Cuadrante during a briefing last Thursday, October 12. "We wanted a store that allows you to do that. Our stores today are not like the old fast food format na masikip, and customers are dikit-dikit. They're more spacious to fit the different sizes of barkadas."
With sales exceeding Php8 billion in 2016 and compounded annual growth rate of 15 to 20 percent, Greenwich claims it is the market leader in the pizza-pasta restaurant segment in the country. The transformation and image overhaul may have elevated it somewhat from traditional fast-food peers and competitors such as sister brand Jollibee, McDonald's and KFC, but it now competes directly with other established fast casual pizza-and-pasta brands like Shakey's, Pizza Hut, Yellow Cab and Project Pie.
ADVERTISEMENT - CONTINUE READING BELOW
More spacious and inside and out, Greenwich stores today have "Instagrammable" nooks for the social media savvy
Cuadrante says that in this category, Greenwich's edge is that it's still the most affordable price-wise. Its Classic Pizzas go from Php189 (double size) to Php379 (party size). For comparison, the least expensive pizzas at Shakey's are its Classic Cheese, which ranges from Php196 (regular size) to Php519 (party size), while the Cheese Lovers' Pizza at Pizza Hut go from Php239 (regular size) to Php419 (large size).
ADVERTISEMENT - CONTINUE READING BELOW
Greenwich officials added that the store redesign has helped the brand widen its lead over its competitors in terms of sales and value perception. "Extensively redesigning our stores with an innovative, modern look tailored to our pizza and pasta menu is our way of setting ourselves apart from the competition," said Mavel Villanueva, Greenwich retail marketing manager. "With the emerging store design trend and aggressive retail efforts of the whole eat-out industry, it is crucial that Greenwich has a strong differentiating identity and a greater semblance of what a pizza and pasta restaurant should be to stay relevant among our target market."
Founded in 1971 by the Tueres family, Greenwich was the first brand acquired by Jollibee in 1994. In the company's 2016 annual report, Greenwich credited its continued success and market leadership not just to more branches being renovated to fit the Pizzeria concept, but also to the launch of new items in its menu, which include Bacon Crispy Thins, Cheesy Bread Sticks, Caramel Bites and Hawaiian Lemon Slush. Its latest food offerings include Potato Wedges, Spicy Chicken Wings and Bacon Overload Pizza.
ADVERTISEMENT - CONTINUE READING BELOW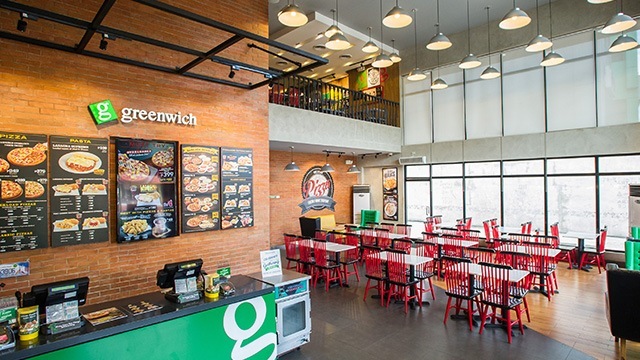 Through the store transformations, Greenwich is keen on keeping its status as the country's number one pizza-and-pasta chain 
Cuadrante said that the company's store network is split with about 60 percent company-owned and 40 percent franchised. He revealed that the franchise fee for a Greenwich store is Php1 million, in addition to the cost of building the actual store which, depending on the size and location, ranges from about Php12 to Php20 million.
ADVERTISEMENT - CONTINUE READING BELOW
The company says it expects to complete the transformation of all its pizzerias nationwide by 2021.
"The Greenwich Pizzeria is only the beginning," said Villanueva. "We have a lot of other plans and innovations in store for customers. We want to keep them coming back for more by giving them a unique dining experience."
*****
Paul John Caña is the managing editor of Entrepreneur PH