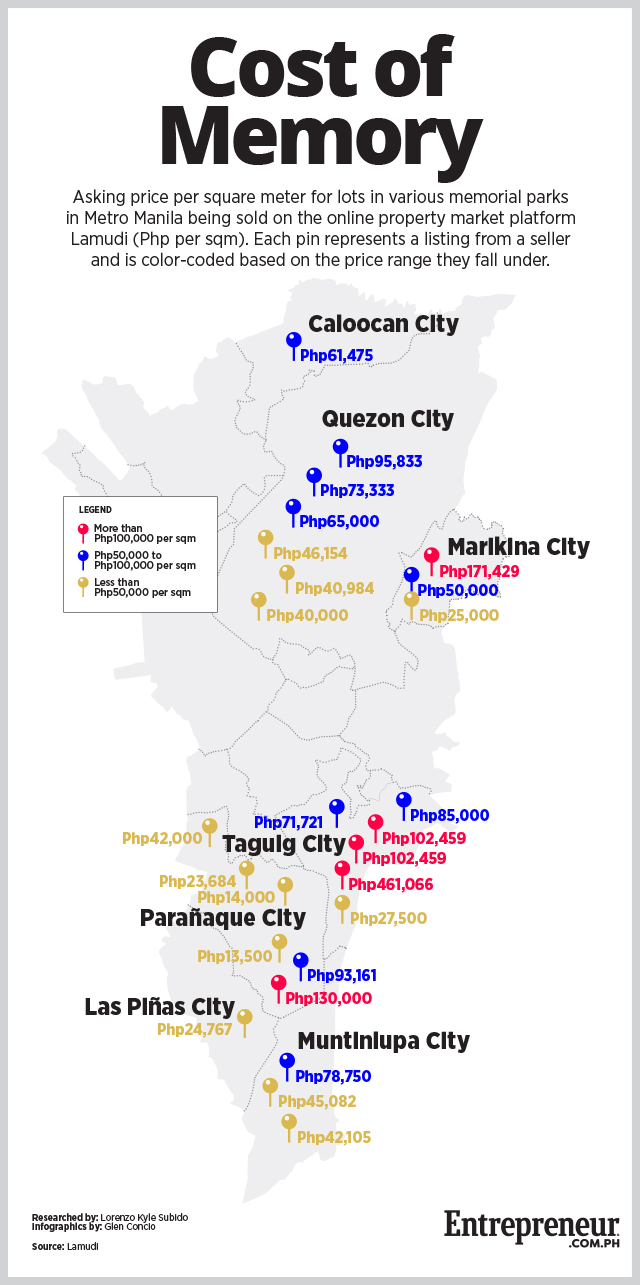 As Filipinos troop to cemeteries and memorial parks to remember their departed loved ones on November 1, many can't help but take note of the rising prices of memorial lots.
In a sign that prices of memorial lots have indeed risen to extraordinary proportions, a 39-square-meter lot at The Heritage Park in Taguig City is selling for Php18 million, according to data from Lamudi Philippines, the online properly listing platform. That translates to about Php461,000 per square meter, which exceeds even the most expensive condominiums in the country priced at only between Php300,000 and Php400,000 per square meter.
ADVERTISEMENT - CONTINUE READING BELOW
While that particular item represents the extreme side of things, data from Lamudi suggest that memorial lot prices generally tend to be on the high side. Of 26 listings for memorial lots on the Lamudi site, 14 are priced above Php50,000 per square meter while 12 are priced below. At least five are priced above Php100,000 per square meter.
To appreciate what those number represent, let's take note that average prices of residential condominiums in central business districts such as Makati City and Taguig City converge around Php100,000 per square meter, according to Lamudi data. On the other end, cities that are relatively far from major office hubs such as Las Piñas and Caloocan command prices close to Php50,000 per square meter.
Related story: Which Condos in Metro Manila Have Doubled Their Prices Since Launch?
The infographic above offers a broader and more systematic view of memorial lot prices in Metro Manila listed on the Lamudi Philippine platform. Each pin represents a listing for a memorial lot or mausoleum inside memorial parks. The pins were then color-coded according to three price ranges: below Php50,000 per square meter; between Php50,000 and Php100,000; and above Php100,000.
ADVERTISEMENT - CONTINUE READING BELOW
Related story: Where in PH Can You Find the Highest Resale Values for Residential Condos?
Most of the memorial lot listings on the Lamudi platform are in Taguig, Parañaque and Quezon City, which all have prominent memorial parks. Other areas in Metro Manila that see multiple listings are Marikina and Muntinlupa.
*****
Lorenzo Kyle Subido is a staff writer of Entrepreneur PH