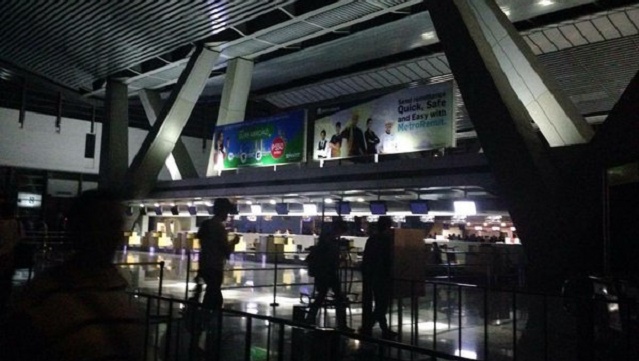 Were you at the Ninoy Aquino International Airport Terminal 3 (NAIA 3) on Saturday, April 2 when the blackout happened? In case you are still wondering why it happened, here are the details so far:
Initial investigation revealed that one of the 10 generator sets at NAIA 3 failed, Department of Transportation and Communications (DOTC) Secretary Joseph "Emilio" Abaya said over a radio interview. The drained generator was one of the reasons why the Saturday blackout lasted for five hours, leaving hundreds of passengers stranded and flights delayed or cancelled.
ADVERTISEMENT - CONTINUE READING BELOW
He added the airport officials also failed to identify right away the cause of the power failure for their immediate concern was to restore power so operations at NAIA 3 would resume immediately.
Power was partially restored at 12:30 am Sunday and fully normalized at around 2 am, said Manila International Airport Authority (MIAA) Senior Assistant General Manager Vicente Guerzon.
For the part of the Manila Electric Company (MERALCO), it said that the glitch was restored in less than a minute and that the outage could have been cause by trouble on NAIA's loadside.
'Shameful'
Candidates for the May elections, as expected, weighed in on the incident.
Senatoriable and Pasig City Representative Roman Romulo said, "I am appalled by the fact that NAIA 3 had no contingent or back-up plan for such an event… the incident was 'shameful,' to say the least."
Calls also were renewed to oust Abaya and NAIA General Manager Jose Angel Honrado. The two officials kept earning the ire of the public for subpar conditions of NAIA, which consistently ranks among the "world's worst airports" survey.
ADVERTISEMENT - CONTINUE READING BELOW
"This is no longer a laughing matter. A 5-hour blackout resulting in cancelled and delayed flights is proof that the transportation secretary and the NAIA general manager have been sleeping on their jobs. They should be sacked immediately," Valenzuela Representative Rex Gatchalian (and spokesperson to presidentiable Grace Poe) said.
Due to the incident, Philippine Airlines (PAL) and PAL Express offered 0% rebooking fee for those flights were delayed or cancelled. Cebu Pacific also offered refund to its affected passengers.
All airport authorities could tell now is that procedures are in place for similar emergencies to assure safety of the passengers. – Lynda C. Corpuz
*****
Bottom line is a recap of the weekend news on business, economy, finance, entrepreneurship, and more.