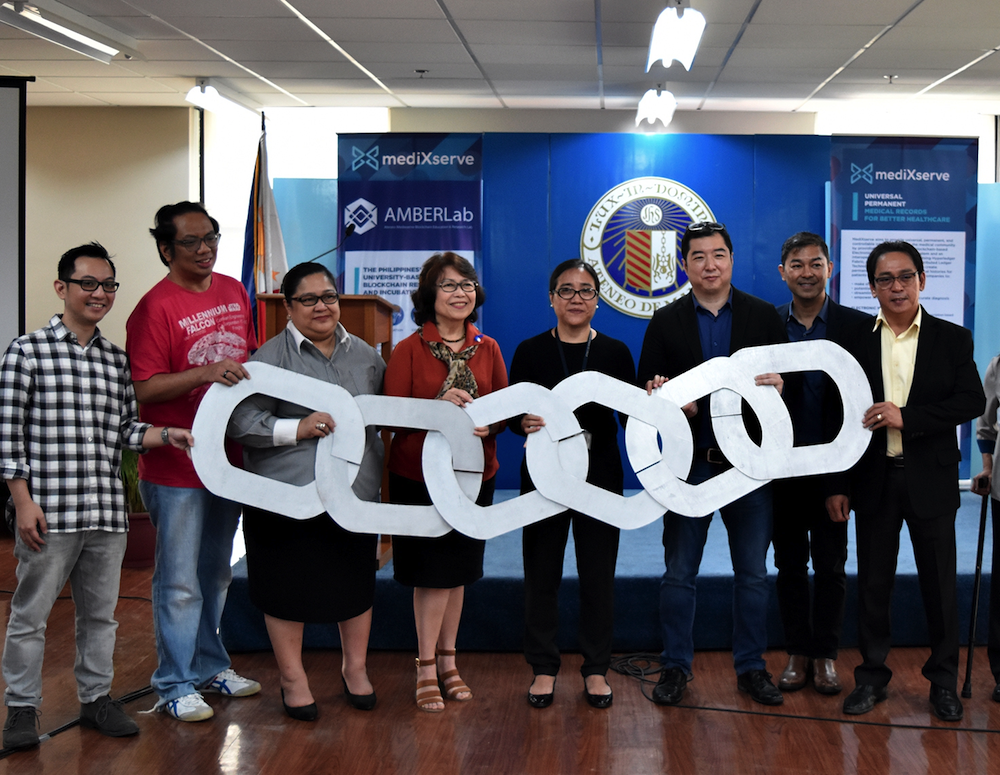 Executives of Ateneeo de Manila University and MediXserve at the launch of AMBERLab last October 22
On October 22, the Ateneo de Manila University (ADMU) and healthtech startup MediXserve launched the Ateneo-MediXserve Blockchain Education and Research Laboratory, or AMBERLab, which is positioned as a "think tank and advanced research center" for blockchain-powered projects and initiatives in the country.
ADVERTISEMENT - CONTINUE READING BELOW
Apart from its educational and research offerings, AMBERLab will also serve as an incubator specifically catering to startups using blockchain, the underlying technology behind cryptocurrencies such as Bitcoin and Ethereum.
"We also welcome startups with innovative ideas and technology on blockchain to collaborate with us as we also have an incubation center in AMBERLab, where we can help fund, build and launch their products globally," said Jason Dela Rosa, cofounder of MediXserve, in a statement.
Majority of the AMBERLab team is made up of executives from MediXserve, which is also a blockchain-based startup that aims to uplift the healthcare ecosystem of developing countries by bringing medical records and other related documents to the blockchain. Its CEO, Jorge Azurin, is also the director for business strategy of TraXion, another blockchain-based startup aiming to help other organizations integrate blockchain technology into their business.
Related story: Fintech Startup Plans to Offer Blockchain-Powered E-Wallets to A Million Seafarers, OFWs
ADVERTISEMENT - CONTINUE READING BELOW
The ADMU and MediXserve partnership is also supported by the NEM Foundation, the Japanese blockchain developer behind Xem, the 15th largest cryptocurrency by market capitalization as of the time of writing according to CoinMarketCap. Among NEM's other major local partnerships is with Appsolutely, which developed a blockchain-based rewards program under the LoyalCoin token.
"With blockchain coming in as a major technology wave, AMBERLab is poised to be a major participant in the local efforts and we would like to offer our assistance by funding such project just like what the NEM Foundation did in Malaysia," said Emerson Fonseca, head of NEM Philippines, in a statement.
Related story: Beyond Bitcoin: How Businesses Are Using Blockchains to Build New Products and Services
It's a step forward for the country's blockchain ecosystem, which is still in its nascent stage. While use cases for the Philippines are still few and far between, the businesses getting into the technology has diversified from only tech startups to now also include large corporations and traditional institutions.
ADVERTISEMENT - CONTINUE READING BELOW
And for its part, AMBERLab is also expanding this exposure to blockchain technology to the academe. Under the program, ADMU will be offering elective subjects on blockchain technology to its students by 2019. A GMA News Online article published last October 22 also revealed that AMBERLab will be offering seminars and training sessions for non-ADMU students.
"Our motivation in establishing this research laboratory is that blockchain supports our vision in maximizing ICT (information and communications technology) for nation building," said Dr. Regina Estuar, head of AMBERLab, in a statement. "To transform ICT solutions into blockchain technology, we eliminate layers of transactions, which means lower cost of service delivery. This means that we are able to do more and serve more."
Related story: What You Need to Know About PH's Bitcoin and Cryptocurrency Startups

*****
Lorenzo Kyle Subido is a staff writer of Entrepreneur PH