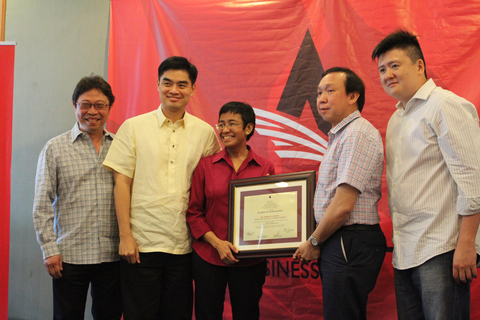 <>The Anvil Business Club, a group of young Filipino-Chinese entrepreneurs, held its 5th business exchange forum last April 26 at the Wack-Wack Golf and Country Club in Mandaluyong City. Anvil president Reginald T. Yu welcomed the guests and reiterated the purpose of the exchange forum, which was to harness the dynamics of social media as entrepreneurs adapt the new business workflow.
Guest speaker Maria Ressa, a veteran journalist and CEO/Executive Editor of Rappler, talked about "Redefining Journalism in the Digital Age." She shared her actual experiences when she created the news Website and structured a new business model through transformational forces that work well for industries.
These transformational forces, according to her, pull industries together through social media. Ressa then advised existing traditional businesses and companies to try online networking as it is much faster and a lot cheaper than print and television advertising.
Modern-day bayanihan
Being in the journalism sphere for over 30 years, Ressa described crowd-sourcing over the Internet as the modern-day
bayanihan
. "We know what that is. Crowd-sourcing is the 21st century
bayanihan
. It is disrupting everything, starting from its base which is social media. This is where most businesses are heading," she said.
Moreover, data shows that there are five big industries that are expected to be disrupted by this practice in the next three years: finance banking; micro financing on the Internet; technology and software; art and design; and publishing, communications and media.
With the social media, the power of information is basically at the people's fingertips. Reasonably-priced gadgets like smartphones and tablets are made available to individuals who want/need to source out information. It is no longer the traditional structure wherein knowledge is very much limited to only a few people.
The new business model
Conventionally, producers create the product, which is then sold to consumers. Now, consumers can assume the role of the producers to create the same product. Through technology and innovation, this is now made more possible.
"This is exactly what Rappler is doing. It uses technology over social media to access and spread networks. It allows the community to be part of it." Ressa also mentioned that it is through people's relationship and emotions that the social media exponentially grows.
She revealed that it cost her P6.6 million ($150,000) to start up Rappler. Now, the Website, despite being young as an online news media platform, is already competing with the bigger news agencies in the country. It has even become the third most viewed news site in April, based on the latest data from commercial Web traffic data gatherer Alexa. In terms of traffic, its rank was next to the online sites of Philippine Daily Inquirer and ABS-CBN News.
As a final note, Ressa said, "I've always wanted to compete globally because it is a global market and ideas start businesses so why we not? The Internet gives me that ability. Our goal now is not to drill down but to expand to other parts of Asia."
ADVERTISEMENT - CONTINUE READING BELOW