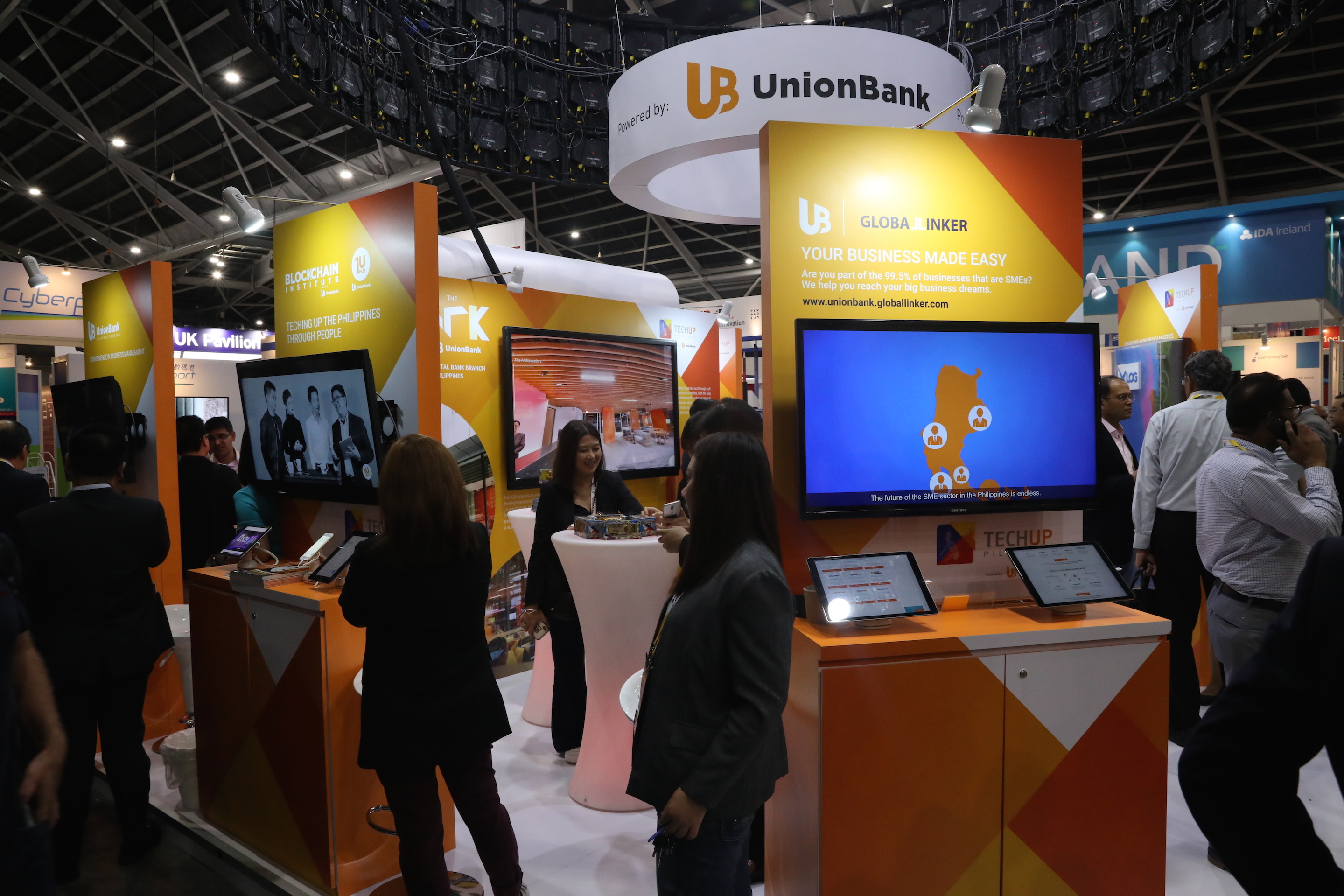 UnionBank GlobalLinker at the Tech Up Pilipinas booth at the Singapore Fintech Festival
Singapore – When Audrey Regis, a former Citibank executive in the Philippines who makes sinfully tasty dried mangoes coated with salted caramel, got to ask a question during the TradeConnect event at the sidelines of the Singapore Fintech Festival, she made sure it would count a lot for her rapidly growing business.
ADVERTISEMENT - CONTINUE READING BELOW
"I would like to be able to export to India and Singapore," she began. "Is there an association of Indian or Singapore food importers who can help me?"
Before the panel of expert speakers can answer, she first gave each of them a sample of her product packaged in 60-gram boxes, introducing a bit of light-hearted moment in the otherwise serious proceedings. It also earned her praise from the moderator who cited her move as a good example of "guerilla marketing."
In reply to her question, the CEO of the Federation of Indian Exporters' Organization, Ajay Sahai, promised to email her a list of Indian food importers that may be interested in the caramel-coated dried mangoes. "We'll send the list to you but I'll leave it to you to close deals with any of the food importers on the list," he said.
Dried mangoes may not count much in terms of Asia's trade volumes compared to semiconductors, cars or rice, but the interaction between Philippine and Indian participants at the TradeConnect event underscores the value of networks, both physical and virtual, in promoting trade and regional integration.
ADVERTISEMENT - CONTINUE READING BELOW
Summi Gambhir Chief Experience Officer GlobalLinker and Sameer Vakil CEO & Co-founder GlobalLinker
Such low-key and ground-level interactions among business owners from different Asian countries assume greater importance especially as the ASEAN-led initiative to firm up the world's largest trade deal was pushed back to 2019.
Asia-Pacific trade ministers failed to complete an agreement to establish the Regional Comprehensive Economic Partnership (RCEP), a trade deal that covers half of the world's population, at the recently concluded ASEAN Summit in Singapore. Instead, they vowed to firm up the deal, widely seen to help offset the impact of US President Donald Trump's "America First" policy thrust, next year.
ADVERTISEMENT - CONTINUE READING BELOW
"Most of the news we hear are about the large corporations, about government and politics," said Justo Ortiz, chairman of the Union Bank of the Philippines, one of TradeConnect's partners which sponsored the competitive process to choose some 25 Filipino entrepreneurs to take part in the event and bring them to Singapore. "But clearly, the backbone of any economy of any society are the entrepreneurs, small and medium sized business owners. And that's what inspires me to go to these ecosystem-building activities that we do."
TradeConnect Singapore is an initiative of GlobalLinker, an online networking platform that helps small business owners connect with customers and partners, manage their business, and avail of discounts with pre-negotiated deals and offers for their business growth.
ADVERTISEMENT - CONTINUE READING BELOW
Organizers and speakers from DigiVation, UnionBank of the Philippines, Jet Airways, Network Trade Platform Singapore and Federation of Indian Exports Organisations at the first ever Global SME Meetup at Singapore Trade Connect
The platform was developed by India-based DigiVation Digital Solutions, a technology company touted as the next Indian unicorn or startups with valuations of at least $1 billion. The small business owners attending TradeConnect Singapore event are GlobalLinker users.
DigiVation was recently named one of the Monetary Authority of Singapore's (MAS) six partners to create a proof of concept hybrid business data and digital solutions hub.
The project aims to leverage artificial intelligence (AI) to facilitate the internationalization and digitization of small and medium-sized enterprises, part of Singapore's Business sans Borders (SNS) project.
GlobalLinker is being rolled out by DigiVation's corporate or institutional partners in different countries such as Jet Airways, ICICI Bank and Federation of Indian Exporters Organizations in India and UnionBank in the Philippines.
ADVERTISEMENT - CONTINUE READING BELOW
These companies or organizations rely on a GlobalLinker to expand and deepen their engagement with small business owners and startups as customers or partners. The platform gives them access to the large small business community, increases sales opportunities for relevant products and services and save costs in acquiring and fulfilling orders from small business clients.
Amid the failure of the region's leaders attending the ASEAN Summit to complete talks on a new regional trade deal, heads of state such as the Indian Prime Minister Narendra Modi seem to have had more success launching private sector initiatives at the Singapore Fintech Festival. He is the first foreign head of state to speak at the event, now on its third year and considered the world's biggest financial technology conference.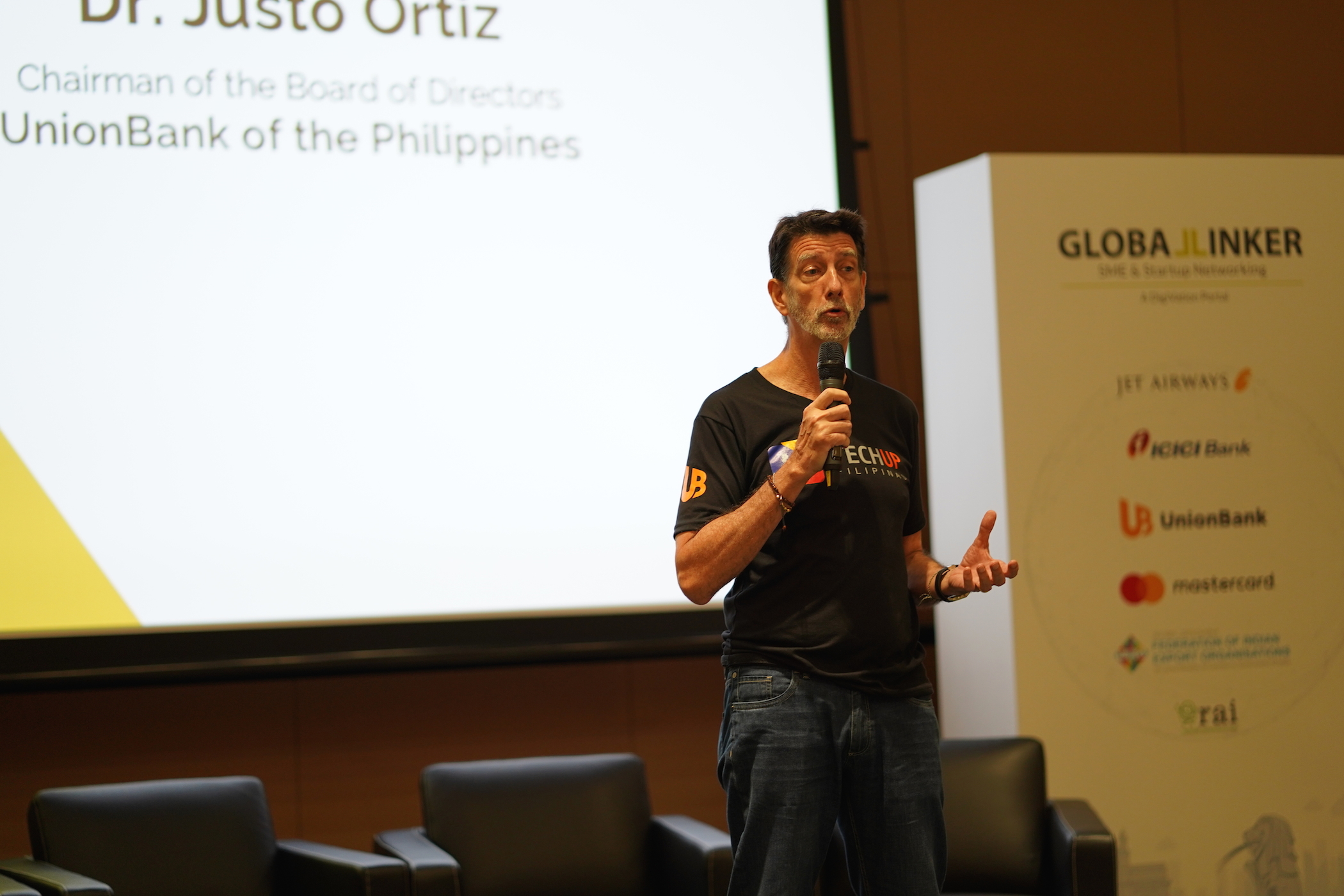 ADVERTISEMENT - CONTINUE READING BELOW
Justo A. Ortiz, chairman of the board of UnionBank of the Philippines
Referring to the GlobalLinker platform, he said: "India and Singapore are also working to connect Indian and ASEAN small and medium enterprises, anchored on an Indian platform, and expand it globally."
He also said India and Singapore are launching a fintech initiative. "Today, I will have the honor to launch a global platform to connect fintech firms and financial institutions, beginning with ASEAN and Indian banks and fintech companies."
Though TradeConnect's participants consist entirely of owners and executives of small and medium-sized enterprises, many should aspire to join the ranks of large companies not only in their countries but globally as well, said Sameer Vakil, CEO and co-founder of GlobalLinker.
"We are often referred to as small and medium-sized enterprises but our dreams are neither small or medium," Vakil said in his remarks. "For the big business dream, you need a solution, you need a partner. That's what GlobalLinker and its partner issuers are all about. That's the proposition for you."
ADVERTISEMENT - CONTINUE READING BELOW
*****
Roel Landingin is the editor-in-chief of Entrepreneur PH