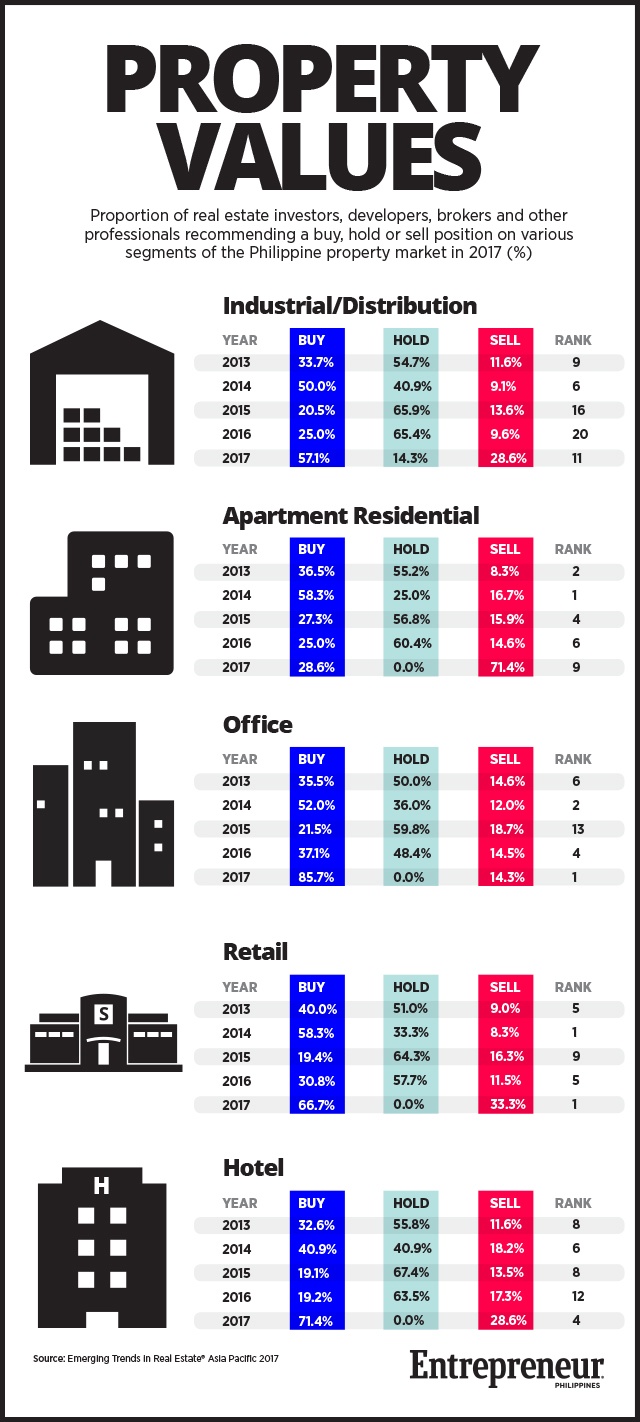 If Manila's property market can be described as frothy in previous years, it seems to be sizzling this year. That's just going by the prevailing sentiment of investors, developers and brokers surveyed by professional services network PwC and nonprofit research organization Urban Land Institute (ULI).
Each year, respondents are asked whether they want to buy, hold or sell in the various segments of the property market.
For 2017, a vast majority of the respondents—marking the highest ratios in the last five years—gave a "buy" rating for four of the five segments: industrial/distribution, office, retail and hotel. The only exception is residential apartments, where an equally overwhelming majority is recommending a "sell" rating.
Indeed, Manila had the most respondents wanting to buy property in the office and retail sectors among the 22 Asia-Pacific locations surveyed, according to PwC and ULI's annual publication Emerging Trends in Real Estate: Asia Pacific 2017 released last November. The capital region got "buy" ratings from 85.7 percent and 66.7 percent of respondents, respectively. High "buy" ratings were also observed in the hotel (71.4 percent) and industrial space (57.1 percent).
ADVERTISEMENT - CONTINUE READING BELOW
However, while the number of respondents that gave a "buy" rating for residential property increased to 28.6 percent from 25 percent in the previous year, the remaining 71.4 percent chose a "sell" rating for residential property in Manila. This was a change from the previous two years when a majority of the respondents recommended holding investments in the residential sector.
In the report's overall ranking of how investor-friendly the 22 markets are, Manila ranked third in terms of city investment prospects and fourth in terms of city development prospects. The report pointed to the Philippines' "vibrant economy led by a booming BPO market and strong remittances from overseas workers" as the drivers of Manila's high ranking. The report also said that "demand is resilient" and "vacancies remain low."
On the other hand, PwC and ULI also warned of impediments to investing in Philippine property. "While foreign investors like the Philippines, there aren't many specific deals they can do or players to work with," said a local developer who was quoted in the report. "Real estate assets are not being actively traded or sold here, and the exit strategy is also unclear."
PwC and ULI surveyed 604 individuals belonging to various sectors of the real estate industry, including investors, developers and brokers. The two companies have jointly published the forecast report annually since 2006.
***** 
Lorenzo Kyle Subido is a staff writer of Entrepreneur PH