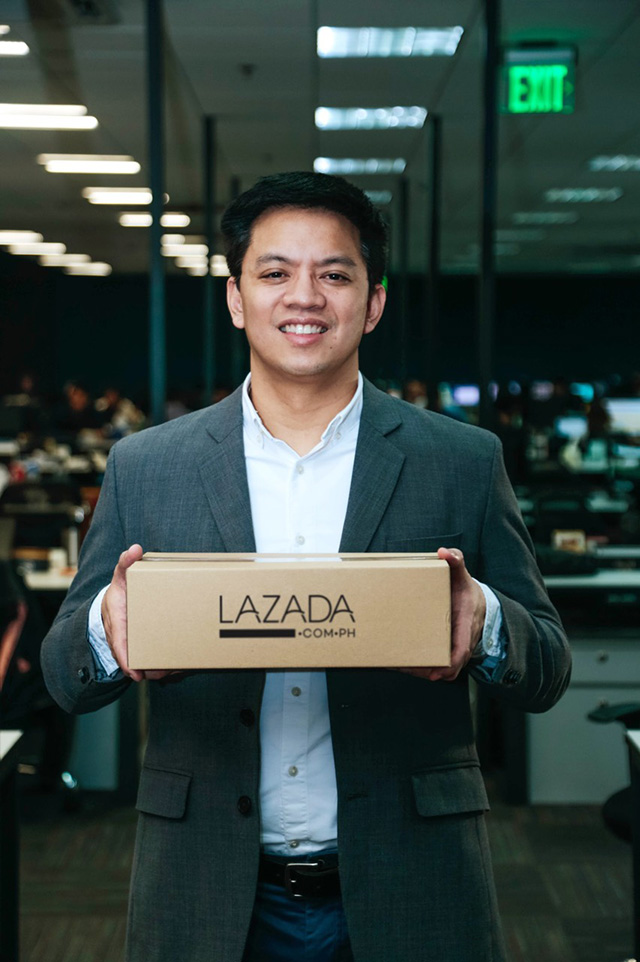 Ray Alimurung was named country CEO of Lazada Philippines in June 2018, succeeding co-founder Inanc Balci, who headed the company since it was founded in 2012
Raymond Alimurung had already taken on the role of interim CEO of Lazada Philippines in May 2018 before the appointment was made public about a month later in June. Inanc Balci, the Turkish-born co-founder and country chief of the e-commerce platform, had chosen to take some time off and eventually decided he wanted to pursue other ventures, which led to Alimurung assuming the top post.
ADVERTISEMENT - CONTINUE READING BELOW
Related story: Lazada Philippines Names New CEO
It was a logical choice for the six-year-old startup. Alimurung had actually joined Lazada when it first set up shop in the country in 2012. The Stanford University MBA graduate started out as the head of content and production, and eventually also managed domestic customer service. His role expanded to handling regional customer service before he exited the company about a year later.
Alimurung wanted to do other things but his keen interest in e-commerce never wavered. He set up a company called aCommerce, an end-to-end e-commerce fulfillment service provider, which was also a Lazada partner. Afterwards, he left to work at Amazon in the US.
"One of the reasons I worked there was because I wanted to learn more about e-commerce and apply that to back here in the Philippines," Alimurung tells Entrepreneur Philippines about his stint in Amazon. "And why I wanted to do that is because I saw e-commerce as a fantastic opportunity for entrepreneurs—for sellers—to build a nationwide business at the lowest possible cost and investment.
ADVERTISEMENT - CONTINUE READING BELOW
"I really saw e-commerce at the time as a way to improve one's station in life, and to give you a level playing field versus other players," he adds.
In 2016, Lazada Philippines' chief commercial officer moved to Indonesia and so Balci invited Alimurung back to come work at the company. It coincided with the announcement that Chinese internet giant Alibaba was acquiring a majority stake in Lazada.
"The day it was announced was the day I started," Alimurung says. "Of course, I knew it was going to happen."
Two years later, when Balci announced he was leaving, the company didn't have to look far for a replacement.
"I felt it was an honor to take on the role," he says. "And what I really liked about it is that I would be working directly with Lucy Peng, the group CEO of Lazada and one of the 18 co-founders of Alibaba."
ADVERTISEMENT - CONTINUE READING BELOW
E-commerce as a five-legged stool
Since its founding, Lazada has quickly established itself as the dominant e-commerce platform not just in the Philippines, but in the entire Southeast Asian region. But that doesn't mean it's not without its challenges. Early on, Alimurung discovered three key issues that needed to be addressed in order for e-commerce to truly flourish.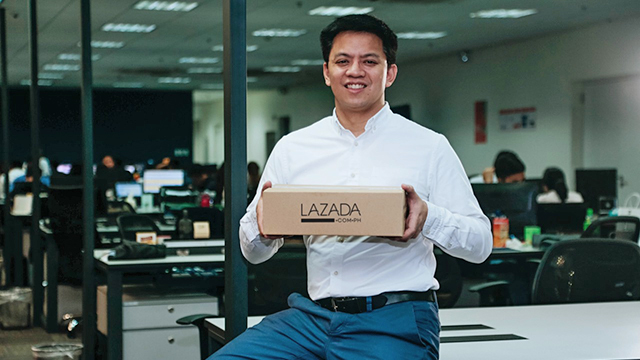 ADVERTISEMENT - CONTINUE READING BELOW
Alimurung says he is focused on encouraging sellers to use special tools developed by Lazada so they can be more visible to potential customers
"I thought about e-commerce as a three-legged stool, and if you didn't have any of the three, it couldn't stand," he says. "These are: internet penetration, payments and logistics. All three are challenging in this part of the world, especially in the Philippines, more so in the rest of Southeast Asia."
Lazada tackled the logistics issue by setting up its own logistics service called Lazada Express. With payments, the company enabled nationwide cash on delivery (COD) in order to circumvent the problem of a huge majority Filipinos not having credit cards or access to electronic payments facilities. And as for internet, the country still has a long way to go, but Alimurung says things have generally improved over the last few years—costs have gone down, leading to more people with access to the internet than ever before.
ADVERTISEMENT - CONTINUE READING BELOW
But what Alimurung eventually realized is that the three-legged stool actually has two additional legs. While working at Amazon, he recognized the importance of supply in the equation.
"You can have all the other three fixed, but if nobody is selling online…," he trails off.
In the early days of e-commerce, many sellers viewed online selling merely as an extra channel for their merchandise as opposed to a viable business model. The trick, he says, is to get offline sellers to place just as much emphasis and effort into selling online as they do with their brick-and-mortar stores.
"Only when a seller starts thinking that way is he going to be able to build an online business," he says.
Finally, Alimurung identified the importance of marketing in order to run a successful e-commerce platform.
"Many brands—big brands—try to launch an e-commerce site on their own, but they really don't put any marketing budget behind it," he says. "Without that, how do you get traffic?"
ADVERTISEMENT - CONTINUE READING BELOW
Lazada has been paying for advertising on Facebook and YouTube, where most Filipinos spend their time online, since 2012. The implication is that brands would do better to sell on a platform that's already advertising than to start from scratch. It goes back to Alimurung's belief of e-commerce as a tool to build a business with the lowest possible investment.
Rewarding good behavior
Today, Lazada has around 20,000 merchants and millions of products in hundreds of categories. It currently counts about 100 million site visits per month, making it one of the country's most visited websites overall. Thanks to its continuous growth, as well as that of rival companies, e-commerce is slowly but steadily making a dent in the local retail landscape. Alimurung says that total e-commerce sales now account for about 1.5 percent of total retail sales, up from less than one percent in 2017.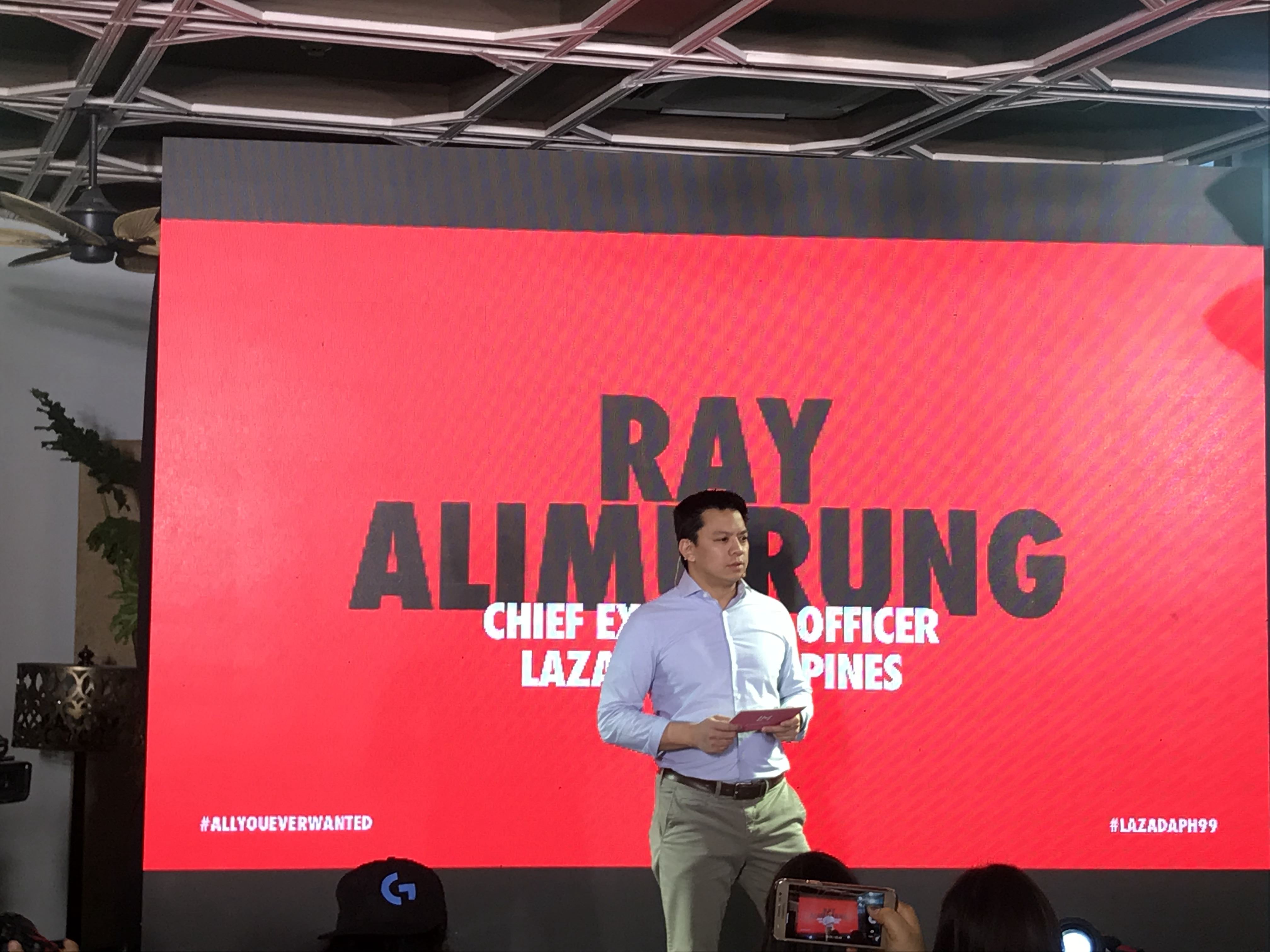 ADVERTISEMENT - CONTINUE READING BELOW
Lazada recently unveiled a new channel within the app called LazMall, which focuses on branded items 
The e-commerce footprint remains tiny in the Philippines but it is dominated by Lazada by various measures. According to iPrice Group, a Malaysian shopping aggregator, Lazada commanded a 91 percent e-commerce market share in the Philippines in the first quarter of 2017, keeping a wide lead over its competitors in terms of search interest, social media presence and downloads from the iOS Store and Google Play.
Related story: Here's How Lazada is Keeping Its Lead Over Emerging E-Commerce Rivals 
It also topped Entrepreneur Philippines' 2018 list of the 50 startups in the Philippines with the largest revenue, reporting sales of Php2.1 billion in 2015, up by 99.8 percent from the previous year.
Related story: Who are the Leading Foreign and Local Players in PH E-Commerce?
Last August 31, Alimurung was on hand to launch Lazada's newest innovation—LazMall, an in-app channel that features products from partner brands. LazMall addresses another issue that has plagued Lazada for years—the presence of fake and substandard merchandise. Besides guaranteeing the authenticity of items, LazMall also promises next-day delivery for orders within Metro Manila, as well as returns for purchases within 15 days.
ADVERTISEMENT - CONTINUE READING BELOW
Related story: Southeast Asia's Biggest "Mall" is in Your Hands
But Alimurung is not stopping there. The challenge today, he says, is to build a sustainable marketplace business rather than one focused on key accounts. And the way to do that is by incentivizing good behavior from their sellers.
One of his key focus areas is helping sellers adopt the tools Lazada developed precisely to help them and their business. "We have five main tools: one is Instant Messaging, where the seller or the brand can talk directly to a customer. The more they do this, the more the customer is happy. We have promotional tools like vouchers, and one that helps sellers build their stores. We have a tool that helps them decorate their page called the Product Detail Page Decorator or PDP Decorator, and a manual boosting tool called Seller Picks."
The idea, he says, is to encourage and reward Lazada sellers for using these tools: whoever is the most active actually gets the most visibility on the platform.
ADVERTISEMENT - CONTINUE READING BELOW
Personalized shopping experience
It won't do for a country chief not to be a good customer of his own company. Alimurung says he, himself, is a Lazada user, buying things like personal care products, electronics and gadget accessories from the app. In January, Lazada started curating the items shown on the homepage based on what users search for and buy. It's another step towards making the online shopping experience more seamless and personal.
Although Alimurung declines to reveal the company's latest revenue figures,  he says he is happy with where the company is now and looks forward to the challenges ahead. It previously reported a net loss of Php2.3 billion in 2015, up by 143.8 percent from the year before, according to latest financial statements filed with the Securities and Exchange Commission (SEC).
"Lazada is still the number online shopping destination in Southeast Asia and in the Philippines," he says. "But we are not resting easy because we know that it's a competitive market. One of our biggest challenges is getting people to embrace online shopping. We're working together with brands and sellers who currently sell offline to sell online. It's not about cannibalizing offline. It's about offering a service to customers that they're looking for. The customer wants to buy online today, so we need to enable them."
ADVERTISEMENT - CONTINUE READING BELOW
*****
Paul John Caña is the managing editor of Entrepreneur PH